As part of Earth Day 2017, ERA has put together an illustrative infographic on the range of small but mighty measures that can be implemented in almost any office or workplace to conserve resources.
They are as follows:
Transitioning to LED or natural lighting to reduce energy bills
Shutting down or putting all monitors on sleep mode at the end of the work day
Composting food scraps and biodegradable waste
Establishing a Green Printing Policy: printing only when absolutely necessary and using recycled paper to do so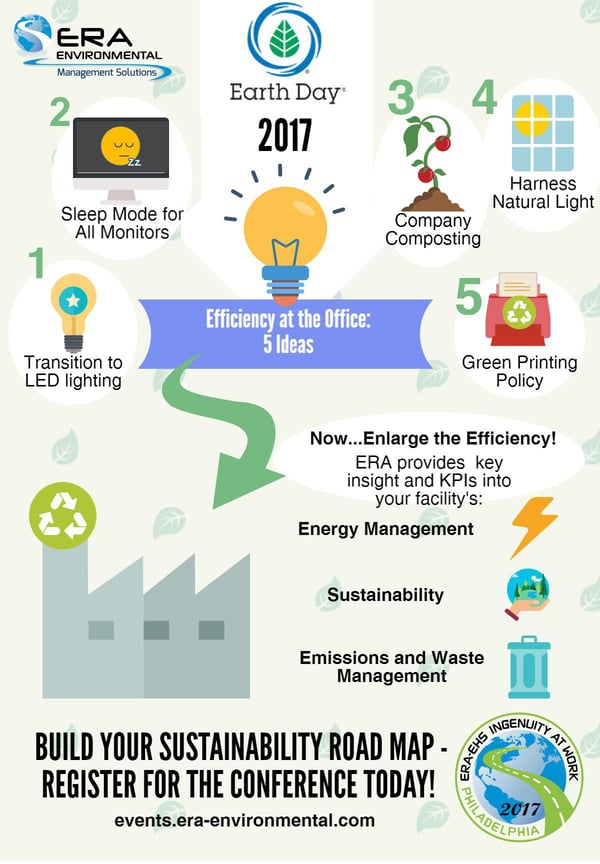 Beyond taking simple measures in the workplace, the possibility of diving deeper and producing even more startling insights at industrial facilities is possible.
The proper assessment and modeling of work practices and manufacturing processes at facilities can yield major insights into energy conservation and efficiency. ERA provides a dedicated service that will ensure the best insights in this regard.
For more information on the benefits of corporate sustainability, click below for a free eBook on the Hows and Whys of Sustainability. This free PDF will further expand on the benefits of adopting more sustainable practices at your facility and the ultimate benefits and insights that you can expect to gain from them.
We have also written another blog post on the four first steps to take when starting a corporate sustainability program as an EH&S manager at a large facility or workplace. While it's not an exhaustive outline, it should give you a good overview of how and where to start planning for success, so that you may guide your business toward a greener future in a feasible way.
And if you have any further questions on how ERA can best help your business, please feel free to book a consulting call with one of our Project Analysts. We would be delighted to hear from you.

Lorcan is a science writer and journalist with ERA.