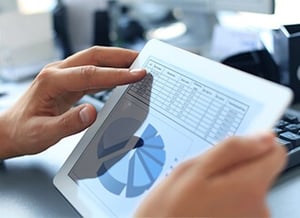 Businesses that emit hazardous air pollutants (HAPs) during the manufacturing process are regulated by the U.S. Clean Air Act (CAA). The CAA sets limits on certain air pollutants to ensure basic health and environmental protection from air pollution coming from sources like chemical plants, utilities, and steel mills. The EPA has set some specific requirements regarding Title V Air Permit conditions. A Title V operating permit consolidates all your air quality regulatory requirements and establishes a way for your business to demonstrate your compliance including recordkeeping and reporting practices.
This permit of the CAA is called a Title V because it refers to the section of the CAA that covers permits – Title V (CAA § 501-507; USC § 7661-7661f). A Title V permit must be renewed every five years once it has been initially approved. When renewing or applying for a Title V operating permit, it is your responsibility to write the specific parameters that will be monitored and the reporting methods that will be utilized to demonstrate compliance.
Writing conditions into your permit if oftentimes more complex than applying for the permit. Therefore, you will need to know which regulations apply to your operations and how you are required to show compliance with multiple overlapping codes. Keep in mind that if you write a complex set of monitoring standards into your permit, you will be forced to keep up with that work until the permit is rewritten and renewed.
If Title V permit conditions are written incorrectly, they are more likely to reject your permit and send heavy revisions. Creating the best permit is important, because it sets the tone for how easy your environmental management and compliance reporting will be for the next five years.
Title V Compliance
Writing a streamlined and enforceable permit and getting approval by the EPA is just the beginning of Title V obligations. For the next five years, you will have to comply with all the limits, standards, and best practices outlined in your Title V.
Title V compliance reports need to be completed every year (although some facilities have a 3-year reporting cycle in states like Indiana). These reports need to demonstrate your compliance with each of the permit's conditions. Your business needs to keep detailed records of regulated emissions (quantity and type) and operating records of any control technology. Deviation reports are submitted every 6 months. These deviation reports contain the start and end date & time of any deviations. Failing to report on time or accurately will cause your business to pay some hefty noncompliance fines and harm reputation.
Facilities that properly manage and monitor their emissions data have little trouble staying compliant. Using spreadsheets and handwritten records are often cumbersome, inefficient, and prone to calculation errors.
With substantial expertise in reporting, ERA will help your business achieve full compliance and total regulatory satisfaction. We have provided Title V help for hundreds of individual companies: read our comprehensive guide to your Title V Air Permit [link] to learn all about this regulation.
How ERA Environmental Improves Title V Reporting for You
ERA Software provides a seamless platform for your chemical inventory management and Title V reporting through these key capabilities:
Data Quality Checks include the capability to review all hazardous air pollutants (HAPs) and their quantities compared to the reporting limits.
Updates from the EPA are automated. No versioning Software. EPA changes and updates are made at no extra cost, for better reporting.
Superior calculation engine that does all the number crunching for you.
With ERA Software for Title V reporting you can:
Use a centralized database to store all chemical data and source data instead of several unrelated spreadsheets.
Minimize manual reporting and calculations by implementing an Environmental Management System (EMS).
Build a central library of all your applicable air regulations and emission limits so that compliance can be seen at a glance.
Automate the reminders and tasks associated with permit compliance and renewals to keep you on track and on time for reports.
If you require any further guidance, please try our demo to see if ERA's innovative and intuitive software can fulfill your Title V needs.