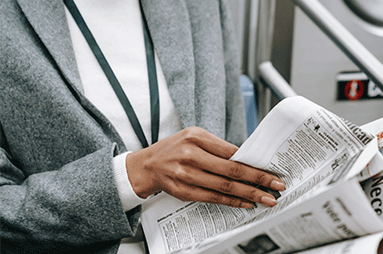 This is where you will find recently published articles that feature or refer to ERA Environmental or one of our team members. We attempt to compile every noteworthy mention across all media channels, from national publications and awards to online articles and industry pieces to which we contributed.
ERA strives to collaborate with magazines, newspapers, and other journalists and publications to contribute to the discourse in the wider field of EH&S management.
If you would like to talk to ERA Environmental with regard to a story or article, send us an email at media@era-ehs.com or reach out to us via the Contact Us page.
Please note that the "Press & Media" collection below is not exhaustive, and that ERA is not responsible for the look and the conclusions derived from our content as it appears on external websites.
Press & Media:
ERA listed as one of the top manufacturers in the Safety Data Sheet (SDS) Management Market report presented by Digital Journal.
Sarah Sajedi

featured in

Technoparc Montréal's

Women's Day 2022

article spotlighting women executives and how they are

encouraging women to pursue careers in tech and science

.
Corporate Vision magazine recognizes ERA as the Best Environmental Management Solutions Tech Business of 2021 — read the editorial.
ERA named one of the

top 10 Automotive Solution Providers

of 2021 by MyTechMag.

Article on the benefits of automated data collection

, written by new Business Development Manager Erin Manitou and co-founder Gary Vegh, published by the Fugitive Emissions Journal
ERA-Concordia University joint venture on

locating performance regression in web-based systems

leads to

publication

in IEEE Transactions on Software Engineering journal.
Co-founders and CEOs Gary Vegh and Sarah Sajedi

invited to speak to the House of Commons of Canada

during the 35th meeting (29/04/2021) of the Standing Committee on Industry, Science, and Technology.
Sarah Sajedi and Gary Vegh

celebrated in

Concordia University's Donor and Student Awards Newsletter (page 12) for

funding the annual ERA Environmental Bursary

.
ERA recognized by InsightsSuccess (page 22) as one of the

30 Most Admired Companies to Watch

2018

for its innovations in EHS technology and workplace culture.
Gary Vegh featured in Associated Press

article

on

current trends

within the

green energy

sector.
Gary Vegh spotlighted in GetApp.com

article

on

software solutions

for reviewing changes to

OSHA regulations

.
CTO Sarah Sajedi

quoted in

Huffington Post article on

winning networking strategies

.
Sarah Sajedi

featured in

Rigzone.com article regarding

workforce diversity

and establishing an

inclusive multigenerational workforce

.
CIOReview magazine names ERA as one of the

20 Most Promising Chemical Tech Solution Providers

in the Environmental and EHS Compliance field.
Sarah Sajedi listed as

one of the most successful business women

during the Enterprising Women of the Year Awards, hosted by the Enterprising Women Advisory Board.
Gary Vegh featured in Redshift.com

article

on

the importance of Corporate Social Responsibility (CSR)

and automating the recordkeeping process.