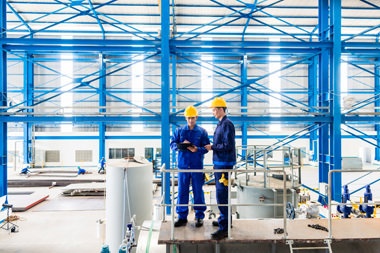 The materials in your inventory and how you use them is crucial to your Environmental, Health & Safety (EH&S) reporting and compliance.
ERA's EMS Software utilizes a complete methodology to explore every relevant detail and build a robust virtual model of your business. This comprehensive approach to emissions modeling "future-proofs" your facilities from the prospect of source-related compliance issues.
When you start using ERA software, we create a concise virtual map of your facility, inventory, and sources. We implement this process to ultimately provide you with the maximum accuracy in your emissions modeling and reporting. It is this process of site modeling that ultimately allows you, the client, to track KPIs and gain valuable business intelligence, with complete confidence in the data being collected from your business.
A Superior Data Management Methodology
At the heart of ERA's approach is an expert understanding of environmental calculations and meticulous professionalism.
We exhaustively model all materials and engage with all input sources, including those from your suppliers. The methodology behind ERA's source modeling is represented below.

ERA makes full use of the following to track your source material, ensuring that all relevant information regarding your facility and your suppliers is gathered:
Supplier Portal – Making use of exact and up-to-date chemical data, directly uploaded by suppliers.

Enterprise Resource Planning (ERP) Compatibility – Any information from ERPs and third party software is automatically taken into account.

Data QA/QC – All historic data is duly scrutinized.

Master Chemical List – Our authoritative list contains over 100,000 chemicals, complete with properties and up-to-date regulations.
Maximizing Accuracy – Advanced Business Insights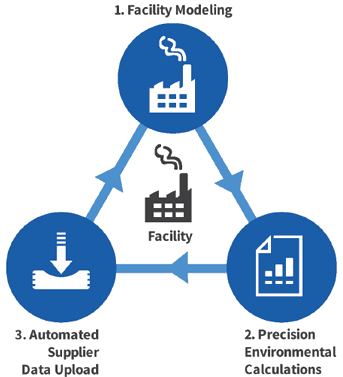 Through accurate site modeling, ERA software provides an extremely robust calculation set. This can be set up to automatically include supplier data, ensuring the most accurate picture of your business operations is always on hand.
ERA's modeling methodology allows your business to incorporate changing factors and to always stay on top of your compliance responsibilities. ERA adopts a policy of strict evidence-based calculation in our methodology.
Key Benefits to Drive Continuous Improvement
It is this professional accuracy that delivers real benefits to your company, allowing for continuous improvement, including:
Facility Benchmarking – Letting you compare and measure the performance of facilities across your entire organization.

Chemical Auditing – Better measuring will reduce your costs related to phasing out material and risk evaluation.

Alerts – The ability to set up instant notifications on environmental projects progress.

Executive Dashboard – Generate reports automatically and have them sent directly to you.

Stay updated on all of your company's KPIs, with over 400 reports readily available.