Findings Management Software Features
ERA's Audit Findings Software gives audit and compliance managers a powerful findings tracking system allowing consolidation of tracked audit information. Your team can access employee-specific assigned corrective actions and automatic notifications, avoiding notification fatigue for uninvolved people within your company. Effortless task reassignment to new employees ensures business continuity allowing managers to stay on top of all required corrective actions.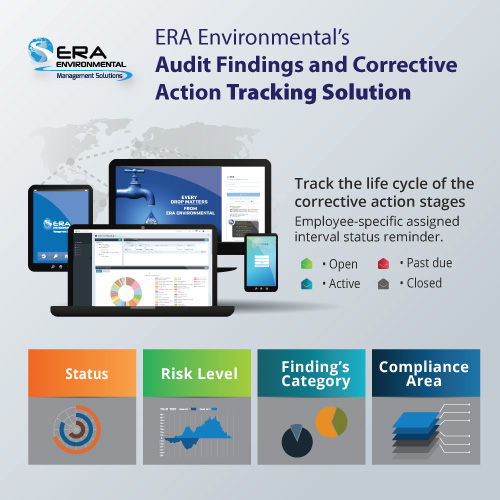 User-Friendly Dashboard
ERA's audit findings dashboard gives you a complete picture of audit progress, providing a unified experience for all employees. Team members can update their completion status with the click of a button directly from the dashboard, ensuring that no tasks fall through the cracks.
The dashboard houses useful widgets such as:
My assigned corrective actions.
Audit findings with open corrective actions.
Findings to be closed.
Data Visualization is achieved using graphs and KPIs with customizable displays showing:
Finding's Category (Environmental, Health, and Safety or ISO internal audit 14001).
Status (open, active, closed, or past due).