ERA's Storage Tanks Emissions Software Gives You a Simple and Reliable Way to Produce Extremely Accurate Emission Reports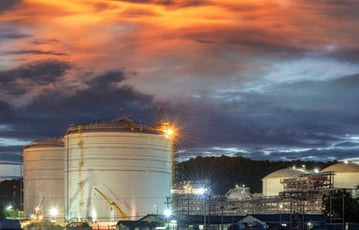 Tank emission reporting should be simple, accurate, and quick. You want to have confidence in your emission reporting and not have to worry about the complexities of tank emission calculations.
Now that TANKS software from EPA is no longer supported or trustworthy, you want a tanks software you can rely on long term.
ERA's fully dedicated Storage Tank Emissions software allows you to complete all your reporting needs for tanks through a single, simple reporting platform. Our cloud-based platform will ensure all inputs and technical information is included, ensuring the most accurate reports possible for any chemical, petroleum, crude oil, blend, adhesive, or asphalt product stored in any type of tank.
Let ERA's software give you a comprehensive overview of all your tanks, simplifying your reporting for standing losses, working losses, Maintenance Start-up & Shutdown (MSS) events and Alternate Operating Scenarios (AOS), while easily calculating your emissions for your full range of tank types, equipment, and products.
ERA Tanks Compared to EPA TANKS 4.09d
Seeking a replacement for EPA TANK 4.09 software? Now that EPA no longer supports TANKS it's time to upgrade. Here's how TANKS and ERA software stack up.
Tank Types
| | | |
| --- | --- | --- |
| | TANKS 4.09 | ERA Tanks |
| Open Top Tanks | NO | YES |
| Mobile Tanks | NO | YES |
| Horizontal Tanks | YES | YES |
| Vertical Fixed Roof | YES | YES |
| Internal Floating Roof | YES | YES |
| External Floating Roof | YES | YES |
| Domed External Floating Roof | YES | YES |
Emission Types
| | | |
| --- | --- | --- |
| | TANKS 4.09 | ERA Tanks |
| Heating | NO | YES |
| Roof Landing | NO | YES |
| Cleaning | NO | YES |
| Evaporation (Open Top Tanks) | NO | YES |
| Standing Losses | YES | YES |
| Flashing | NO | YES |
| Working Losses | YES | YES |
| Loading (Mobile sources) | NO | YES |
ERA Tank Software Features at a Glance
ERA provides the most comprehensive tank emissions software available, covering a full range of functionality that TANKS 4.09 does not, including:
Vertical and horizontal fixed roof tanks.

Internal and external floating roof tanks.

Crude oil, asphalt, petroleum products, organic liquids, pure chemicals, and any chemical blend.

Open-top tanks.

Mobile tanks – truck and barge.

Loading and unloading operations – including splash and submerged loading.

Production and mixing vessels.

Heated and hot tanks, with heated products factored in.

Flare, VCU and VRU emission calculations.
Above and Beyond TANKS 4.09D Reporting
Tank emissions can be extremely challenging to calculate – with a vast array of physical factors and calculations to take into account. With EPA TANKS 4.0 no longer a viable option, you want something that can generate TANKS 4.09D equivalent reports. ERA's dedicated software takes into account the physical tank structure, atmospheric conditions, stored contents, and the geographical distribution of your organization's tanks. This will directly facilitate your reporting of TRI and Tier II, as well as covering speciated chemical emissions.
Our dedicated tank solution accounts for every variable and will ensure that your tanks software is producing exactly the reports that you need, guiding you through the reporting process. ERA's proven and advanced methodology takes account of:
Material Modeling determines the exact chemical properties of the products being stored, loaded, mixed, heated, or cooled.

Antoine coefficient and Riedel calculation methodologies for organic liquids vapor pressure determinations.

Capacity to utilize Reid Vapor Pressure (RVP) values for 12 grades of crude oil and refined petroleum liquids. ERA can use any refined petroleum liquid for which the parameters used to determine the REID VP are known.

Dynamic monthly temperature records used for 259 cities in 50 states.

Enhanced True Vapor Pressure (TVP) determination based on temperature records.

Quad O (Subpart OOOO) and Ground Level Concentration (GLC) reporting.
ERA's Tank Emissions software automatically utilizes our Master Chemical List, an extensive list that covers every chemical and substance that you may need in your reporting. ERA keeps this extremely useful asset completely up-to-date and automatically feeds the approved information into your reports and calculations.
ERA's Tank Emissions software allows for the input of control device information, and assigns easy-to-use product IDs for every single tank, making it easy to instantly pinpoint particular tanks.
Flexibility for Your Facility
ERA will provide you with a dedicated EMS professional to guide you through the setting up and operation of your Tanks Emission Software. This process will ensure that your software platform is correctly calibrated to the exact specifications your facilities require. This detailed reporting is especially useful when engaging with:
General evaluations of your facility's tank operations.

Troubleshooting of specific reporting issues.

Record-keeping of all tank activity at your facility.
This versatile approach ensures that multiple sites, with a mix of tank types and emission factors can be accurately collated and that accurate reports can be produced. ERA's software package can be easily customized, and will take into account your own tank batteries, products, chemical lists, emission limits, and control equipment. Additionally, the software provides a comprehensive calculations sheet – detailing exactly how these reports were generated.