ERA's Master Chemical and Regulatory List (MCL) is a robust database that contains chemical regulatory information for over 200,000 chemicals which helps you increase the efficiency of your in-depth emissions reporting, chemical inventory management, and greenhouse gas (GHG) compliance. The MCL seamlessly integrates with ERA's many solutions; environmental, sustainability, and SDS authoring providing accurate data for all reports and audits.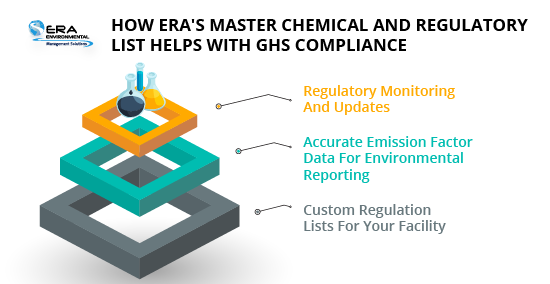 What can ERA's MCL do for you?
The MCL allows you to track and monitor regulatory changes, confirm the accuracy of your data, and reduce the time your EHS professionals spend on research. With this service, you receive:
Regulatory Monitoring and Updates.

ERA's team of chemical researchers and scientists provides support in addition to our EMS modules at no extra cost, ensuring that your reports and records reflect the most up-to-date regulatory requirements.

Accurate data for environmental reporting.

Environmental reporting is complex and requires knowledge of emission factors and VOC content; ERA's MCL supplies chemical property data that is useful for many chemical calculations.

Custom Lists for your facility.

With ERA's platform, you receive access to all the regulations for your specific site and operations.
Environmental Air, Water, and Waste Reporting and Regulations
ERA's strong chemical data library simplifies air, water, and waste reporting. Regulations covered in the MCL include:
TRI (Toxic Release Inventory)
TRI under the Emergency Planning and Community Right-to-Know Act of 1986, and later expanded in the Pollution Prevention Act of 1990. §313 of EPCRA
NPRI (National Pollutant Release Inventory)

Canadian Environmental Protection Act, 1999 (CEPA) 46-53
HAP/VHAP (Hazardous Air Pollutants/Volatile Hazardous Air Pollutants)

42 U.S.C. §7401 et seq. (1970)
§112 of the Clean Air Act
EHS (Extremely Hazardous Substances)

Section 302 of the U.S. Emergency Planning and Community Right-to-Know Act (42 U.S.C.11002). The list can be found as an appendix to 40 C.F.R. 355
TSCA (Toxic Substances Control Act)

15 U.S.C. §2601 et seq. (1976)
REACH SVHC (Candidate list of Substances of Very High Concern)

The criteria are given in article 57 of the REACH Regulation.
RCRA (Resource Conservation and Recovery Act)

42 U.S.C. Ch. 82—Solid Waste Disposal 42 U.S.C. §6901 et seq. (1976)
DSL/NDSL (Domestic Substance List/Non-Domestic Substance List) Part 5 of the Canadian Environmental Protection Act, 1999 (CEPA)

The DSL is an inventory of substances in the Canadian marketplace published in the
Canada Gazette
, Part II, in May 1994.
Tier II
(Section 312 of SARA Title III)
Conflict Minerals List

Dodd-Frank Act Section 1502
GADSL (Global Automotive Declarable Substance List)
DHS (Department of Homeland Security)
Appendix A of the CFATS regulation (6 CFR Part 27)
GHS (Globally Harmonized System)
VOC Exempt Chemicals

40 CFR 59.203(f)
VOC chemical definition

40 CFR part 51, §51.100
EPA Act 1992 (Control of VOC Emissions from Petrol Storage & Distribution) Regulations (SI 374 of 1997)
California Proposition Act

Proposition 65
In addition to simplifying environmental reporting, the MCL provides accurate and updated information for:
SDS management & authoring

Tank emissions management
SDS Management & Authoring
ERA software enables users at any facility to author and manage SDS and to create secondary container and shipping labels with their choice of regulatory information, including:
Section 2:

GHS Substance Classifications.

Section 8 Exposure Controls/Personal Protection:

ACGIH PELs, OSHA PELs, NIOSH PELs.

Section 15 Regulatory Information:

SARA 312, 313, CERCLA, TSCA, RCRA, California Proposition 65, DSL, NDSL, VOC, etc.
Tank Emissions Calculations
AP-42 Emission Factors are used to properly manage air quality and emissions from storage tanks during normal operating conditions. This makes emissions reporting infinitely easier for all the tanks at your facility.
To learn more about the MCL schedule a discovery call with a project analyst.