ERA's Extract Transform Load System Automates Data Pre-Processing and Imports for Superior Analytics
When data management needs get complex, maintaining accurate and timely reporting can be a challenge. The New ETL Automation System from ERA-EHS is designed to solve these problems by dynamic behind-the-scenes data pre-processing customized to your unique processes.
ETL Automation is perfect for businesses handling Big Data, a large number of siloed databases, or maintaining unique processes through manual spreadsheets. ERA's dynamic pre-processing automates all the necessary steps to turn your raw data into meaningful reports – no matter how complex.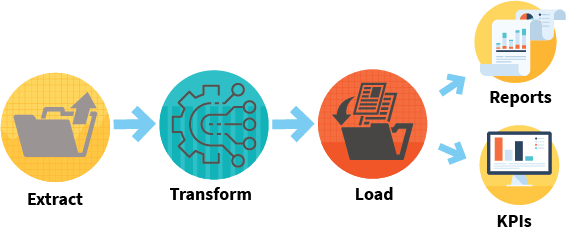 What is ETL for Manufacturers?
ETL software for manufacturers represents the complete cycle of data pre-processing that enables your business to turn Big Data into beneficial insights.
ETL stands for Extract – Transform – Load:
Extract collects raw data from your data sources – even from multiple sources and vary source formats.
Transform is where ERA's advanced automation and built-in AI pre-processes your data and prepares it for upload into your reporting and analytics databases. ERA's EHS science team works closely with you to define the rules, formulas, and specifics of your transformation requirements.
Load imports the processed data back into your analytics database where it can be used to generate KPIs, compliance reports and other EHS benchmarking statistics.
Why Choose ERA's ETL Solution for Your Data Management
ERA's ETL tool allows you to better consolidate data and transform data to be used from one database to another. Combine your data sources to analyze and discover business insights. Maintain your data with ETL—monitored by ERA scientists for QAQC you can rely on.
View your old data in new ways with forms designed to give you enhanced view of your operations.
Combine your data with matching spreadsheets to improve your database.
Organize disparate data into clear data with KPIs & Benchmarking.
Waste Management
Problem: A manufacturing client was struggling to correctly report on their metals waste stream for Toxic Release Inventory (TRI) due to the multiple steps required in the calculation process, combined with a large quantity of data generated.
Our ETL Solution: ERA custom configured an ETL process which is able to extract data from their product tables without hands-on formatting by the client, and transform that data through built-in formulas for bad machining rates, usages, expected scrap generation, and tie it all in to their processing codes and part numbers. This data is then directly uploaded to tables for electronic TRI reporting.
Paints and Coatings
Problem: ERA worked with a large automotive OEM to apply an ETL process to their complex paint and coatings data stream which was causing accuracy issues due to the volume of data and complexity in calculating chemical compositions for blends when using Excel.
Our ETL Solution: ERA's new ETL process extracts raw chemical coating data from their chemical inventory ERP and our powerful calculation engine transforms the data into comprehensive blend formulations in a data form compatible with the client's reporting and analytics systems.
EHS Consultants
Problem: A consulting firm was stuck using multiple siloed spreadsheets for their clients to generate reports and analytics.
Our ETL Solution: ERA worked with them to design an automated ETL business logic that combined the formulas and functions of all their spreadsheets into a single workflow in which they can feed their own clients' raw data and get clean, formatted data for easy use.