ERA's database classifies and interprets every reading from your CMS devices and stores them in a secure location
Say goodbye to digging through countless Excel sheets of CMS measurements to understand trends and find anomalies in your data. ERA keeps track of your minute-by-minute readings within a single platform that never purges your data, no matter how many data points there are. Automated import procedures feed your CMS data directly to the ERA system for vetting and analysis. You will then receive summary reports for any operation you monitor with probes, programmable logic controllers (PLCs), or other sensing equipment, such as flow rates, GHG emission levels, pressure readings for filter tables or baghouses, flare tip velocity and temperature, and so on. These reports are available to you at all times, so that you may prove your organization's compliance with permit conditions when necessary.
ERA's data collection and compilation process is simple, transparent, and entirely customizable:

The raw data in your data storage system is encrypted and automatically sent to ERA using Secure File Transfer Protocols (STFP) at the frequency of your choosing (hourly, daily, weekly, etc.).

ERA's EMS system decrypts your data, reviews it in accordance with your permit conditions, and uploads it to a client-specific server in ERA's software.

Alerts are automatically sent whenever a reading is invalid or exceeds the expected range of operation. You determine which limit exceedances require notifications and to whom these are delivered.

The software rolls up CMS readings at the interval required by your permit (or according to your organization's specific needs) and makes them available for reporting purposes.
Make sense of Big Data without examining each CMS reading individually
ERA's software helps you tell your compliance story. Our servers do not act as a black box that merely stockpiles your data; rather, your CMS readings are cataloged as per your data integration settings. The system filters out invalid readings, logs exceedances as upset events, and assigns tags to match your business rules and limits. Vetted, real-time graphs and KPIs for all your parallel CMS devices are always available to you within a central terminal, guaranteeing you are never caught off guard by an audit.
Benefits of the CMS Module:
Highly flexible data reporting and tracking provides you with roll-ups, aggregates, and interval data grabs for every process, exceedance, or malfunction.
Upset events are immediately reported, speeding up your team's response time, and automatically included in emission reports, permit compliance reports, and notifications to your regulators.
Data backups in the form of nightly differential and weekly full database grabs provide an additional layer of security, ensuring not a single data point is lost.
Dashboard widgets display graphical and statistical overviews of any process or source that uses CMS technology.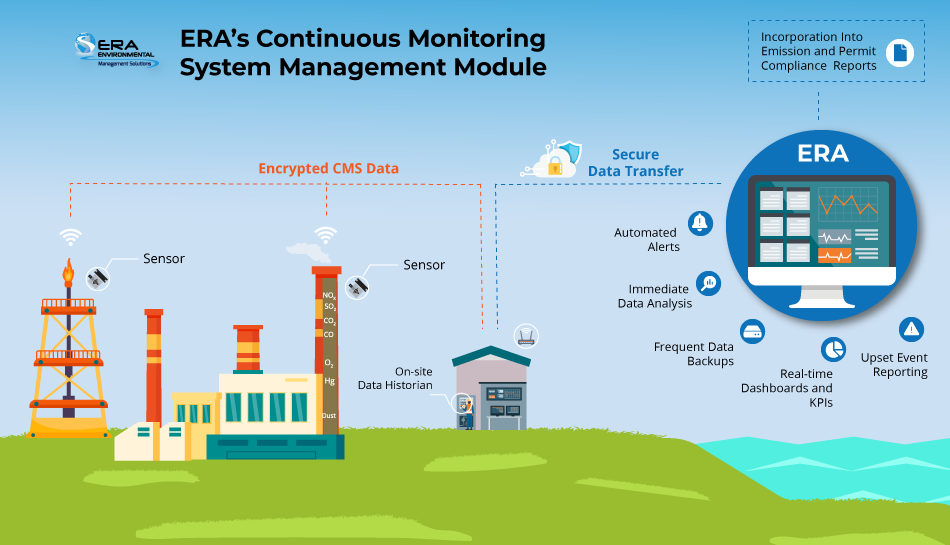 All Your Compliance Records in a Single Location
Ready-made Reports created through ERA's software are dynamic and adaptable. They are designed to include any kind of data aggregation, roll-ups, and averages at the granularity of your choice: hourly, daily, weekly, or monthly.
By choosing ERA, you are choosing a reliable, completely automated database that keeps every report on file and is always online. Schedule a call with one of our project analysts to find out how ERA's solution works to meets all your data collection demands.