Enhance your Product
Approval Process
Every facility needs a tool that accelerates the product approval process and alleviates the tediousness of dealing with long email chains and undocumented phone calls. In addition to processing speed, you also need a way to record approved products and confirm if materials have already been approved before repeating the strenuous process.
ERA's solution provides the best solution to these challenges with configurable product approval forms, straightforward review workflows, and notifications for regulatory review officers, chemical management officers, environmental teams, and vendors. With the freedom to add as many or as few approval steps as necessary, you can ensure that your organization has a document of every approval in case of an EPA or OSHA audit.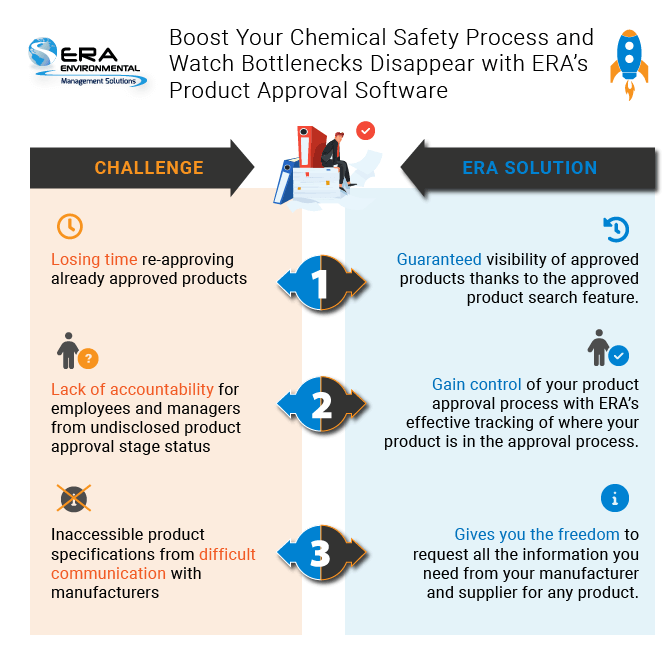 Centralize Product Data for Multiple Facilities
Go through the monotonous chemical approval process only once with the product approval search feature that allows you to check for chemicals that have already been uploaded by the manufacturer.
Access Facility-Specific Regulations

Save time spent combing through regulatory data to check if it applies to your chosen chemical by receiving access to only your associated internal and external regulations. ERA's software comes with a full Master Chemical and Regulatory list with over 3000 regulations giving you access to updated regulatory information in just a few clicks.
Integrated with ERA's Product Specifications and Reporting

Gain insight into your products' exact chemical formulation with integrated product specification capabilities. For those already using ERA's platform for environmental reporting, your product approval data can also be transferred to your inventory-dependent environmental reports, such as Tier II, which spares you the need to enter the same data twice.
Automatic Notifications for Your Product Approval Process

ERA's system triggers notifications at various stages of the approval process: when a step is completed, a request is denied, information is needed from the manufacturer, and the product or chemical gets approved. Automated email notification steps provide immediate process alerts and escalation of any identified issues as needed.
Superior Product Approval Automation

To discuss the many ways to take advantage of ERA's product approval platform, schedule a complimentary call with a project analyst today.