Robust Data Automation
One Place to Put It All, One Place to See It All
ERA's SaaS platform puts one of the world's most powerful data processing engines at your fingertips. No matter what type of data you need to manage, ERA's system can help. ERA gives you one centralized system to save your data and to see all your data - the ultimate solution to your data management needs.
Upload from any type of data source (Excel, APIs, ERPs, Supply Chains, Labs, and more)
ERA warehouses your data in a secure relational database and protects it in the most advanced cloud platform technology
ERA's Business Logic Builder engine transforms your data into any type of Key Performance Indicator
Leverage your data using built-in EHSQ modules and over 500+ built-in reports. Address your reporting needs for:
Sustainability Reporting Module (GRI, DJSI, CDP and more)
Greenhouse Gas Emissions Module (tracking and calculations)
Refrigerant Module
Environmental Reporting Module:

Toxic Release Inventory (TRI)
Discharge Monitoring Report (DMR)
National Emissions Inventory (annual emissions report)
All state-specific reporting requirements: STEERS, SLEIS, and more

SDS Management
SDS Authoring
Health & Safety Reporting Module

Incident Tracking
Inspections
Audits
Process Safety Management (PSM)

Waste Management Module
And much more
Our ETL data preprocessing and Business Logic Builder Engine combine to replace all your siloed data management systems into one unified system that costs far less than alternative data solutions.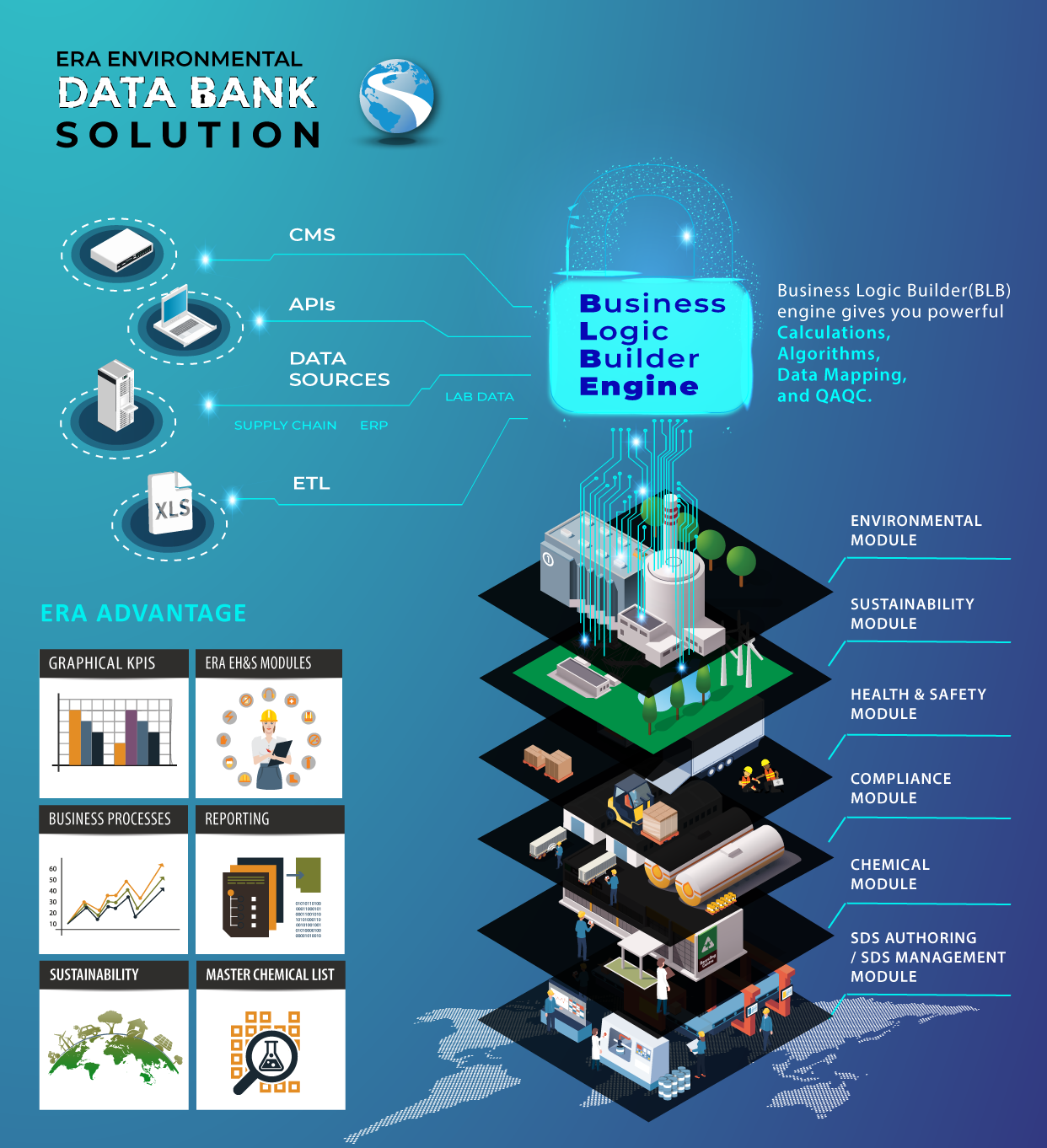 Easy Uploads for Your Data
ERA makes it easy and fast to do data mapping, upload and import any type of data, not just EH&S data. Our business logic builder can match and interpret the formatting from any viable data source and upload it cleanly into your ERA data warehouse:
Anything you track in Excel
CMS (Continuous Monitoring Systems)
API uploads
Purchase records
Supply chain
ERP systems (Oracle, SAP, JD Edwards, and many others)
On-site equipment
Smart devices
Lab results and testing data
All of these and more can be easily mapped, imported, and managed with your ERA Data Engine. ERA is the ultimate data warehouse for your data – we provide a centralized, automated, auditable, and secure vault with backups and effective access controls.
Getting your data is as simple as uploading an Excel or upload from an API and the ERA system handles all the rest.
Powerful Business Logic for Data QAQC
ERA's Business Logic Builder (BLB) engine provides comprehensive data quality control and assurance, combining advanced automation, calculations, customized rules and algorithms, and mapping to sort any type of data into usable information. The BLB engine allows you to configure your uploaded data into business intelligence, turning the avalanche of data from your data sources into a concentrated and powerful data stream.
Custom mapping builds a custom form and internal tables designed specifically for your data, preserving the structure and logic of your data rather than simply storing it.
Data validation rules flag incorrect or bad data and segregate it off so you can review it and decide the best course of action – keeping your working data error free.
Automatic alerts about data uploads and flagged data let you see all detected issues and address them instantly.
Automation to Ensure Accuracy and Quality
This Data Bank and reporting solution is driven by industry-leading automation to give you seamless data uploads, mapping, and analysis. Automation takes place right at the very start of our data management system with automatic fetching of data from your sources, as well as automated logic to sort and store your data through our universal import without losing any data integrity. ERA automation includes configurable algorithms, industry-standard calculations, and built-in QAQC checks to deliver best in class data for your reporting.
Reduce the time and effort it takes to get data from your separate sources using automation to quickly pull in and upload data within minutes - completely hands-free wherever possible.
Intelligent automated QAQC safeguards your database and reports from incorrect or incomplete data, giving you full insight into data errors and making fixing them simple.
Automation carefully and quickly creates custom tables within your database in order to maintain the correct structure for and integrity of your unique data. ERA removes the need for you to be a database design expert.
Transform Your Data with ERA Modules and Reporting
ERA's comprehensive ERP software includes modules that can transform your data into any number of custom reports, standardized regulatory reports, and output your data into configurable real-time Key Performance Indicators. ERA's data management does more than just reformat your data into a basic report – our sophisticated modules can perform in-depth chemical and regulatory calculations to generate complete and accurate reporting with advanced business intelligence, regulatory completeness, and scientific accuracy. ERA combines 26+ years of scientific expertise with superior data management to deliver better reporting for every aspect of your business.
Environmental and sustainability reporting
Compliance task reporting
Health & safety reporting
Purchases and Inventory
Human Resources
International Regulations
Effective Data Management for Cost Savings
The best data management keeps everything centralized and in one system. Using multiple systems introduces the risk of errors and security breach every time data is transferred and adds unnecessary costs to your organization.
ERA's data management platform is designed to replace all your siloed data processors, including Oracle, SAP, Power BI, and other ERPs you may be using. ERA gives you one single platform for your entire data life cycle with full reporting capabilities that outperform your current systems. Stop paying for multiple data tools ERA can handle all your data needs in one tool.
Switch from separate data silos to one unified platform
Cost-effective, full power data management at a fraction of the price
Increased security and data integrity
Data is the Backbone of Your Success – Trust in the Right Tools
Your data is your most important resource: entrust it to the data experts with over 26+ years of experience handling and protecting Big Data and sensitive data. ERA applies the same top level security protocols as international banking along with extensive protective processes.
Mission critical hosting which includes frequent entire system backups, physical security for all servers, and natural disaster recovery redundancy with servers in geographically diverse locations.
Security protocols for user access rights – define exactly who can see which parts of your data, and track all user activity.
Industry gold standard firewalls (Juniper SRX) protects against any attacks.
Audited to SSAE 16 and ISO 27001 standards.
Hosting providers also Safe Harbor certified.
Get the power of ERA's Data Bank and ETL software for your data management projects and reporting. Schedule your no-commitment demo today.