Full Regulatory Coverage Refrigerant Management System for Owners and Operators
Businesses operating under regulation EPA Section 608 for refrigerants need advanced systems and controls in place to measure, monitor, and report their compliance.
ERA maintains a reliable suite of tools to address the full EPA Section 608 requirements for manufacturing owners and operators.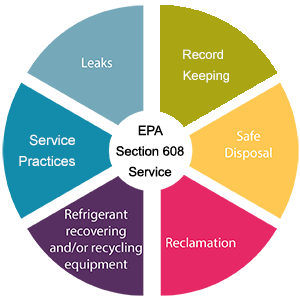 ERA Refrigerant Software covers the full suite of Section 608 Requirements for facilities.
Advanced automated tools deliver tracking and dynamic reporting for activities subject to EPA Section 608, including:
Detailed reports about your refrigerant emission, including recovery, recycling and disposal.
Monitor emissions by GHGs per equipment and examine outputs for each refrigerant type with metrics for leak rates.
Measure leak rates accurately with built-in leak calculations with both rolling and annualizing rates with threshold notifications.
Reclamation system tracks refrigerant purge and rebuild.
Inspection task delegation, assignment, and CAPA tools to ensure service and maintenance are done on time and in compliance with required standards.
A Complete Suite of Capabilities
The Refrigerant Management software platform by ERA Environmental can be integrated to deliver a complete top-to-bottom compliant solution that includes:
Complete and view inspection checklists with smart forms designed for compliance
Retrofit & Retirement records with fields to explain your plans for compliance.
Track equipment usage and performance with KPIs and benchmarking. See it all through a simple executive dashboard.
Streamline and automate your chemical data entry and roll up with smart forms, universal uploads, and electronic data transfers.
Access ERA's enormous Master Chemical List with thousands of chemical regulatory records.
ERA's record keeping tool allows document dates, refrigerant and evacuate charge amounts, equipment servicing and disposal, corresponding technician, and calculations alongside EPA thresholds to maintain compliance. Stay up-to-date with all your compliance tasks with ERA's built in tools.