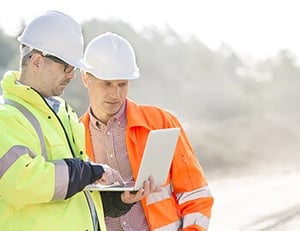 The Clean Air Act (CAA) is the law that defines the EPA's responsibilities for protecting and improving the nation's air quality and the stratospheric ozone layer. Congress designed the CAA to protect public health and welfare from different types of air pollution caused by a diverse array of pollution sources.
The National Emission Standards for Hazardous Air Pollutants (NESHAP) has been created as an extension of the CAA to monitor the amount of hazardous air pollutants (HAPs) from stationary sources. Stationary sources of air pollution include but are not limited to factories, refineries, boilers, and power plants. Eliminating emissions of pollutants is the goal. However, the percentage of emissions that can be eliminated is often limited by the current level of technology that is available to industrial sectors. Therefore, the EPA developed Maximum Achievable Control Technology (MACT) standards to tackle this issue.
When setting their MACT standards, the EPA looks at the current level of emissions that are being achieved by the best-performing similar sources in that industry. These emission levels are then used to set a baseline known as the "MACT floor" for the new standard. When the EPA sets a MACT standard, sources must, at a minimum, achieve a level of emissions control throughout that industry that is at least equivalent to the MACT floor.
NESHAP Regulations and Inspections
NESHAP standards are industry specific, but they can also be chemical specific and manufacturing process specific. The chemical Benzene has a NESHAP for waste operations and a separate NESHAP for transfer operations. For wood products there is a NESHAP for wood preservation and another for wood furniture surface coating.
HAPs have a significant impact on air quality and public health. The EPA's efforts to identify and address excess emissions continue through inspections of facilities to evaluate compliance.
Inspections include:
Interviewing facility personnel.
Examining reports and records.
Reviewing leak detection and repair methods and practices.
Inspecting the processes that have emissions points subject to the standard sampling wastewater discharges, if applicable.
Initial performance tests are required by all sources subject to NESHAP to demonstrate compliance.
Sources are also generally required to monitor control device operating parameters. In addition, sources may be required to install and operate continuous emission monitors to further demonstrate compliance.
How ERA Improves MACT/NESHAP Reporting for You
Try a Free, Customized Demo to Explore ERA's Environmental Management Software
The methodology behind ERA's software is built on total accuracy and rigorous data-gathering, basing reports on your facility's measured, actual daily activities. This complete approach excludes the data-gaps present in other software packages.
Updates to NESHAP and MACT are continuously generated, at no extra cost, for better reporting.
In-House Master Chemical List (MCL) is updated daily for changes in HAP regulations for NESHAP and MACT. Additionally, MCL allows you to track all manufacturing chemicals and stay up-to-date with federal, state/provincial, and regional regulatory policies.
Data from NESHAP and MACT can be paired with modules for water and waste to generate Toxics Release Inventory (TRI), Tier II, Emission Inventory, DHS Reports, GHG, and more for enhanced accuracy.
Access ERA's Free Library of EHS & Compliance Resources
Industries that Require NESHAPs*
*MACT regulations are listed in descriptions
The following are a list of industries that require NESHAPs and MACTs. To learn more about the regulations and guidelines for each industry, the list below specifies categories for NESHAP reporting.
Agriculture, Food and Forestry
Cellulose Products Manufacturing
Nutritional Yeast Manufacturing
Prepared Feeds Manufacturing
Vegetable Oil Production
Pulp and Paper Industry (Chemical Recovery Combustion Sources at Kraft, Soda, Sulfite, and Stand-Alone Semichemical Pulp Mills (MACT II),
Pulp and Paper Industry (MACT I & III), Standards of Performance for Kraft Pulp Mills (40 CFR 60, Subparts BB & BBa))
Plywood and Composite Wood Products (Wood Products, Organic Emissions from Plywood Veneer Dryers)
Wood Preserving
Chemical Production and Distribution
Hydrochloric Acid Production
Miscellaneous Coating Manufacturing
Miscellaneous Organic Chemical Production and Processes
Organic Liquids Distribution (Non-Gasoline)
Pesticide Active Ingredient Production
Polyether Polyols Production
Pharmaceuticals Production
Chemical Manufacturing (CMAS)
Chromium Compounds Manufacturing
Polyvinyl Chloride and Copolymers Production (Polyvinyl Chloride and Copolymers Production, Polyvinyl Chloride and Copolymers Production Area Sources)
Vinyl Chloride and Ethylene Dichloride Production
Polymers and Resins Production (Group I Polymers and Resins, Epoxy Resins Production and Non-Nylon Polyamides Production, Manufacture of Amino/Phenolic Resins, Group IV Polymers and Resins)
Synthetic Organic Chemical Manufacturing
Acetal Resins Production
Hydrogen Fluoride Production
Polycarbonates Production
Ethylene Processes Production
Cyanide Chemicals Manufacturing
Chemical Preparations
Ethylene Processes Production
Generic Chemical Rules for Stationary Sources of Air Pollution
Cooling Towers
Equipment Leaks (Control Level 1,2, Fugitive Emission Sources, and Fugitive Emission Sources of Benzene)
Process Vents, Control Devices, and Flares
Storage Vessels and Transfer Operations (Containers, Tanks- Level 1 & Level 2, Benzene Storage Vessels, and Benzene Transfer Operations)
Wastewater Operations (Benzene Water Operations, Individual Drain Systems, Surface Impoundments)
Electric Utilities
Coal- and Oil- Fired Electric Utility Steam Generating Units (Mercury and Air Toxics Standards)
Energy, Engines, and Combustion
Beryllium Rocket Motor Firing
Industrial, Commercial, and Institutional Boilers and Process Heaters Major Sources
Industrial, Commercial, and Institutional Boilers Area Sources
Stationary Reciprocating Internal Combustion Engines (RICE)
Stationary Combustion Turbines
Foam, Fiber, Plastic and Rubber Products
Acrylic Fibers/Modacrylic Fibers Production (Generic MACT & Area Sources)
Flexible Polyurethane Foam Fabrication
Reinforced Plastic Composites Production
Rubber Tire Manufacturing
Spandex Production
Metals Production Industry
Aluminum Production (Primary Aluminum Reduction, Secondary Aluminum Production)
Chromium Electroplating
Copper Smelters (Primary Copper Smelting, Primary Copper Smelting Area Sources, Inorganic Arsenic from Primary Copper Smelting, Secondary Copper Smelting Area Sources)
Ferroalloys Production (Ferromanganese and Silicomanganese, Production area sources)
Gold Mine Ore Processing and Production
Iron and Steel Foundries (Area Sources, Steel Manufacturing, Coke Oven By-Product Recover Plants, Coke Ovens: Charging, Topside, and Door Leaks, Coke Ovens: Pushing, Quenching, and Battery Stacks, Stainless and Non-Stainless-Steel Manufacturing: Electric Arc Furnaces, Steel Pickling HCl Process Facilities and HCl Regeneration Plants)
Lead Acid Batter Manufacturing
Lead Processing
Lead Smelting
Mercury Cell Chlor-Alkali Plants
Mercury Production
Metal Fabrication
Plating and Polishing
Non-Ferrous Foundries
Non-Ferrous Metal Production (Inorganic Arsenic from Arsenic Trioxide and Metallic Arsenic Production, Beryllium Production, Primary Nonferrous Metals-Zinc, Cadmium, and Beryllium Area Sources, and Secondary Nonferrous Metals Area Sources).
For more information visit https://www.epa.gov/