Here is where you will find a selection of ERA's free webinars. These have been created and compiled in consultation with EH&S industry leaders, as well as with our dedicated team of environmental scientists.
These webinars range from advice on environmental management, reporting and compliance advice – covering a wide range of topics and industry events. This section is regularly updated with the very latest EH&S-related webinars, as produced by ERA.
TRI Insider Insights: TRI Reporting with Former TRI Coordinator (Region 2) Nora Lopez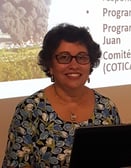 ERA Environmental Management Solutions has teamed up with recently-retired high-level EPA Toxic Release Inventory Coordinator Nora Lopez (Region 2) to bring you a must-see TRI Webinar.
Nora Lopez shares her decades of TRI experience: learn how to improve accuracy, spot red flags that would get you fined or audited, and be more confident in your final TRI emission quantifications. Get full access to the expert TRI information and Form R reporting advice.

Tier II Reporting Insights and Best Practices
This educational 45 minute webinar covers everything you need to know about Tier II reporting for your facility. You will learn the fundamentals of what to report, when to report it, and how to determine if you are required to comply. Discover how the changes to EPCRA 311 and 312 made in 2017 affect your report, including the new XML upload.
Let ERA's compliance experts guide you through Tier II determinations and show you how to avoid the common reporting pitfalls with dos and dont's. This recorded webinar also includes answers to in-depth questions from industry reporters.

Championing Sustainable Automotive Innovation
ERA Environmental, a member of the Supplier Partnership's Materials Work Group, was invited to be a key speaker at the 2013 Summit on Accelerating Innovation to Drive Sustainable Automotive Manufacturing Growth Across North America.
ERA's Gary Vegh was there to share insights and innovations that will help automotive OEMs and their supply chains increase transparency and make managing their environmental data a more efficient process.
Watch the recording of the live talk here and learn how the automotive industry is advancing sustainability for all of North America.

Lean Manufacturing: How EHS Software Can Make it Reality
Are you one of the many companies in the U.S. facing the almost insurmountable challenge of meeting EHS Compliance responsibilities with reduced resources?
Do you have higher manufacturing expectations?
Has your company adopted a Lean Manufacturing mentality?
This webinar focuses on a roundtable discussion between officers of J.B Poindexter & Co., Inc. and their consultants, as they examine the steps involved in JBPCO moving towards a viable solution to meeting these problems head on and overcoming them.

EHS Data Automation: Why It's Important and How It Can Help
EHS Managers need to focus on managing activities, rather than manual data entry, transcribing reports and hunting for missing information. This takes valuable time away from your busy day.
Discover the advantages that experienced and innovative EHS Professionals enjoy when they automate EHS work flows – eliminating manual data entry, auto generating reports, receiving threshold alerts and much more.