Working Hand In Hand With Consultants
As environmental specialists ourselves, we know that the consulting business is competitive; you need to protect your business connections and clientele. That's why we've developed a model designed specifically for consultants that puts them in the driver seat.
Independent consultants have been using ERA's EHS software platform to provide consulting services to their clients for over 20 years now – their clients are happier, their time is used more efficiently, and their bottom line is protected and secure. We're proud to be able to support EH&S professionals in their mission to improve EHS performance without interrupting the relationship between consulting firm and their client.
Currently, dozens of consultants use ERA software to optimize the services they provide to their clients. This includes firms that service Fortune 500 manufacturers.
Software that makes your consulting tasks more efficient, allowing you to focus on business growth and client satisfaction.
Join the ERA Certified Consultant Partnership
ERA is proud to partner with the very best in EHS consulting firms to provide implementation, customization, software design, and consulting services to our clients via our Certified Consultant Partnership Program. If your firm is interested in becoming a certified ERA Partner, visit our Consulting Partners Page to learn more, and contact us at info@era-ehs.com.
Consultants use ERA Software to Seamlessly Provide:
Toxics Release Inventory Report generation and submissions.
Tier II reporting.
Data management, entry, and QAQC services.
Permit applications and renewals.
Air, waste stream, and water discharge tracking.
Compliance management.
Inspections and Audit Management.
Training Management.
Incident Reporting.
Lab samples and field test results.
SDS Authoring and SDS Management.
How Does EHS Software for Consultants Work?
ERA provides two software models specifically tailored to consulting firms, based on your business practices and how you manage your relationship with your clients. We have a solution tailored to fit you.
Model A - Your Client Holds the ERA Software License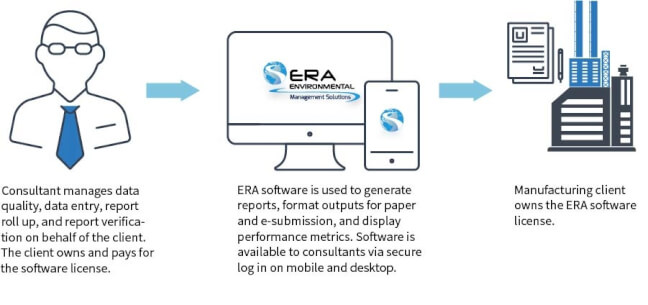 Your consulting firm manages and maintains the entry of any data into the ERA software on behalf of your client.

You review and QAQC any data the client provides you in your preferred format.

Your firm is responsible for generating and finalizing compliance reports using the ERA software.

You provide consulting and data management as a service to your client who acts as primary licensee of the software.

Streamline and

optimize the data management tasks that are already part of your consulting services while providing value added reporting to your clients.

ERA handles the initial implementation and transitions authority to consultant for further implementations or expansions.

Consultant continues to provide consulting services

and expands the scope of their work with existing client.
Model B - Your Consulting Firm Holds the ERA Software License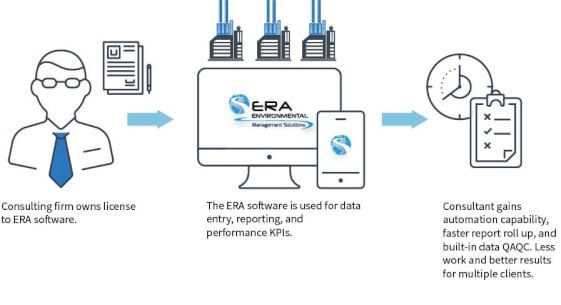 You use the ERA platform as the technology arm of your consulting firm to deliver consulting and reporting as a service.
You own the ERA database and oversee the implementation of any client facilities / organizations.
You manage data entry, QAQC, and report generation for each client.
Ideal for consulting firms with multiple clients.
Automate consulting tasks that otherwise take additional time and resources – more client opportunities, achieve more in less time.
Consulting firm continues to provide consulting services to their existing clients and expands their business by implementing new clients into the ERA system as needed.
Accelerate Your Consulting Business Today
If you're ready to grow your consulting firm, be able to serve more clients in less time, and automate the data entry tasks that eat away at your time, use the button below to request a demo with one of ERA's EHS project analysts. They will learn about your consulting firm, take the time to understand your needs, and discuss how ERA can be integrated into your practice.
It's free, no-commitment, and tailored to your interests.