Leverage Your Emissions Monitoring to Realize, Rationalize, and Reduce Your Energy Consumption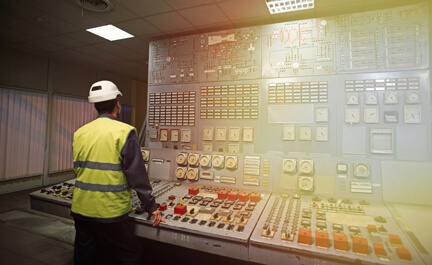 No matter your industry, to operate your business you need energy – and with that comes energy costs. The need to reduce and rationalize power costs are ever more pressing, figuring increasingly in a facility's KPIs.
ERA's software gives you comprehensive insight into how power is being utilized in your facilities. This provides the best possible platform to pinpoint process inefficiencies, carry out effective utility tracking, and yield real savings in energy costs.
Transition away from piece-meal reporting, and use the comprehensive ERA platform to achieve energy management:
Realize: Manufacturing and production plants are required by regulators to report on a wide range of emissions. ERA empowers continuous / real-time data gathering on production processes. This information can be collated and properly parsed by ERA's software, showing you exactly what amount of energy that any tool, machine, or sector is consuming. This robust energy reporting is key to your reduction efforts.
Rationalize: With superior business intelligence, your facility will be able to take pro-active measures to reduce energy consumption – alongside emissions. You will be able to distinguish exactly what practices are yielding the best energy conservation results, singling out inefficiencies.
By engaging in energy benchmarking and comparing data with other facilities, you will be able to better realize where your energy costs can be improved.
Reduce: Take firm action to achieve reductions in your energy bills. By promoting best practices and prioritizing energy saving projects across all your facilities, the amount your business is expending on energy of all types (electricity tracking, natural gas, etc.) can be substantially reduced.
Why ERA?
ERA is ideally placed to facilitate your successful energy management, helping you deliver on power management goals and KPIs.
ERA is a successful provider of environmental, health & safety (EH&S) software, supported by a professional team of dedicated specialists.
With these resources, ERA can help you leverage the information that you are already collecting to satisfy regulators, and use it to help you effectively track both energy consumption and billing. ERA's software can break down details to display how much energy was expended per unit of production.
ERA's software allows for the best in monitoring and reporting in your facilities, and can deliver the following energy management benefits and insights:
Continuous measurement and verification.

Peak demand visualization.

Anomaly Detection.

Fully exportable reports.

Weather-normalized reporting.

Alarms and triggers.
Additionally, ERA can provide insight into your energy and utility tracking operations via our IMAXINAR app, allowing you to access key information while on the go. This app is available for iOS and Android.