KPIs, Dashboards and Reports for Your Entire Business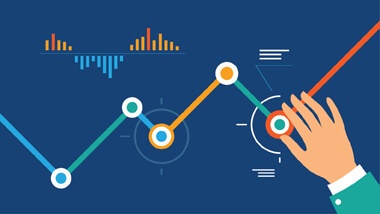 Grappling with the mountain of metrics that your business operations generate, all while continually satisfying stakeholders and regulators is no easy task. Once you factor in a sustainability strategy, having crystal clear KPIs becomes absolutely essential. ERA's Key Performance Indicator (KPI) software tracks the performance metrics that really matter – defining and delivering those measurable values that demonstrate how effectively your company is achieving key business objectives and giving you the business intelligence to make better business decisions.
Flexible KPI Reporting for Superior Business Insight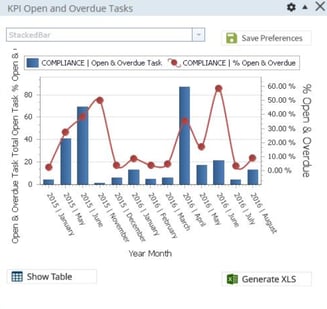 KPI reporting is integrated into ERA's executive dashboard which can be customized to display the KPIs that you need in an easy-to-understand and comprehensive manner. Any performance indicator can be customized as a trackable KPI, from incidents to compliance tasks, to VOCs.
ERA provides flexible and fully customized KPI tracking, letting you decide exactly which metrics you need for any situation. KPIs are integrated into your executive dashboard giving you unprecedented insight into your operations. Executives and managers will benefit from on-demand access to the KPIs they want and need: you can filter, sort, pivot, average, roll up, and otherwise customize your KPIs to get insight for any situation.
The dynamic KPI platform can handle any number of KPIs - creating and tracking entire sets of KPIs that your business needs in just minutes, including some of the most-used KPIs from ERA clients:
Utility Use – The key details of utility use across your facilities, including power and tools, which can have direct insights into facility costs and potential savings.
Inspections – Gain full oversight of the inspection patterns in your business – collating results, reports and compliance into easily understood KPIs.
Tasks Assigned to Employees – A comprehensive overview of employee task-loads and performance, driving more rounded insights and identifying achievements across your workforce.
Incident Summaries – The information that matters on recorded incidents, such as Near Miss incidents which can have an exponential effect on your business, productivity and operations.
The Industry's Most Comprehensive Suite of EH&S Reports
ERA provides a wide assortment of 400+ built-in standardized reports that meet the needs of any federal, state, or local regulatory body. Any emission from your processes can be tracked and reported in minutes. ERA reports are generated in a ready-to-submit format, ready for direct upload to e-reporting tools like TRIMEweb, Tier II Submit, STEERS, and other federal/state systems.
Reports can also be customized and custom built, meeting any internal or specialized compliance need for your business.
Your ERA platform comes with TRI, NPRI, Tier II, NESHAP, MACT, DMRs, Emission Inventory reports all included, in addition to:
Greenhouse Gas Emissions – The release of key gases, such as carbon dioxide, methane, nitrous oxide and other greenhouse gases that are regulated by the Environmental Protection Agency (EPA).
VOCs –The amount of Volatile Organic Compounds, which are utilized in the production, manufacturing and treatment processes, and which must be reported to the EPA.
Air, Water and Waste – Key information breaking down emissions, releases and produced waste across your environmental module.
Executive Dashboard and Report Alerts – Automatic and On Demand
Imagine being able to read the most complex and lengthy compliance or emission reports at a glance. Being able to make the right evidence-based decisions. Knowing where all of your facilities stand. That's exactly what ERA's Executive Dashboard delivers.
The Executive Dashboard gives you the power to drill down into any KPI or report and see performance issues and opportunities at the root cause level. Take a bird's eye view of your entire operations, or use ERA forecasting to determine the best course of action. See your entire business in a range of customizable reports, graphs, and charts.
Your Executive Dashboard can be customized to suit your business structure, with a separate custom display for any work group in your enterprise: executives, H&S professionals, Environmental specialists, data entry clerks, and any other tier can access a dashboard designed specifically for their needs while protecting the confidential data they don't need to see.
Executives also get the option of receiving automated alerts and notifications for any report that has been generated as well as for any specific results.
ERA's support team of environmental scientists will also provide you with the know-how to attune and perfect your executive dashboard, allowing you to extract exactly what you need rapidly and with total confidence. Your KPI benchmarking information can be expressed through any type of chart required, easily displaying your chosen data.
Dynamic Reporting Puts You in Control
In addition to the suite of built-in standard reports, ERA offers the industry's most powerful Dynamic Reporting platform that enables you to custom create dynamic reports which reflect your exact facility operations and are tailored to your specific reporting needs.
Dynamic reports from ERA are responsive and smart, analyzing information as it is entered and logically responding with next steps. Break down entire complex processes into simple steps and watch as reporting becomes simpler and more efficient - all without compromising accuracy.
You get on the fly report creation, responsive logic, custom-fit reporting, at a faster speed than traditional customization solutions.