ERA Environmental Management Solutions, the leading world-class provider of global environment, health and safety software solutions is celebrating its 20th business anniversary by hosting the EHS Ingenuity at Work Conference on May 2nd to May 4th in Charlotte, NC. The EH&S Compliance Ingenuity at Work Conference is the meeting place for Environmental Health & Safety professionals. This 3-day conference is all about bringing together the best minds and environmental leaders in the manufacturing industry to discuss best practices, proactively address emerging challenges, and discover new EH&S solutions.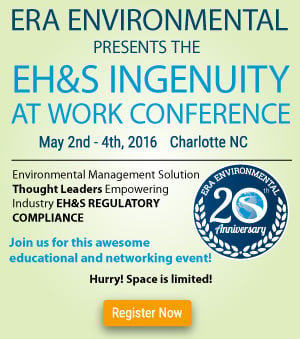 The conference which features keynote presentations by EPA policy makers and regulators is designed as a premier expert educational training and networking event that will deepen your understanding of emerging environmental regulations. The Conference Agenda includes live training, workshops peer-to-peer breakout and networking sessions on process and product related experiences with the ERA EHS solution. The sessions range in topics from pre and post implementation, reporting, application setup to project roll-out and user adoption.
"We take you on an intensive deep dive into the very latest tactics to expand your understanding of emerging EH&S regulations and improve your current environmental as well as business management practices, said Sarah Sajedi - Co-Founder & CTO of ERA Environmental Management Solutions. "The conference will provide attendees with the opportunity to focus on role-specific training with their peers within the ERA community. Attendees will learn collaborative skills to help their organizations decrease costs, increase productivity, drive revenue and enhance health and safety practices."
The event's sponsor and attendee profile include some of today's leading manufactures automotive petrochemical & coatings, and other manufacturing sectors. "This conference is a great way for us to connect face-to-face with our clients," explained, Michel Brown - Director of Sales and Marketing. "Moreover, our product stewardship sessions also help bridge the knowledge gap between people, process and technology to help our customers become more proactive and agile, effectively streamlining overall cost, increasing product roll out velocity, while meeting regulatory compliance and reporting requirements.
Don't miss out on the benefits of this awesome event! Register NOW!