In your search environmental software you will come across a lot of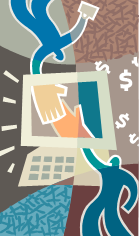 providers to choose from. But should you select a software based solely on product capabilities, or based on whether the software provider can provide the concrete services you'll need? If you are looking to invest in environmental management software, you need to find the right software and the right software provider. Finding this perfect combination isn't always so easy.
Here are some simple tips that can make all the difference in finding a compatible environmental software provider:
Assess your needs first
First off, you need a clear picture of your business' needs. Figure out what areas you have expertise and determine the areas you'll need some assistance with.
Some software tools come complete with an environmental regulations library, while others are simple calculations and reporting tools. Depending on the expertise you have in house, your expectations of what your software will have to do will change.
Are you a small business? A large enterprise? Do you have multiple sources of Hazardous Air Pollutants, or just one? How many chemicals do you deal with?
Do you only need to manage air emissions, water emissions, hazardous waste, or all of them? How much environmental data are you producing and tracking?
Do you plan on using environmental software to forecast future projects and perform in-depth analyses, or will you use it primarily for reporting your emissions to regulatory agencies?
It's important you also determine your expectations for software providers:
Do you need a software provider who is nearby or are you comfortable doing everything online?
How much technical support do you expect to get? Are you a "Pro" with computers or do you prefer to get people in the know to show you about?
Can you store all your data locally, or do you need to use a remote server?
Ask the right questions
Once you have a clear picture of your own needs, the next step is asking the right questions to prospective providers. It's vitally important that anyone you're considering lives up to your expectations.
The corporate world is littered with failed software implemenations because not enough time was spent matching the company's actual requirements with the providers actual capabilities.
You will want to uncover the details that most providers won't have listed on a software their webpage. Some of these things can have a huge impact on your decision and a good environmental software provider will be up front in answering your questions.
The types of questions you should ask:
Is the development team outsourced or in-house?
How secure are your servers?
What kind of technical support do you offer?
How long have you been in business? What assurances do I have that you'll be here tomorrow?
If I need to get support, will I speak with a representative or an automated system?
Are you able to make changes to the software if I request them? Is there a cost attached?
Seek out flexibility
Just like you don't want a "catch-all" software program full of features that you never plan on using (and probably had to pay for!), you don't want a environmental software provider that tries to dictate what you need.
Instead, look for a software provider that understands that your expectations are different from everyone else's.
When it comes to compliance, your needs can change depending on your industry, the region(s) you do business in, and what types of materials you use.
This means you need to search for a software provider that is willing to customize the software to your specific needs instead of trying to sell you an out of the box solution.
Good environmental software should change itself to suit you, not the other way around!
It should also make sure that you do less work, not just a different kind of work.
Get a demo
Getting a demo or free trial is not only one of the best ways to see if a software program is a good match for your business, but it can also reveal a lot about your potential software provider as well.
Do they take the time to personalize the demo for your company or are you just watching a video?
Do they take time to answer your questions and address your concerns?
Are they friendly and approachable? Remember, you may have to deal with this software provider for a long time!
Are they mentioning hidden fees they weren't upfront about in their marketing materials?
Naturally, we at ERA believe that we have the most flexible software, greatest customer service, and best value on the market. But don't just take our word for it! Press the button below and get a free personalized demo. Put this advice to the test and contact us today.


Alex Chamberlain is a writer for ERA Environmental Management Solutions.