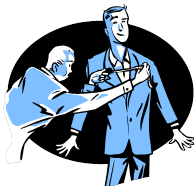 Imagine having Emissions Management Software that matches your chemicals, practices, and equipment. Having software would make air emission tracking, environmental management, and greenhouse gas reporting a painless process for your facility. Too often, businesses make the mistake of believing that air emissions management can be done with just any generic database program. While an already built and tested model is required, it must be configurable to put you in the driver seat of your specific emission management process.
This article will help you understand:
How your facility can formulate an air management strategy.
The definition and features of Emission Management Software.
Why a configurable software is the best option for environmental management.
Managing Air Quality from Industry Air Emissions
The first step is to address how your organization will be formulating its air management strategy. Managing air quality involves considering your business operations' environmental, engineering, and economic factors and using them to address emissions accurately. Examples of this process are looking at all your SDSs to determine the chemicals you use, checking equipment as potential sources for emissions, and checking the allocation of funds for waste minimization practices that help control and limit your emissions.
After evaluating factors such as these, you can set up your emission control strategy. To meet your facility's determined emission reduction goals, the EPA recommends the following steps for emission monitoring, reduction, and management:
Determine Priority Pollutants and Criteria Air Pollutants in your facility. Determining the priority pollutants present in your facility is a good step to check which chemicals and products are subject to regulations.
Identify measures to control sources of pollution. The pollution sources vary, including combustion processes, VOC emissions from paint processes, and tank emissions. Evaluating the sources is the best way to devise plans to reduce them from the source either by process modification or equipment upgrade.
Develop control strategies and plans that factor in the control measures. There are various emission control strategies, including adding detectors and monitors to your emission sources to stay on top of your facility's emissions.
Use a tailored emissions management software. Currently, many systems can help you manage all your emissions and house all the regulations related to the chemicals you use at your facility. This can help you specifically manage and report your emissions.
What is an Emission Management Software?
An emission management system is a system for managing air emissions by tracking and calculating them for reporting. Its primary function is to help your facility carefully track emissions to avoid exceeding federal emissions thresholds. Ideally, this software would be able to track and calculate emissions at a chemical/CAS level. Also, the system should be equipped with the regulatory flags and reporting formats for submission to maximize and streamline your reporting process.
What are the Features of an Emissions Software?
Features of these systems range from simply being document storage platforms to robust systems that can carry out calculations for environmental reports. Emissions software have different capabilities that the software provider defines, but the baseline of these capabilities is:
Emission reporting and documentation.
Compliance management.
Emissions threshold analysis, regulatory updates, and KPIs.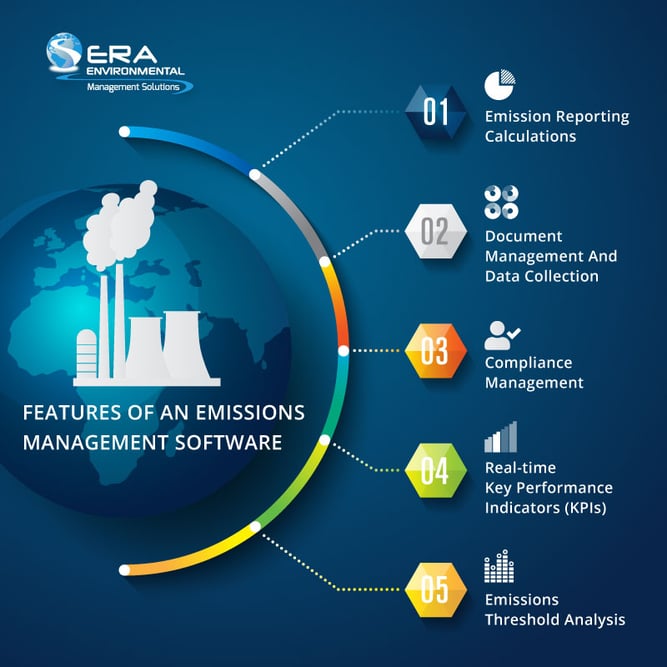 Emission reporting and documentation is an important feature. Some software solutions also have reminder systems for reporting deadlines and alerts when your facility is approaching a defined threshold. Document management and data collection is a crucial feature of an emissions software. This allows a centralized platform where all the information on machinery and equipment is carefully tracked. In the context of software, the right solution allows seamless data collection and compilation.
Compliance management is the continuous process of assessing your facility practices and systems to ensure that they follow set regulations for your industry. Part of this process is constantly conducting audits and reporting on emissions frequently in programs such as TRI or Tier II. Most systems that do this need to have readily available regulatory data.
Emissions threshold analysis is essential in tracking your progress as a facility. Having comprehensive and real-time Key Performance Indicators (KPIs) shows your executives and other internal stakeholders how well you are managing your emissions. Ensure that your chosen software solution has built-in regulatory information that is frequently updated. ERA's Emissions Management Software has a built-in Master Chemical List (MCL) that is frequently updated with the latest regulatory information.
Why Is A Configurable Solution Always Best?
Having something configurable eliminates the problems of hardcoded generic models and helps you achieve more accurate results. It is vital to have a solid structure and tested backbone to the software, but it should not be so hardcoded that it denies you the ability to access features specific to your facility. So, why would you settle for a non-configurable EMS solution for your business instead of investing in a configurable air emissions software?
Businesses often fall into the trap of using spreadsheets, which industry experts already know don't work. Opting for spreadsheets means maintaining your formulas, researching, and loading your own regulatory/chemical information and hours manually entering data. A single typo could invalidate all of your calculations. For example, entering the percentage of Toluene as 30% instead of 3% for a chemical can offset emission calculations significantly. As your datasets grow, the spreadsheet method becomes unsustainable.
Hardcoded generic business resource software products can be just as ineffectual. In some cases, the software is simply a storehouse for your data, and you'll still have to do all the data entry and calculations for yourself. Even those EMS solutions that offer calculation features can only perform overall calculations and may not factor in the details and nuance of your facility. Anything outside the box of what the developer thinks you need is either impossible or requires you to purchase "add-on" toolsets. An ideal software should bypass these programming limitations. Having a configurable UI allows you to log data for your specific practices.
Your sites' environmental reporting needs are different than anyone else's. You have different air permits, permit limits, use different materials, and have different air emission and operating limits depending on where you are located, and what you produce. That is why you need air emissions software that shows menus and metrics that match your facility and is complete with all the reports you are required to submit, both internally and to regulatory agencies.
By eliminating the inefficiencies in your reporting process, you save time, and the investment into configurable air emissions software can be returned in just a few months. Manufacturers that have switched to configurable air emissions software are saving money. When your business is ready to upgrade to air emissions software, make sure you aren't settling for the overly generic and ineffective. Pick an environmental management solution that is tailored to get you the best results. ERA's Air Emissions Software has all these capabilities along with built-in calculation methodologies and formulas, AP-42 library, and many more capabilities that are well developed and vetted but still configurable to your facility's specific needs.
Experience first-hand how configurable air emissions software can make your environmental responsibilities more manageable and more cost-effective by booking a complimentary consultation call with a project analyst at ERA below.


Alex Chamberlain is a writer for ERA Environmental Management Solutions.