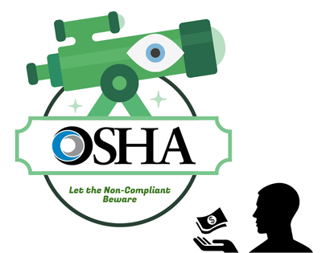 Since August 2, the Occupational Safety and Health Administration (OSHA) has been applying increased penalty fees to delinquent businesses within its purview.

This change has been actively driven by legislation enacted by Congress in November 2015, which required federal agencies to review and modify the penalties handed out, and bring them in line with inflation. The new penalties represent a substantial increase in the case of OSHA compliance infractions, with fine amounts jumping approximately 78% in most cases.

This increase to OSHA fines is also to be applied across those states with their own Occupational Safety and Health Plans.

It's abundantly clear that health and safety infractions resulting in OSHA non-compliance will now sting companies significantly more.
The nature of OSHA regulations means that accidental infractions, such as those committed by organizations that have not kept themselves updated as to the latest regulations, are fair game for these increased penalties.
Staying completely on top of your health and safety compliance by prioritizing comprehensive reporting and adopting best practices has thus been made all the more vital.
Documentation Shortfalls
OSHA hasn't been lax in its prosecution of facilities that have been found to be deficient in Health and Safety reporting and practices.
Last week, a Georgia-based company was fined in excess of $700,000 for a series of health and safety shortfalls, including failure to:
Train employees performing work on hazardous energy sources.
Protect employees from thermal skin burns due to contact with hot metallic surfaces.
Annually conduct inspections of certain processes for energy control.
Develop, implement and utilize written procedures to prevent dangerous start-ups of machinery during servicing.
While all these charges are serious, the last bullet point, where a documentation failure has directly lead to an OSHA prosecution, will stick out. A comprehensive, fully updated documentation system would avoid such situations.
The inspections which lead to these fines were carried out in March of this year. Should such an inspection be carried out at such a facility today, and find these and prosecute these same offences, the penalties would instead amount to almost $1.25 million under the increased fine system.
It's clear that the penalties for not having the right health and safety management in place are just getting stiffer and stiffer.
Non-Reporting - From Frying Pan into Fire
Another incident from last week indicated the importance of observing the correct reporting procedures in the event of a health & safety incident.

A Cleveland-based company was cited this week with an OSHA fine in excess of $250,000 dollars. This was for what the administration termed as 11 "serious" items. As part of the investigation, OSHA reported that an incident involving serious chemical burns on the skin of a company employee had not been reported, as required.

Again, it is possible to point to a considerable failure in reporting procedure here. The company had already experienced the serious incident of an employee having incurred third-degree burns, but this was further compounded by the non-reporting of the incident.
Safe-guarding Against the Future
It's clear that the recent increase in OSHA fine amounts can represent a serious financial impact on businesses that are required to pay such penalties.
Depending on the size and situation of the business, these can be extremely difficult for some companies to afford. For smaller operations, these fines can be life-and-death factors in the overall operations of the company.

What is also clear is that preventative measures, in the form of effective EH&S software and training, would only amount to a fraction of the cost of such penalties.
In the recent and real-life instances mentioned above, it's clear that training and inspections are essential to protecting your business from the risk of OSHA fines.

The best practice is to automate the reminders and training assignments needed at your facility, and to standardize your inspection tracking and management. This means having all of your training materials and courses stored in one central repository, and then having email alerts and reminders occur according to your regulatory needs (quarterly, after so many hours worked, etc.).

For inspections, which are essential to the safe and effective running of any facility, the best practice is to standardize your inspect forms so that every manager is performing the same pre-approved inspection.

Once that is complete, all of your year's inspections should be scheduled into a central calendar so that automated reminders can be sent out to ensure the inspections are done properly and on time. At the most bare-bone level, you could attempt this with a standard office scheduling tool, although a more comprehensive tool built specifically for inspection management is the better option.
Bottom Line Logic
With OSHA fine amounts increasing considerably in the event of a repeat infraction, the bottom line logic is that investing in the right EH&S tools can ultimately save businesses considerable sums, while avoiding any damaging publicity associated with instances of the kind mentioned above.

ERA offer one of the best solutions – a fully comprehensive health and safety software package which is fully supported and implemented around your unique business operations by our team of experienced EH&S professionals.

Guaranteed to your satisfaction, contact ERA today for a free demo of this software, which will outline your path to complete compliance.

Lorcan is a science writer and journalist with ERA.