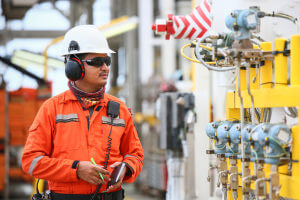 Ensuring a healthy and safe workplace is integral to both employers and employees. In their efforts to ensure a strong, fair, and effective enforcement of safety and health at the workplace, OSHA inspectors, called compliance safety and health officers, conduct onsite inspections on a regular basis and usually without advance notice. Although sans prior notice, their surprise visits need not be unpleasant, if you take steps be prepared for them! Knowing what to expect during an OSHA inspection or safety audit and habitually following best practices can make OSHA inspections a beneficial and stress-free experience. At the same time, due to sheer volume, OSHA cannot visit every workplace. However, even if they never come knocking at your facility, employers should always be prepared for this possibility as it will help reduce accident rates and be a proactive demonstration that your company prioritizes work safety.
OSHA inspections can be prompted by many different possibilities, ranging from workplace death or a simple luck of the draw. Generally, OSHA invests their time on more hazardous sites found in workplaces; some of the more common reasons why OSHA may inspect your facility include:
Imminent danger situations
Severe injuries and illnesses
Employee complaints
Referrals from agencies, organizations, or media
Programmed random inspections
Targeted inspections
Follow-up inspection/previous citations
Phases of an OSHA Inspection
If your facility does undergo an OSHA inspection, you can expect it to follow a set of guidelines and procedures that keep the entire process standardized, fair, and transparent. The first step in confidently preparing for your OSHA audit is knowing what to expect.
Here's the fundamental stages of an OSHA inspection:
Presentation of Credentials – Confirm the identity of the OSHA compliance officer
To make sure that the compliance officer is a true OSHA inspector and not an impostor, the person's credentials will need to be identified with photo ID that includes a serial number, name, and office. Don't hesitate to call the local OSHA office to verify if in doubt.
Opening Conference
Inspector explains purpose and scope of inspection
Employer provides a representative to accompany inspector
Review documents
The compliance officer will explain what prompted the visit as well as outline walk around procedures and inspection parameters, such as what machines or procedures will be observed. The officer will also ask for basic information about the facility such as the type of work performed, number of employees, names of those in charge, contact information, etc. The employer may select representative(s) to accompany the officer during the inspection. Furthermore, certain files and records, such as injury and illness logs and posted OSHA posters, will be requested for review.
Safety Inspection and Walk-Through
Examination of site, processes, operations, equipment, machines, devices for OSHA compliance
Accompanied by the representative(s), the officer will walk through the workplace and inspect for hazards that could lead to employee injury or illness. The walk around may begin with particular machines or a certain production area, or he/she may want to see how a process runs from start to finish. He/she will take photographs and notes during the inspection. Also, one-on-one interviews may be held with employees. It is a good idea for the employers to keep the same documentation as created by the officer so that both parties have identical records of the inspection. In addition, although inspectors may bring their own personal protective equipment (PPE), companies should be prepared to provide them.
Closing Conference
Reviews with employer on conditions found
Informs employer of whether citations will be issued and the employers rights to appeal
The closing conference may not necessarily be on the same day as the inspection, but it will occur shortly after an inspection ends. Closing conferences can be held in person or conducted via phone. During the closing conference, the employer will learn from the compliance officer inspection findings, possible courses of action, consultation services, and employee rights. The officer will also review what happens in the event citations and fines are issued if violations of OSHA standards or serious hazards were found. OSHA must issue a citations and proposed penalty within six months of the violations occurrence.
Tips and Best Practices for a Smooth Inspection
First, knowledge is power. Being familiar with what goes on in an OSHA inspection process can help ensure it is a smooth experience for both your company and the inspector. Furthermore, it is recommended to establish a protocol should an OSHA inspector knock on your door. Your plan should identify who will be responsible for escorting the inspector as well as the meeting space for opening/closing conferences and interviews. There should be a substitute escort in case the safety point person is not on duty the day an inspector visits.
Keeping detailed documentation and records on a regular and timely basis at your facility will make a huge difference when the inspector requests for files, such as injury and illness logs. These logs should be recorded and reported as they occur. Please note, all work-related fatalities must be reported within 8 hours and all work related inpatient hospitalizations, amputations, or losses of an eye within 24 hours (following OSHA guidelines).
Maintaining documentation in one centralized location that is easily accessible will greatly facilitate the employer since being able to obtaining records quickly and conveniently when requested will not only present your company as organized and knowledgeable, but would also demonstrate that your company is engaged in safety. A well-documented compliance and safety program will also be instrumental for both management and employees.
Conducting regular internal inspections and meetings with safety staff are also proactive steps to ensure safety at the workplace as they will identify areas of concern and remedies. Remember that everything should be documented. These internal inspections should be standardized, ideally using the same forms each time. A scheduling tool can be used to ensure this task is completed regularly.
Regardless if hazards identified in the inspections resulted in formal citations, it is always a good idea and a sign of proactivity to have identified dangers, both big and small, fixed as soon as possible. Prompt resolution of any apparent violations pointed out during inspection sends a positive message to OSHA. However, keep in mind that the ultimate goal is not to avoid citations and fines, but to enhance employee safety.
Commitment to safety and health at the workplace should be a high priority for all and you can take steps today to contribute to a safer workplace. The best practices outlined above are the right place to start when you're preparing for an OSHA visit. ERA-Environmental Software is specifically designed to keep your health and safety program on track to help you prevent incidents and document events properly. For example, ERA' solution keeps detailed documentations while assisting your company to conduct timely inspections to ensure compliance – making sure you are prepared should OSHA drop by.

Every business needs a systematic approach to proper incident record keeping and proactive inspection tools. ERA's comprehensive H&S solution combines both, along with other intelligent safety tools and risk hazard assessments to keep your employees working safely. We suggest that the best approach for audit preparation us to ensure your team is properly trained in how to handle an OSHA audit and - more importantly - trained in risk mitigation and incident prevention to make sure there isn't anything for an auditor to discover.
Learn how you can automate your H&S tasks, letting you focus on true injury prevention and workplace safety improvements. Download the free ebook below to learn how to get a safety training program or a training management software tool in place at your workplace.
This Blog Was Co-Authored By: