Workplace safety is an essential aspect of industrial and manufacturing operations. Government organizations such as OSHA are diligent in monitoring workplace safety standards. The rule that deals specifically with industry operations is the 29 CFR 1910.
In this article, you will learn everything you need to know about this safety regulation, how to prepare and conduct both self and external inspections and audits.
What Does 29 CFR 1910 Stand For?
OSHA CFR Title 29 (labour) sets rules and regulations concerning workplace safety. After a series of workplace injuries and fatalities, the Occupational Safety and Health Administration was chartered in 1970. There was an average of 11 illnesses per 100 workers and fatalities were as high as 14,000. It was essential to establish rules and guidelines that could improve workplace safety. Ever since 29 CFR 1910 regulations were established, workplace-related illnesses have gone down to 3.6 per 100 workers and fatalities dropped down to 4,340 in 2009. The OSHA CFR 29 rule has 20 subparts that cover a wide range of industrial operations ranging from welding, cutting, and brazing (subpart Q), down to toxic and hazardous substances present in the facility (subpart Z).
Following these standards will ensure workplace safety and you must be aware of which parts apply to your facility. Constantly monitoring this is a good way to ensure that you avoid OSHA penalties and fines – this article will show you how to efficiently audit yourself for 29 CFR safety standards.
What D

oes OSHA Safety A

udit Mean?
A safety audit should be able to show you how your routine processes and employee safety training could potentially cause incidents and how to prevent these incidents before occurrence. You can perform routine internal safety audits, and this will greatly improve your external audits as well as your company safety culture. Safety audits define your safety standing clearly to allow you to make useful changes.
How often should safety audits be done?
Comprehensive safety audits should be done at least once a year and regular safety audits in departments can be carried out with varying frequency depending on department requirements. Your safety team should be able to deduce when they can be done.
Safety audits are done for a variety of reasons:
To check if your safety practices are coinciding with OSHA requirements.
To promote a workplace safety culture and address injuries.
After a workplace injury, doing an audit can help to pinpoint the risks associated with the injury and to prevent it from happening again.
Audits can also be done to promote a safety culture within your company.
What is the Difference Between

an OSHA Audit and

an Inspection?
A safety inspection is a process of documenting and identifying safety hazards and unsafe practices. These can be conducted both internally and externally. The external OSHA inspections are conducted by a safety inspector from OSHA and follow the steps mentioned in this article about safety audits. Internal inspections can also be conducted by a designated employee or internal team. The safety inspection generally checks if safeguards are in place, checking if any equipment-associated hazards are unaddressed, checking for toxic substances in the vicinity, and identifying any possible unsafe actions. Inspections are customized and can cover even other practices that may not necessarily be regulated under 29 CFR. For example, checking janitorial logs to ensure things are being kept hygienic, or that there aren't any burnt-out lightbulbs in common spaces.
OSHA safety audits review safety programs and strategies, but an inspection evaluates current practices. They measure and collect information about how reliable and effective a safety program is, check if it meets your company's stated goals and examine your employee safety training and response effort.
Safety audits follow strict guidelines and have specific questions that must be addressed in order to be in compliance. When conducting an audit, you must make sure that you answer all the OSHA CFR 29 part 1910 questions that are relevant to your facility provided in safety audit forms.
OSHA may request an audit report during their ongoing reviews, but it is not required before conducting an assessment. If you identify a hazard during your OSHA self-audit, OSHA would like to know if the hazard has been corrected, if you have taken any steps to avoid recurrence or if there is no available permanent solution, OSHA will check if you, as the employer, has provided interim employee protection. The term 'audit' and 'inspections' may be used interchangeably because of the significant overlap in the practices that they entail.
What Types of Safety Audits are There?
The three types of safety audits are:
Compliance audits. These are audits in which safety rules and policies are reviewed by an official auditor. Failure to pass a safety audit can lead to OSHA penalties. Compliance audits often evaluate safety programs, regulations, recordkeeping, and employee training programs that your company implements. 29 CFR 1910.119, paragraph (o) that addresses compliance audits specifically states that "Employers shall certify that they have evaluated compliance with the provisions of this section at least every three years to verify that the procedures and practices developed under the standard are adequate and are being followed."
Program audits. These generally test your safety programs directly. They check how effective your programs are and can identify gaps in your programs that could leave you vulnerable to incidents.
Management system audits. These establish if your safety program properly addresses your company policy and OSHA regulations. This type of safety audit includes compliance reviewing, worker evaluations, and interviews and workplace observations.
"Employers shall certify that they have evaluated compliance with the provisions of this section at least every three years to verify that the procedures and practices developed under the standard are adequate and are being followed."
- 29 CFR 1910.119, specifically, paragraph (o)
How is a Safety Audit Conducted?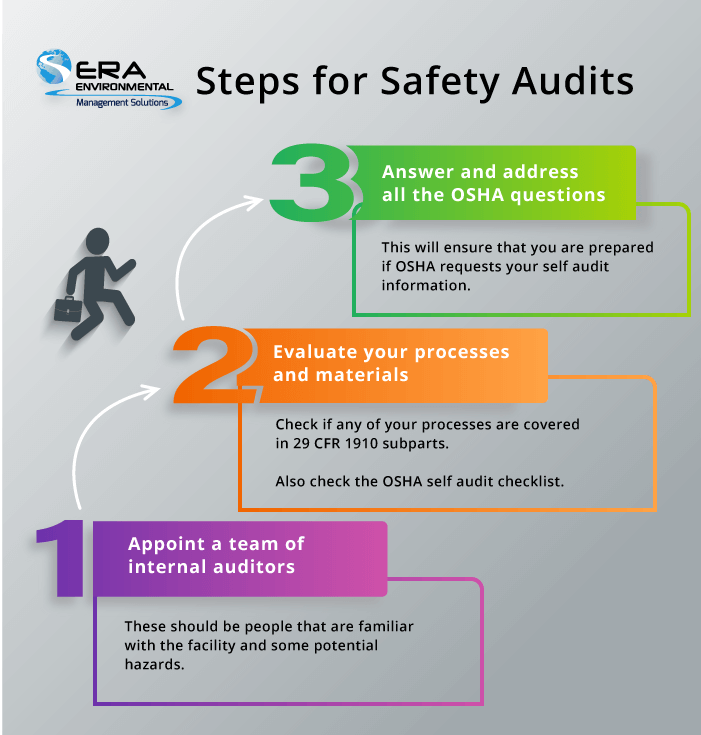 Firstly, appoint a team of internal auditors that are responsible for checking your safety practices. This team will be responsible for conducting training sessions and demonstrating compliance to OSHA auditors in case of an OSHA safety audit. You can also achieve this by appointing employees from different departments to do routine checks.
The next step in this process is to evaluate your processes and materials to see if any of them are covered in any 29 CFR 1910 subparts. OSHA provides an OSHA self-audit checklist of things to consider before starting your audit. Make sure you have all the relevant questions for your facility.
The third step is when you conduct the audit and comprehensively answer and address all the OSHA questions. This process can be challenging because it is difficult to determine which safety practices are covered by 29 CFR. An option would be to use audit software. ERA's audit software flags the various facility practices or chemicals that are covered by 29 CFR 1910. If you are not using EHS software, you can make manual decision trees to determine which operations within your facility are covered by 29CFR.
Remember, this looks different for each industry. For example, if you store explosive chemicals, a software solution would be useful to effectively track these chemicals and provide information on hazards readily. In other industries such as tanks, the safety considerations include knowing if there is proper airflow in tanks and during tank cleaning such as safety practices during cleaning. Therefore, using a tracking tool and storing information in a central database is the best approach.
Interviewing your employees is also an important step in the auditing process. This will help you pinpoint any hazards that you may have missed in the process. The workers who are often on the floor and are hands-on with the equipment are a good resource to show you where potential risks are present.
The internal audit measures must yield comprehensive reports. OSHA occasionally requests copies of the reports in case of a complaint filed about your facility. Any time you do a self-audit, even if you find zero reportable issues, you should keep careful documentation and store that report securely somewhere it can easily be found.
OSHA generally is on the lookout for the most cited safety standards when they conduct an audit. Therefore, when you prepare for this, you must be familiar with the most common citations.
What are the OSHA top 10 most frequently cited standards?:
In 2020 the most common citations were:
Fall Protection – General Requirements (1926.501): 5,424 violations
Hazard Communication (1910.1200): 3,199
Respiratory Protection (1910.134): 2,649
Scaffolding (1926.451): 2,538
Ladders (1926.1053): 2,129
Lockout/Tagout (1910.147): 2,065
Powered Industrial Trucks (1910.178): 1,932
Fall Protection – Training Requirements (1926.503): 1,621
Personal Protective and Life Saving Equipment – Eye and Face Protection (1926.102): 1,369
Machine Guarding violations (1910.212): 1,313
Pay special attention to any of the citations mentioned above when you are doing your internal audit.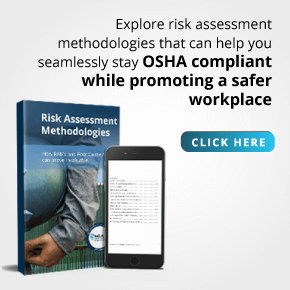 Does OSHA Require Self-Inspections?
OSHA does not require self-inspections but there are many benefits of doing these self-inspections. If you complete your internal inspection thoroughly, you will be well prepared if an inspector comes to your facility unannounced. You do not need to give OSHA your audit reports in advance, but they will be useful if there is a complaint filed for your facility.
Doing self-inspections has many benefits. These include more efficient safety practices and saving money from potential hazards or OSHA penalties. Self-inspections also help you to be proactive about potential hazards and help you be ready for impending OSHA audits.
ERA's health and safety audit software is ideal for internal inspections and can cover the full range of safety, manufacturing operations and chemical inspections within your facility.
It is also essential to know what to do if an OSHA inspector visits your facility. In the next section, we will cover the requirements for an OSHA inspection and all the requirements for these.
How OSHA Handles Complaints - OSHA Inspection Priority
OSHA's top priority for inspections is the imminent danger. This is when there is an immediate risk that needs to be addressed concerning worker safety. The next priority is where there is fatality/catastrophe that is reported to OSHA. This requires OSHA to perform an inspection immediately.
The next priority that may get OSHA's attention is if there is a complaint associated with your facility. If a worker or worker representative files a complaint, OSHA may or may not inspect your facility. Anyone in the company or facility can file a complaint about a safety or health hazard. If you have a comprehensive audit-ready OSHA sometimes uses that as a reference before conducting an inspection.
Industries with high injury and illness rates for specific hazards or other exposures are inspected routinely to ensure that they are encouraging good safety practices. These are known as programmed inspections and rank the lowest on OSHA's list of inspection priorities.
Whether you are audited at random or routinely, you must be properly prepared and the next section outlines what you should expect during an OSHA inspection.
What Are the 5 steps of an OSHA Inspection?
OSHA inspections have five main steps that are followed for a smooth inspection. The steps include preparation, presentation of credentials by the inspector, opening conference, facility walk-through, and a closing conference. When you are expecting an inspector to come, it is essential to prepare accordingly.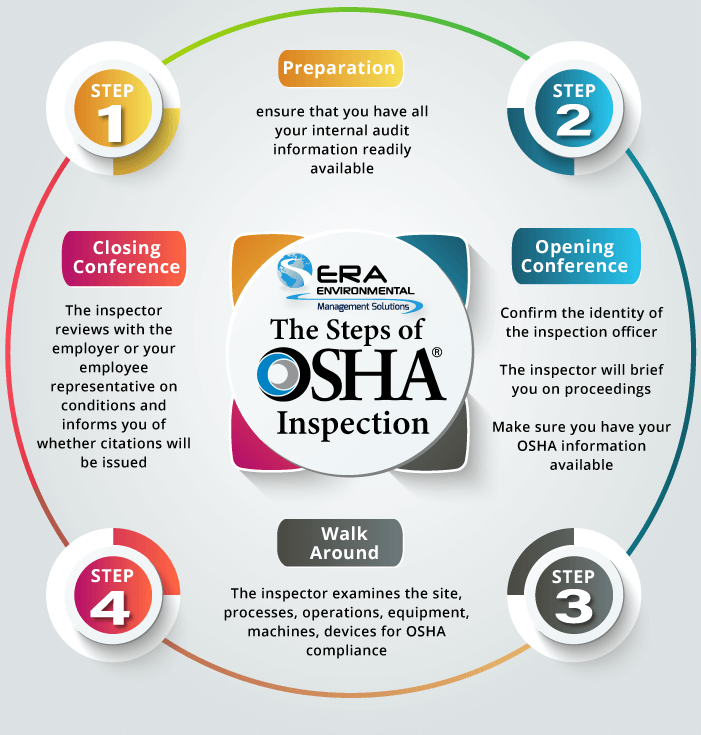 Preparation
When you are preparing for an audit, you need to ensure that you have all your internal audit information readily available. This includes setting up a team of internal audit conductors to associate with the OSHA inspector. You must also have all your records ready for the inspection. Information includes documented training logs, record keeping, equipment inspection records, safety and health policies, review of insurance and third-party audits, hazard assessment and abatement review of previous audits and citations. ERA's Health and safety module can help with all the document management and it works in conjunction with the compliance module which is a reminder system for routine inspections to make this process easier for you. It also provides incident record-keeping in the incident module. This houses any recordable incident in the previous year to allow you to demonstrate compliance to OSHA.
Before the inspection, you must also designate an employee representative.
Presentation of Credentials – Opening Conference
Confirm the identity of the inspection officer. The inspector generally speaks to your designated employee and this session should be brief and to the point. Make sure you have your OSHA required log available and other OSHA required information. It is essential to compile all this information beforehand.
Walk Around
The inspector examines the site, processes, operations, equipment, machines, and devices for OSHA compliance. They should be accompanied by your management or designated internal inspectors. The inspector may also talk to employees about potential or existing risks and hazards. If they find any apparent violations, they will bring them to your attention as the employer.
Closing Conference
During the closing conference, the inspector reviews the conditions found with the employer or your employee representative and informs you of whether citations will be issued and outline your rights to appeal. They determine the citations and financial penalties for any unsafe work practices or risks.
ERA's system has customized inspection questions and automatic forms that help you to readily provide this information to the inspector.
How Do I Pass an OSHA Inspection?
Being adequately prepared is the best way to have a smooth OSHA inspection. There are many best practices that companies use and employing these will make your life infinitely easier.
Effective data storage is a good way to pass the inspection because inspectors often check your facility history before conducting an inspection. Using reporting software makes it easy to store information about all your facilities in a centralized platform. Having a centralized place to store your data makes it easier to retrieve in case of an inspection.
Performing routine internal audits is also a good way of ensuring that you pass an OSHA inspection. During internal audits, you may find safety hazards or loopholes in hazardous chemical records. It is essential to address these immediately. With the help of workplace safety software, you can effectively store all the information for all the subparts of 29 CFR that apply to your facility. For example, ERA's software solution stores all your facility's chemical information and identifies hazardous chemicals for you from the SDSs that are provided for your facility. This means that you don't miss anything.
Lastly, appoint a company representative who is familiar with the facility for the walkthrough and be polite to the inspector. These seem like small factors, but they can help you to pass your inspection.
What Are the 4 Types of OSHA Violations?
Many facilities and organizations violate OSHA regulations in a variety of ways. Some companies fall short in their documentation, training, or routine inspections. A Georgia-based company once was prosecuted for failure to adequately train employees on hazardous energy sources and failure to conduct inspections for their energy control processes. All these violations have different definitions based on OSHA requirements.
OSHA's definitions for various types of violations include:
A willful violation is defined as when an employer intentionally and knowingly commits a violation. An example when a company fails to put in place adequate measures to protect it's workers, such as leaving doors to dangerous moving parts open and other safety hazards.
A serious violation is defined by OSHA as situations where there is a significant probability that death or serious physical harm could result and that the employer knew or should have known. An example of this can be when employers are not provided with sufficient fall protection equipment.
Other than serious. This is a violation that relates directly to safety and health but probably would not cause death or serious physical harm. These can be as simple as not posting notices in the workspace or poor record-keeping or other insufficiencies in safety procedures.
Repeated. This is a violation that is the same or like a prior violation. A violation is deemed repeated if it is issued within three years of the previous citation.
What Are the Penalties for OSHA Violations?
OSHA penalties increase with the nature of the violation. Penalties for serious violations are $975 per violation and a maximum of $14,502. For other-than-serious violations, the minimum is $0, and the maximum is also $14,502. For willful or repeated violations, the minimum is $10,358 and a maximum of $145,027. For a repeated other-than-serious violation that would not have a penalty otherwise, a gravity-based penalty of $414 will be given for the first repeated violation, $1,035 for the second, and $2,071 for the third. For failure to abate, the penalty is $14,502 per day beyond the abatement date. Note that these amounts are adjusted for inflation whenever necessary.
How ERA Can Help
ERA's software has both audit and inspection features. The software allows you to build custom inspections with smart forms and its intelligent AI helps you to use this information to check which 29CFR subtitles apply to you. It also provides a centralized place to store facility and chemical data. The OSHA safety audit checklist and questions provided by the audit module are congruent with OSHA requirements and this means you'll be able to effectively address the required data without wasting time on irrelevant facility information. It houses a list of audits with features including automated defibrillator inspection, annual asbestos training, bloodborne pathogen training paint booth cleaning, heat stress training and many more.
The system is completely customizable to you allows you to load all the questions you need and also provides you with questions based on regulation.
If you would like to learn more about ERA's audit and inspection tools, you can book a consultation call below.

Kundai Mufara is a Science Content and Technical Writer at ERA.