NEI reporting is no easy task. The rules and nuances associated with each state make it harder for EHS managers to file their reports accurately. Manufacturers and other industries are required to accurately track and report all significant air emissions to their state.
If your company produces any air emissions or has multiple air emission sources, then your facility may need to report these for the National Emissions Inventory (NEI). This is a requirement of the Air Emissions Reporting Rule (AERR).
In this article, you will learn what NEI reporting is and how using a software tool can help you to complete this report painlessly.
What is NEI?
The National Emissions Inventory (NEI) is a detailed account of air emissions from criteria pollutants, criteria precursors, and Hazardous Air Pollutants (HAPs) from air emission sources. The EPA requires local state agencies to collect this emissions information from the applicable facilities in their jurisdiction. Based on the requirements at a state level, the data may be collected annually or every three years. The emissions inventory data is published by the EPA every three years. It is used by the EPA to evaluate National Ambient Air Quality Standards (NAAQs), assessing interstate transport pollutants, international reporting and for states to properly form their state implementation plans for emission regulations. Collecting comprehensive NEI emissions data is also useful in other emissions reporting programs such as TRI reporting.
What Facilities are Required to Report for NEI?
If your facility produces air emissions, then you should investigate which chemicals you should report. Generally, most chemicals that are criteria air pollutants, for example, CO, lead, ozone, NOx, SO2, PM and HAPs are reportable. You should be aware that reportable concentration levels for chemicals may vary from state to state. Make sure that you consult your state guidelines for a specific list of reportable chemicals and pollutant codes. Due to these complexities and state-level nuances, it is key to have a strong environmental compliance solution to ensure you are reporting accurately. What makes NEI complicated is that it covers a wide range of emissions and guidance can vary per state. This is in contrast to the TRI report which has a defined list that does not vary on a local/state level. Having a software to calculate and track all emissions relieves the confusion associated with chemical monitoring and reporting.
State-Specific Requirements
Because the emissions inventory data is collected by local agencies, the NEI report requirements and format is heavily state-specific and sometimes even county-specific. Even the chemical naming convention is determined at a state level.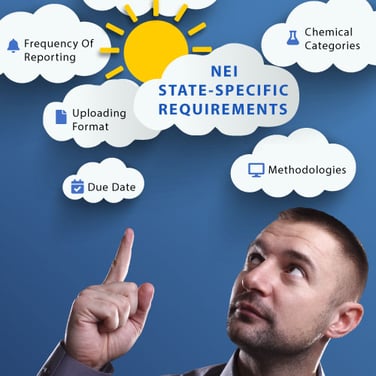 Below are a few examples of the various Emission Inventory report variables that can differ by state:
Frequency of reporting. This varies with states and sometimes within states. The common reporting frequencies are either an annual reporting or three-year reporting requirement. In some states, both frequencies may apply such as how two different companies in Tennessee use different frequencies based on how much they emit.
Chemical categories. Some states require reporting speciated HAPs and some states only require the total HAPs without speciation.
Due date. Each state has its own due date for these air emission reports. The due date ranges from February to August.
Some states use certain software for reporting such as the State and Local Emissions Inventory System (SLEIS) software or the EPA's Combined Air Emissions Reporting

(

CAER

) software. Other states utilize their own home-grown system.

Uploading format. After compiling your data into your specific format (excel /CSV format, text file, JSON, or others), it is essential to check what kind of format, your state or county accepts for submission. Some states allow

you to upload result data, while others do not allow upload from third-party software or file.
Make sure you check how often your company should be reporting, especially if you have facilities in different states. ERA NEI Report generates state-specific output files that can be uploaded directly to state systems (where available) and allows you to preview report results and use various data verification and troubleshooting options. If your state does not have a submission form, ERA's environmental reporting tool can generate a report for your emissions to ensure that you can accurately demonstrate the total emissions that your facility produces.
How Do You Submit Your NEI Report?
Before submitting your data, remember to cross-check with the air emissions results you plan to submit for your TRI (Toxic Release Inventory – SARA 313 – Form R) Report making sure it is consistent. Regulatory auditors will often check if your data is consistent between these two reports. Having a centralized, non-siloed, Environmental Compliance system will help ensure that these two reports will match each other which can save you from non-compliance fines.
After data compilation and review, it is time for NEI submission. Depending on which state you are in, the report submission tool may vary. The Air Emissions Reporting Rule (AERR) requires the submission of data electronically to the Emissions Inventory System (EIS) through the Central Data Exchange (CDX). The State and Local Emissions Inventory System (SLEIS) is used to receive and store emissions data and to select the data to be included in the NEI. The EPA is also transitioning into using the Combined Air Emissions Reporting System (CAER) to streamline the emissions reporting process. You can access CAER through the EPA CDX website.
ERA Software
Having a collaborative EHS platform to track and report your air emissions is an efficient way to seamlessly complete your NEI report. ERA's NEI reporting software incorporates all required reporting information, allowing you to create new NEI reports, view previous year reports, and easily upload your complete report to e-reporting tools. It also consolidates relevant NEI data throughout your reporting year including:
reporting facility
source process IDs
sources and process equipment
product specifications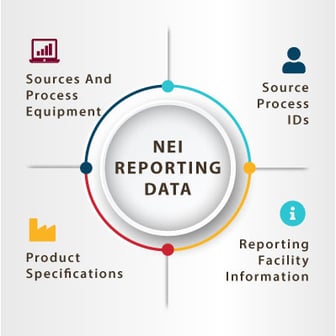 ERA's software also helps with different source reporting requirements because some states require that you report emissions per stack or emission point. This platform allows you to finalize and validate NEI results with full compatibility with EPA's bridge tool and offers you customized analysis of results prior to submission to the EPA through QA and XML database analysis.
The software has some recent updates to improve the NEI reporting experience including efficient source selection with improved validation and feedback errors. Automating your environmental reporting is a great way to lighten the load on your EHS team because of the numerous and highly state-specific requirements.
Using ERA's platform has benefits, that include streamlining data management, eliminating manual data entry hours and identifying specific regulations that apply to your state for you. To learn more about ERA's environmental management software, book a consulting call below.