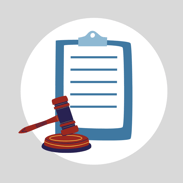 As the TRI reporting season approaches, it is important to discuss the addition of PFAS to the TRI list over the past few years. The EPA added 176 poly-fluoroalkyl substances (PFAS) to the Toxic Release Inventory chemical list in June of 2020 and has subsequently added more in 2021 and 2022 for a total of 180 PFAS. If your industry manufactures, processes, or uses any listed PFAS above the reporting threshold, you must include these chemicals in your annual TRI report.
TRI reporting has been an effective way of tracking toxic releases and preventing pollution from industry practices, allowing the EPA to document the presence of harmful chemicals in the environment. Including PFAS in your TRI report will ensure that the public has access to information on the industries that are most harmful. This will help keep companies accountable while also maintaining safe levels of PFAS in drinking water and the environment.
This article outlines:
The addition of PFAS to the EPCRA section 313 list of reportable chemicals
How it may affect your facility and TRI reporting requirements
How to accurately report PFAS
What are PFAS Chemicals?
PFAS are polyfluoroalkyl substances, including perfluorooctanoic acid (PFOA), perfluorooctanesulfonic acid (PFOS), and many others. They are primarily used to repel dirt, water, and grease and for chrome plating, electronic manufacturing, and oil recovery. These chemicals exist in various products, such as food packaging and commercial household products. Many compounds are in the PFAS family, including the ones listed in the table below:
| | |
| --- | --- |
| Abbreviation | Chemical name |
| PFOS | Perfluorooctane sulfonic acid |
| PFOA (aka C8) | Perfluorooctanoic acid |
| PFNA | Perfluorononanoic acid |
| PFDA | Perfluorodecanoic acid |
| PFOSA (aka FOSA) | Perfluorooctane sulfonaminde |
| MeFOSAA (aka Me-PFOSA-AcOH) | 2-(N-Methyl-perfluorooctane sulfonamido) acetic acid |
| Et-FOSAA (aka Et-PFOSA-AcOH) | 2-(N-Ethyl-perfluorooctane sulfonamido acetic acid |
| PFHxS | Perfluorohexane sulfonic acid |
Why are PFAS regulated?
PFAS are stable in the environment and do not break down over time. They can seep into the soil, be carried into the air and groundwater, and cause adverse effects to humans and the environment.
PFAS bioaccumulation in the human body can negatively impact a person's health. Several studies show that the health effects of PFAS range from thyroid hormone disruption, asthma, high cholesterol, hormone suppression, and obesity to liver damage, lower fertility, low infant birth weight, and cancer.
PFAS Regulatory Background
EPA's Office of Water (OW) developed a PFAS action plan to manage the risk of PFAS exposure. Once the EPA established the safe level of PFAS chemicals in water—70 parts per million—they determined that there must be some form of regulation to control the release of these chemicals. This framework was used to determine the maximum containment levels for states and local water authorities under the Safe Drinking Water Act.
On December 20th, 2019, when the NDAA was signed into law, certain PFAS were added to EPCRA section 313 according to section 7321 of the NDAA. The PFAS that were added were the ones:
Listed as an active chemical substance under TSCA section 8(b)(1) (15 USC 2607(b)(1)). This section requires processors and manufacturers of certain listed substances to maintain records of the chemicals and report them.
Subject to 40 CFR 721.9582 or 40 CFR 721.10536. These sections list all regulated PFAS, and their significant uses, requiring reporting.
If a chemical is protected under confidential business information (CBI), then the EPA will review it separately, according to the criteria, to determine if it should be reported or added to the list.
Examples of Statewide Efforts to Regulate PFAS
Most states have set a Maximum Contamination Level (MCL) in an attempt to rein in the effects of PFAS within their jurisdictions. These are some of the various actions that states have taken to reduce the concentration of PFAS in water:
Michigan set the groundwater standard for PFOA to 8 parts per trillion and PFOS to 16 parts per trillion.
Maryland banned the use of PFAS in furniture flame retardants, mattress foam, and children's products.
Maine prohibited the use of PFAS in packaging materials and packaging waste. If you want to learn more about how waste relates to TRI, ERA's TRI best Practices blog outlines some valuable methods.
Washington banned PFAS in firefighting foam and PFAS in personal protective equipment used in the workplace. The state is collecting and disposing of the foam in a safe way that will not further contaminate the environment.
All these regulations ensure that there will be fewer PFAS released into the environment. If you would like to effectively monitor all your facility's chemicals, along with evaluating your SDSs and updating your regulatory requirements with PFAS information, ERA's Environmental Management Software is the ideal solution for you.
PFAS Added to Toxics Release Inventory
Over various years up to Fiscal Year 2020, the EPA added 172 PFAS to the TRI reporting list according to Section 7321 of the National Defense Authorization Act (PL 116-92) (NDAA). These were due to report on July 1st, the same day TRI reports are due every year.
For reporting year 2021, the following four PFAS were added to the reporting list:
Perfluorooctyl iodide (507-63-1)

Potassium perfluorooctanoate (2395-00-8)

Silver(I) perfluorooctanoate (335-93-3)

2-Propenoic acid, 2-methyl-, 3,3,4,4,5,5,6,6,7,7,8,8,9,9,10,10,11,11,12,12,12-heneicosafluorododecyl ester, polymer with 3,3,4,4,5,5,6,6,7,7,8,8,9,9,10,10,10-heptadecafluorodecyl 2-methyl-2-propenoate, methyl 2-methyl-2-propenoate, 3,3,4,4,5,5,6,6,7,7,8,8,9,9,10,10,11,11,12,12,13,13,14,14,14-pentacosafluorotetradecyl 2-methyl-2-propenoate and 3,3,4,4,5,5,6,6,7,7,8,8,8-tridecafluorooctyl 2-methyl-2-propenoate (65104-45-2)
For reporting year 2022 (report due July 1st, 2023), the EPA added four more PFAS to the TRI reporting list, bringing the total up to 180 reportable PFAS. These were:
Perfluorobutane sulfonic acid (375-73-5)

Potassium perfluorobutane sulfonate (29420-49-3)

Perfluorobutanesulfonate (45187-15-3)

2-Propenoic acid, 2-methyl-, hexadecyl ester, polymers with 2-hydroxyethyl methacrylate, .gamma.-.omega.-perfluoro-C10-16-alkyl acrylate and stearyl methacrylate (203743-03-7)
Every year brings many additions. We can expect reporting year 2023 to also add nine PFAS, including:
Acetamide, N-(2-aminoethyl)-, 2-[(γ-ω-perfluoro-C4-20-alkyl)thio] derivs., polymers with N1,N1-dimethyl-1,3-propanediamine, epichlorohydrin and ethylenediamine, oxidized (2742694-36-4)

Acetamide, N-[3-(dimethylamino)propyl]-, 2-[(γ-ω-perfluoro-C4-20-alkyl)thio] derivs. (2738952-61-7)

Acetic acid, 2-[(γ-ω-perfluoro-C4-20-alkyl)thio] derivs., 2-hydroxypropyl esters (2744262-09-5)

Alcohols, C8-16, γ-ω-perfluoro, reaction products with 1,6-diisocyanatohexane, glycidol and stearyl alc. (2728655-42-1)

Ammonium perfluorobutanoate (10495-86-0)

Perfluorobutanoate (45048-62-2)

Perfluorobutanoic acid (375-22-4)

Potassium heptafluorobutanoate (2966-54-3)

Sodium perfluorobutanoate (2218-54-4)
You must carefully monitor these additions if your company uses PFAS in your processes. ERA's TRI reporting software is frequently updated with these chemicals. The system automatically flags them as reportable chemicals without any research on your part. If staying on top of these additions seems daunting, using ERA's platform will help you to lighten the load.
What Industry is Affected? Does This Apply to Me?
If your facility has more than ten full-time employees and manufactures, processes, or otherwise uses PFAS in any way, then this rule may affect you. This rule applies to facilities that have North American Industrial Classification System (NAICS) codes that correspond to Standard Industrial Classification (SIC) codes 20 to 39 with certain exemptions. The rule also applies to federal facilities. For an exhaustive list of these codes, see NAICS codes for affected industries.
Other affected industries include automotive, construction, electronics, and the military. If you are a part of these industries or fall under one of the NAICS codes mentioned above, you must be aware of which PFAS are above the threshold and need reporting. You can also consult your facility's current Safety Data Sheets to determine if the material is supposed to be reported.
TRI Thresholds for PFAS
The (NDAA) has set the TRI threshold for each PFAS added to 100 pounds. If your facility is above the threshold, then you must report the levels produced, pollution prevention (P2) activities associated with the PFAS, and any recycling measures taken.
De Minimis Levels for PFAS
TRI reporting requirements and exemptions apply to the 180 PFAS that were added to the list of reportable chemicals. If a chemical is present in the mixture in a concentration below 1% (for most chemicals) or 0.1% (for carcinogens), then the component does not need to be included in determining the reporting threshold. De minimis levels for PFAS are 1% in mixtures, except for Perfluorooctanoic acid (PFOA) (CASRN: 335-67-1), whose de minimis threshold is 0.1%.
| | |
| --- | --- |
| De minimis levels for PFAS | 1% |
| De minimis levels for carcinogens | 0.1% |
| Perfluorooctanoic acid (PFOA) (CASRN: 335-67-1) | 0.1% |
Article Exemption for PFAS
If you have determined that your facility may manufacture, use or process PFAS, you may wonder whether the article exemption applies to you. According to the EPA, the definition of an article is a finished manufactured product. The manufactured item:
Is formed to a specific shape or design during manufacture
Has a use that depends on its form, shape, and size
Does not release any toxic chemicals during normal use in the facility
If a toxic chemical is present within an article in your facility, you are not required to report the toxic substance or include the toxic substance within an article in your total calculation. However, be mindful that if you process or use the article in a way that releases the toxic chemical, then you must report the article. Ensure you note the uses of all the articles in your facility that may release chemical emissions. The article exemption for PFAS is the same as regular TRI reporting rules.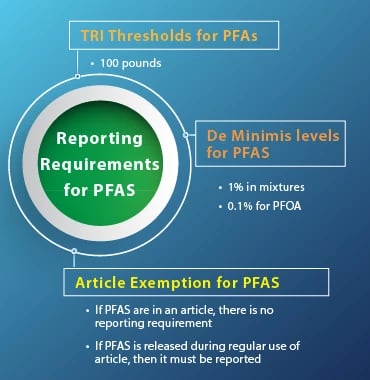 As you begin your TRI report, remember to thoroughly check your SDSs and other production documents to determine whether your facility manufactures, processes, or otherwise uses any of the listed PFAS in any capacity. ERA's TRI Regulatory Updates Guide provides everything you need to know about TRI reporting, complete with an entire section on PFAS updates..

Kundai Mufara is a Science Content and Technical Writer at ERA.