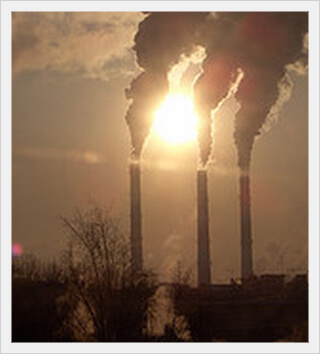 Midway through December, 2011, the Environmental Protection Agency finalized national Clean Air Act (CAA) standards to reduce mercury and other toxic air pollutants getting generated by coal and oil-fired power plants across the U.S. These Mercury and Air Toxics Standards (commonly known as MATS) are predicted to improve public health and promise to "level the playing field" between new plants and older plants. MAT'S effective date is: April 16, 2012.
Specifically, MATS apply to coal and oil-fired electrical generating units (EGUs) that are larger than 25 megawatts and generate electricity for sale & distribution to the national grid.
This means even EGUs owned by the Federal government, municipalities, and investor-owned units will need to comply. However, only about 1,400 EGUs are actually affected by the new MATS.
Approximately 1,100 coal-fired units and 300 oil-fired units will need to be modified in order to comply. These affected units represent approximately 40% of plants, which are older and have not yet implemented any advanced pollution control equipment.
Ultimately, the goal of MATS is to bring this minority of outdated EGUs up to speed with modern plants. This is to ensure competitive equality for those older plants that have already invested in mercury and air toxic controls.
In developing the standards, the EPA has identified two subcategories of coal-fired EGUs, four subcategories for oil-fired EGUs, and a subcategory for units that combust gasified coal or solid oil. Each of these subcategories has emission standards and requirements under the MATS.
Under the MATS, several new emissions standards will be enforced, including:
All existing and new coal-fired EGUs will now have numerical emissions limits for mercury, particulate matter (PM), and hydrogen chloride (HCl).
All existing and new oil-fired units will have numerical emission limits for PM, HCl, and hydrogen fluoride (HF). These EGUS can also show their MATS compliance for HCl and HF by limiting the moisture content of the oil used.
The MATS replace a hard numerical emission limit for dioxin/furan for new and existing coal and oil-fired EGUS, with work practices that require an annual performance test and tune-ups. To demonstrate compliance, you will need to submit documentation that the unit has undergone regular inspections and maintenance every 36 months.
The EPA will require semi-annual compliance reports, in addition to an initial notification of compliance for each unit (no later than 120 days after your facility becomes subject to MATS).
The MATS also requires detailed records to be kept for each instance that your EGU did not meet an emission limit or work practice standard, the daily hours of operation for each EGU, results of all performance tests, and notifications for planned performance testing.
If you are using a continuous emissions monitoring system (CEM), you will need to submit quarterly monitoring summaries.
If you're looking for a way to stay compliant with upcoming MATS regulations, see how our software can help you today by requesting a software demo.

Alex Chamberlain is a writer for ERA Environmental Management Solutions.