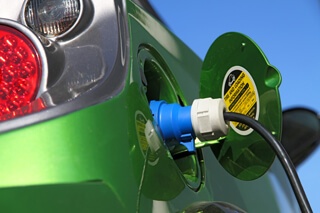 This week saw the announcement of the estimated range, as provided by the EPA, of GM's upcoming Chevrolet Bolt electric car. Media observers responded positively to the estimated range of 238 miles per fully charged unit; a precise and even longer-than-promised range.

Previously, the company had only stated that there would be a range of 200 miles to a fully charged car. Since Monday, prospective owners now know they will have another 40 miles of juice to work with. Range is a key factor for the North American motor industry; drivers want to know they can commute with their vehicle without having to charge it multiple times per week.

The lithium-ion batteries that power these vehicles are at the core of this crucial range issue; batteries that bring their own environmental reporting and sustainability challenges.

Chevrolet's announcement follows the rush for pre-orders of the Tesla Model 3, a vehicle with a similar price tag, but with an estimated range of 215 miles per charge. Consider GM's range announcement as a shot across the bow to Tesla – may the best electric car win.


Government Sweetens Deal
Gary Vegh, Senior Environmental Toxicologist and Co-Founder at ERA Environmental, believes that the contest looming in the Electric Vehicle (EV) industry is part of a larger push for consumer satisfaction, but within a greener, more ethical economy. This contest is being actively facilitated by governmental action pushing consumers towards these more environmentally-friendly vehicles, via that most effective of forms - financial incentives.

"At the moment, the US Federal Government is offering $7,500 as tax credits on the purchase of an EV. Some states, such as California, offer a state rebate in addition to the federal grant, in some cases offering another $2,500 and can take the consumer up to $10,000 in tax credits."

"It's clear these are federally supported products." states Vegh.
These sums represent significant rebates, and indicate the seriousness with which US authorities view the adoption of green cars.

The prominent role of the EPA in announcing the range of the Chevrolet Vehicle is no accident. The agency, while retaining strict independence, has an interest in actively facilitating the production and success of the EV industry, and building a green economy with cleaner vehicles.

The EPA is also the regulator that will be looking closely at the environmental and emissions reporting that these manufacturers make as they pump out vehicles and batteries on an ever-increasing scale.
Comprehensive Sustainability
Vegh believes that the winning EV brands will be those that embrace a 'green economy' ethos right down to the very roots of their production process, in the manufacturing and assembly stage of these vehicles.

"We're seeing more and more of an emphasis on long-term planning (amongst car manufacturers). The EV manufacturers really belong in that bracket. These are long-term products. Warranties for batteries are good for up to eight years in most cases, but expectations are that the batteries would still have around 85% battery life after that period of time."

Given the complex chemical nature of the products that make up EVs, from the manufacturing of longer-range batteries, to the emissions involved in paints and coating these new vehicles, those brands that can reach for a higher and more exact level of reporting will find themselves in better stead with regulators.
"Next Generation Reporting is what we are seeing coming down the road, and this is where reporting in general is headed. More and more, reporting is expected to be more comprehensive and more transparent, often with more of a mix of public consultation. Nowadays, you can see a reporting group consisting of the EPA, a lawyer for the private sector, a citizens group, and an EH&S provider."
Given the thoroughness that is expected in environmental and emissions reporting, it would make sense for any responsible manufacturer to ensure
Innovative Routes to the Circular Economy
Beyond comprehensive reporting, many producers have been embracing numerous ways of embracing sustainability.
Jim Lentz, CEO of Toyota North America, has previously outlined how old hybrid car batteries have been successfully utilised as power storage units for off-the-grid locations, such as in the vast Yosemite National Park.
Additionally, at the GM Tech Centre near Detroit, the use of older Chevrolet Volt batteries to power servers at the facility has been well documented. Alongside a combination of solar panels and wind turbines, the re-use of the batteries is a good example of how, rather than resorting to landfill or other disposal processes that may release emissions or dangerous chemicals, new uses can be found for these ever-more vital batteries.
These are concrete examples of how to prolong the life and use of batteries. Such approaches reduce the amount of waste and emissions that the manufacturers themselves need to reporting – a crucial edge in the ever-more important regulatory environment.
Green Growth Towards the Future
With electric cars estimated to make up 35% of car sales over the next two decades, the need to account for the processes, from initial production, to final dismantlement, is ever more pressing.
Given the complexity, and the relatively new nature of many vehicles, particular attention will be paid to the environmental reporting of all processes involving these vehicles.
Retaining the green image will be key to those manufacturers that emerge as victorious in this expanding market, particularly as governmental rebates are reviewed and scrutinized.
The company that can call on robust and comprehensive environmental reporting will be a serious asset.

Lorcan is a science writer and journalist with ERA.