As part of their Small Business Awards 2021, Corporate Vision presented ERA with the title of "Best Environmental Management Solutions Tech Business".

The magazine grants these awards to innovative Small and Medium-sized Enterprises (SMEs) and their hard-working owners in an effort to acknowledge the contributions of their businesses to the economy (which can make up anywhere between 50% and 99% of a country's private workforce). ERA made the cut thanks to a combination of its cutting-edge products and its reputation in the environmental software industry.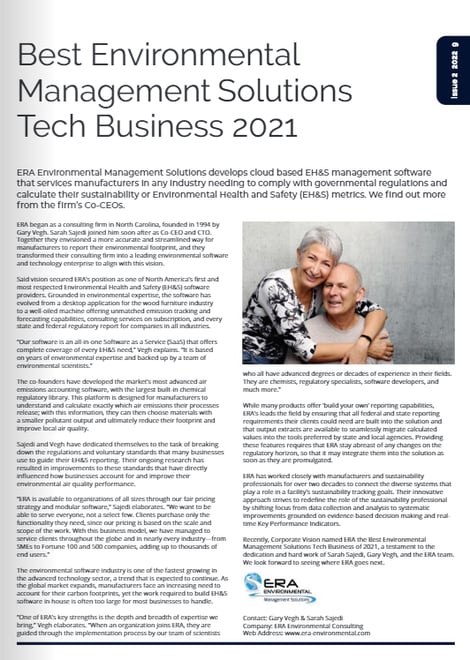 Winning this award is the latest recognition of ERA's superior air emissions accounting and chemical regulatory database capabilities. With it, manufacturers of any size can understand exactly which air emissions their processes generate, work out the quantity of air emissions released, and define how their mitigation activities can minimize their carbon footprint. For example, the Volkswagen Chattanooga facility relies on ERA's software for its award-winning sustainability efforts, having now secured the Gold Edison Green award and becoming the first automotive manufacturing facility to achieve LEED Platinum certification. Similarly, JB Poindexter completely eliminated all instances of environmental regulatory noncompliance within a year of implementing the air emissions management software.
As an SME itself, ERA strives to be the market leader for small to medium-sized businesses in need of assistance with environmental management. Through its fair pricing strategy (based on the scale and scope of the work required) and modular offerings, ERA "serves everyone, not a select few", as co-founder and co-CEO Sarah Sajedi puts it. "With this business model, we have managed to service clients throughout the globe and in nearly every industry... [including] Fortune 100 and 500 companies". As government agencies around the world enact more stringent environmental policies and the EHS software industry continues to grow, more and more small-scale manufacturers will find themselves searching for a provider that can work around their modest budgets and deliver a service equivalent to an in-house program.
Read the full editorial on the December edition of the Corporate Vision magazine (issue 2).

Andres is a Science Content Writer at ERA Environmental Management Solutions.