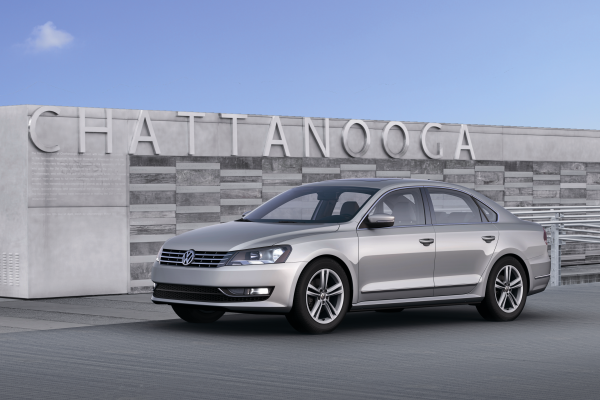 Volkswagen's manufacturing facility in Chattanooga, TN, which manufactures the new Passat, is considered the world's greenest certified factory.
In 2008, Volkswagen Group of America made the announcement to build a new state of the art manufacturing plant in Chattanooga, TN. With this project, Volkswagen (VW) was not only committed to building a high quality product, but to build it in a remarkably innovative green facility. Volkswagen describes this as their "passion for detail", and it's one of the main reasons they're considered one of the world's environmental leaders.
But their passion for detail doesn't just focus on their product - the Passat - it also focuses on the details that went into building the Chattanooga facility, and their contribution to the local area.
This attention to detail drove their desire to build a green factory like no other, playing their part as great global environmental citizens.
All of this passion for proper environmental planning & execution was recognized and awarded with a Platinum status for their Leadership in Energy and Environmental Design (LEED).
This is the top certification of LEED, which is even more impressive considering the Chattanooga site is the first manufacturing facility in the world to receive such a status.

In this three part interview series, we talk with Ron Drumeller, environmental specialist at the facility, about how green the factory is and how he plays a part.
ERA: Can you tell us how long you've been with VW and what brought you to Chattanooga?
Ron Drumeller: So, I've been with Volkswagen in Chattanooga since October 2009 – about two and a half years now. I was the first environmental person to be hired. At the time the facility was in a state of construction, where they only had the foundations set and some of the walls up.
ERA: What has the experience been like for you personally?
RD: It's been a great experience for me to be part of the start up for a new facility. As far as being an environmental specialist, it's kind of like being a kid in a candy store, because Volkswagen has a very strong approach towards their environmental responsibilities. They're way ahead of us in Europe and it's good to see this mentality in North America. It's really nice to be part of a company that has such a strong approach towards environmental affairs and to have this position with Volkswagen.
ERA: What is your position and what is the leadership role you play at the plant?
RD: My primary role is Environmental Specialist for Air Emissions. I also complete the annual environmental reports, such as Tier II and Toxic Release Inventory.
ERA: Most people would sympathize - Traditionally that job is seen as a lot of record keeping. How much of your time is spent on data entry and number crunching for reports?
RD: About 1 hour per month if that.
ERA: So, automating data collection is a top priority for your facility?
RD: Yes, very much so. It makes my job a whole lot less stressful. By having the automated data collection system from ERA, I'm able to focus my attention on other projects that are assigned to me, which take up a great deal of time.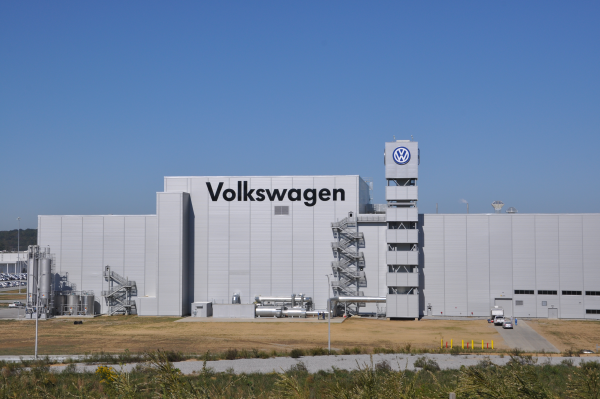 Volkswagen's Chattanooga plant is the first and only factory to receive a Platinum LEED certification.
ERA: Can you tell us a little bit about Chattanooga?
RD: As some people might know, back in the late 60s, early 70s, Chattanooga was deemed one of the dirtiest cities in the US. The country, city and state have been working very hard to turn their green program around and working to be one of the greenest cities in the US now. That's one the reasons why Volkswagen wanted to be part of this location and their green thinking.
ERA: Why did VW choose Chattanooga?
RD: A few years ago there were hundreds of options to choose from in the US to find a viable site for the next VW facility. So they had to quickly narrow it down from all those options. They had to check if the time schedule would meet their needs, so by looking at existing infrastructure, and preparation of the property this helped them narrow things down. The county and the city did a great job levelling the land and preparing the land to make it as an option for the facility. Another thing they looked at was logistics. This was a brown field site occupied by the army long ago, which influenced also our decision to clean things up. They also had some rail nearby, so they added to that rail and brought it to the site for transportation. Along with the interstate close by it was really a combination of factors.
ERA: Ron, what kind of impact was created by VW with the city of Chattanooga?
RD: Well, with our large investment of $1 billion for the facility we want to be good neighbors to the community, and be a part of Chattanooga's green concept and green plans. We've also created more than 3,500 jobs here at the plant. According to independent studies, the plant is expected to generate $12 billion in income growth and an additional 9,500 jobs related to the project.
When it comes to Chattanooga's green thinking, we're using rechargeable battery powered vs. air powered tools. We're using the most efficient electronic motors throughout the facility which is 10% energy savings, compared to a standard plant. So, all these energy savings, if you add them all up, it's a little over 42% less energy usage compared to a standard plant.
We definitely wanted to be green, be a good neighbor and take part of Chattanooga's green initiative by saving energy, saving resources and being responsible neighbors in the community, and protecting the valuable ecosystem.
Built on a brownfield site, the Chattanooga facility has taken extraordinary measures to eliminate and minimize any adverse effects to the surrounding environment.