The final phase transition of WHMIS 2015 is approaching, ending Phase 2 and entering Phase 3 on September 1st. After August 31, 2018 the transition to WHMIS 2015 is complete for manufacturers, importers, and distributors requiring MSDSs/SDSs and labels must be compliant to WHMIS 2015. Full implementation of WHMIS 2015 will be completed on December 1, 2018.
Businesses who manufacture, distribute, supply, or import hazardous products for use in a workplace in Canada must be compliant with WHMIS 2015. The last date a controlled product with a WHMIS 1988 MSDS/SDS label can be sold by a distributor is August 31, 2018.
To simplify WHMIS SDS and label requirements for businesses use the following charts to determine your means of operation and the required deadline for WHMIS 2015 Supplier Requirements.
First, determine your means of operation under the Hazardous Products Act (HPA):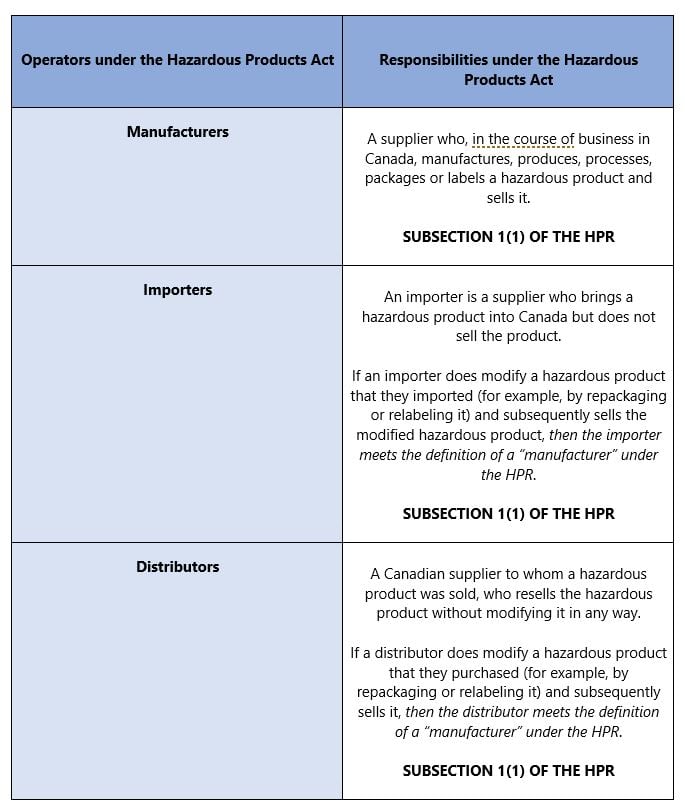 Second, determine the regulations you are currently subject to for Transition Phase 3 (September 1, 2018 to November 30, 2018):



More Information for Distributors about WHMIS 2015
The HPA considers Canadian distributors who buy hazardous products, re-labels the hazardous products, and then sell them to be the initial supplier of the hazardous product. In this situation, the Canadian distributor is required to provide his name, address, and telephone number on the label and SDS to be WHMIS 2015 compliant.
Also, prescribed concentration ranges are only to be used to protect the actual concentration or actual concentration range that is considered Confidential Business Information (CBI), and require a statement disclosing the actual concentration (range) has been withheld as a trade secret. Actual concentration ranges can be used and do not require a disclosure statement.
WHMIS Compliance FAQ
If a Canadian Distributor cannot obtain a WHMIS SDS from their Vendor/Supplier, can they use an OSHA GHS SDS in its place or must they re-author?
No, the Canadian distributor must re-author a WHMIS SDS.
If the Supplier's SDS is an OSHA GHS and the Distributor must re-author, does the Distributor add their name as Supplier or simply as Distributor?
A Canadian distributor who buys a hazardous product, re-labels the hazardous product, and then sells it is the initial supplier of the hazardous product. In this situation, the Canadian distributor must provide their name, address, and telephone number on the label and SDS.
Violations of WHMIS 2015
The full implementation of WHMIS 2015 is required by December 1, 2018 under the HPA and HPR. Violations of the WHMIS standard can result in fines of up to $1,000,000 and two years imprisonment. Similar fines and prison terms may also be handed out at the provincial level and can even lead to seizure of products and stop work orders.
Resources for WHMIS 2015 and SDS Requirements


Hazardous Products Regulations (HPR) (available online at: http://laws-lois.justice.gc.ca/eng/regulations/SOR-2015-17/FullText.html).

Full information on the use of concentration ranges and prescribed concentration ranges can be found in section 4.4.1 and 4.5.

Amendment to Section 4.4 & 4.5 of the Hazardous Products Regulations:

This amendment allows the use of prescribed concentration ranges to protect ingredient concentrations and concentration ranges that are CBI without submitting claims for exemption under the HMIRA. These prescribed concentration ranges are spelled out directly in the HPR. The concentrations and concentration ranges of ingredients in the product that present a health hazard could be disclosed on the SDS as either the actual concentration/actual concentration range or one of the prescribed concentration ranges in the amended HPR at http://www.gazette.gc.ca/rp-pr/p1/2017/2017-10-21/html/reg2-eng.html#footnote.54172

.