Having a solid chemical purchasing and approval process is the ideal way to prevent undocumented hazardous chemicals from entering the workplace. To implement an efficient strategy that is free of hurdles, you must possess a clear picture of the information required for approval, the methods for collecting information, the departments it must pass through, and the actions that need to be taken in case the product is rejected.
This article will walk you through addressing the challenges that ERA client facilities have identified in their product approval process, how using a chemical approval software provides ease and momentum, and what to look for when considering using software to address these obstacles.
Before exploring the challenges in the product approval process flow, it is essential to assess the type of data needed and determine how to set it up. In most manufacturing plants, the type of data required for the approval process is available on safety data sheets (SDS), environmental data sheets (EDS), and other resources that the manufacturer may provide. These documents contain critical chemical data such as physical properties and possible hazards.
For each product, you must clearly define the required data for approval to provide the safety and environmental managers with enough information to review the product. This helps you determine your process flow and identify the necessary steps and the type of chemicals and materials your facility uses.
Challenges in the Product Approval Process Flow and How to Fix Them
Chemical and product approval challenges often lead to bottlenecks or inaccurate approval procedures. The most common obstacles include:
Obtaining chemical information

from manufacturers.
Disorganized coordination of multiple departments and lack of workflow transparency.
Inability to flag already approved chemicals and
Notifying involved parties of changes in data and correcting errors.
The product manufacturer is the best source of product information; they keep all records associated with the products they supply and are a key factor in the approval process. Inability to obtain chemical information from manufacturers leads to inaccessible product specifications, which pose the main challenge in product approval. Without this data, the health and safety manager cannot set up the appropriate training and determine the personal protective wear required by the floor employees. OSHA has safety standards covering all the different types of potential products in manufacturing facilities, including details on how employees should be trained and retrained and how exposures should be monitored.
An ideal product approval platform should provide seamless communication with your suppliers or manufacturers. They have more extensive knowledge of their product which makes it critical to have a way for them to enter information into the system directly, saving you time from extracting data from your SDS manually. With seamless manufacturer communications, you can effectively access chemical data, increasing chemical planning efficiency.
Engaging multiple departments in the approval process is another obstacle that many organizations face during the process. The documents must pass through a Health and Safety manager, who determines the PPE required for handling and working with the chemical, and an environmental manager, who gauges the impact of product use on compliance objectives. Other parties must also define the risk level associated with the chemical based on its intended use. For example, if a chemical is used in the production environment and for general cleaning, one would need to define the level of risk for the cleaner versus the factory worker, which may take two health and safety officers to assess. Often, even if the product has the same function, for example, a cleaning agent used for spray cleaning versus immersion cleaning, it poses different risks, which means it must be approved for both purposes. This adds an extra step to the approval process.
Workflow transparency is a major challenge in most product approval processes. With the multiple departments mentioned above, identifying the stage of the approval process and approving can become unmanageable. Some approvals may depend on each other, which makes it difficult to pass them along without the correct individual evaluating their contents.
Transparency is critical because it clearly defines internal company responsibilities and holds everyone involved accountable. Senior leadership needs a clear image of how the product is being handled within the facility before signing off on their introduction, for instance.
The ideal fix for workflow transparency and simplifying the correspondence between multiple departments is to ensure that your system has a defined sequence of events that addresses each department, as shown in the ERA process flow example below. At each checkpoint, involved parties are notified ensuring that nothing falls through the cracks. This can be done manually, but ERA's system handles all notifications for you, avoiding long and confusing email chains.
Flagging already approved products also a challenge. Due to the tediousness of the process, limiting the number of reapprovals is imperative. There should be a way to identify already approved products within your process immediately after they are logged into your system, either at a facility or corporate level.
Your system should offer immediate flagging of already approved products before they go through the process multiple times. In companies with multiple facilities, if you have 5 products to be approved for 12 facilities, you would need to go through the process 60 times; using software, the information from the manufacturer is stored simplifying the process for each subsequent facility.
Adding information and correcting errors have been found to be difficult without a smooth workflow. When an error is identified halfway through the approval process—for example, logging the wrong CAS number for a chemical or an error in end usage identification—it disrupts the whole process; the product has to pass through all the previous departments again, in order. You must have a seamless way to correct this error and notify all the previous approvers of the change. Without a sound system, this involves manually copying everyone involved onto an email chain.
As shown above, a workflow that factors in additional information and error correction is invaluable in this process. This means everyone will be notified of the update and the approval process will be performed promptly.
ERA's Product Approval Platform
ERA's product approval platform addresses all the challenges discussed above using advanced technology and dynamic smart forms. You can centralize your product approval process while receiving accurate information from your vendors and manufacturers.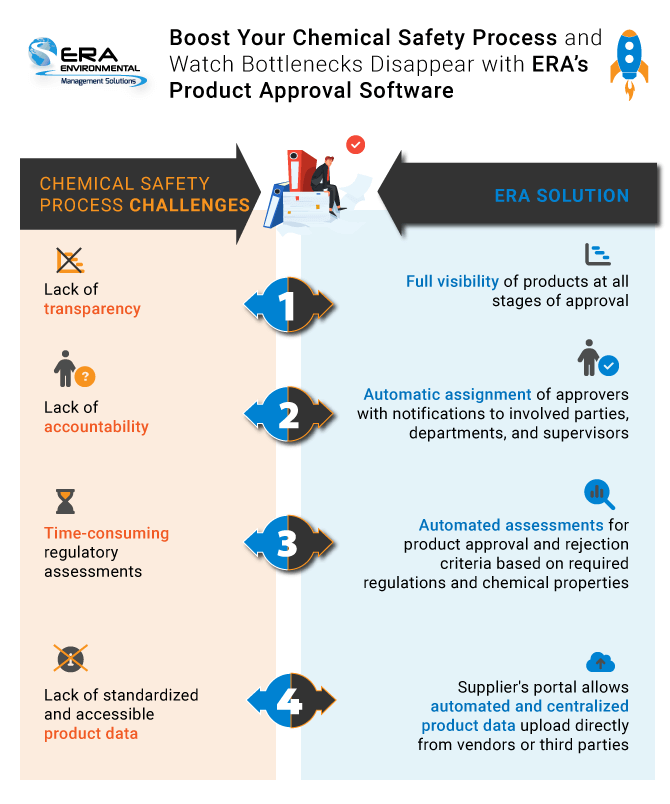 To learn more about using ERA's Product Approval platform, schedule a consultation call with a project analyst below.
This blog was a collaborative effort between Francesca Sajedi (Environmental Scientist at ERA) and Kundai Mufara (Science Content and Technical Writer at ERA).

Francesca Sajedi is an environmental scientist at ERA Environmental Management Solutions. She holds a Bachelor of Science degree from Wheaton College in Bioinformatics. At ERA, she specializes in full environmental software implementation and has extensive knowledge of the data required for multiple reports, including TRI. She is notably spearheading the Product Approval module that will help clients standardize and digitize every step of the approval process.