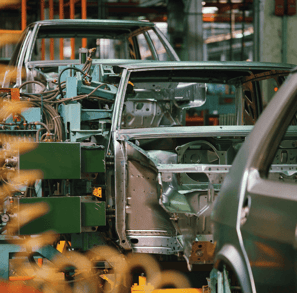 In recent posts, we've discussed the rising importance of standardization in sustainability tracking. More particularly we discussed the ways in which the Global Reporting Initiative (GRI) can be applied to your sustainability reporting and your supply chain.
While the GRI by itself is a particularly useful framework for selecting and monitoring sustainability metrics, the GRI also contains industry-specific supplements that can supercharge the sustainability reporting you're already doing.
This post will examine one of the best examples of collaboration and standardization at work in the manufacturing industry today: the GRI Automotive Sector Supplement.
The GRI Automotive Sector Supplement at a Glance
These guidelines have been created through a collaborative effort between 13 automotive manufacturers from around the world (including Asia, the United States, and Europe), coming together to identify the most pertinent sustainability metrics that specifically address automotive manufacturers.
Currently, the Automotive Sector Supplement exists as a pilot version, first published in 2004 - but that doesn't mean you can't apply it to your reporting processes today. Just remember that this framework is meant to supplement and not replace your existing GRI reporting practices.
The Automotive Sector Supplement contains modifications to seven of the existing GRI sustainability indicators, and 10 brand new sustainability metrics that are specific to the automotive industry. By including these 17 changes to your GRI sustainability reporting, you'll get more useful information out of your reports and have a better picture of where you stand amongst other automotive reporters.
This post will outline the seven modified sustainability metrics created by the GRI forum. To read about the 10 new GRI indicators included in this supplement, read part 2 of this article
What Makes the Automotive Industry Special
One of the reasons the GRI brought together automotive manufacturers to create the Automotive Sector Supplement is that the automotive industry operates much differently from other sectors. It has its own concerns that other manufacturers typically don't need to worry about, and their supply chains are structured differently.
The forum responsible for creating the automotive sector supplement specifically noted that automotive manufacturers uniquely needed account for the emissions and environmental & social impacts that are related to product use.
The group also identified topics of special interest that should be included in any automotive corporate sustainability program, even if they are difficult to quantify for GRI reporting:
Life cycle assessments

Design-for-the-Environment practices

End of life systems

, including Design-for-Disassembly and Design-for-Recycling

Involvement of suppliers in product development

Policies toward suppliers and supplier performance monitoring
Those last two points have been getting an increasing amount of attention lately, and, as we've noted before, automotive manufacturers are starting to approach their environmental compliance management through the supply chain.
Assessing suppliers and monitoring their sustainability performance is also an essential element of selecting the right materials – ERA calls it having a Gatekeeper System to vet materials from vendors before they enter your site and become your responsibility.
The Modified GRI Performance Indicators
Seven of the regular GRI sustainability performance indicators have been modified to apply to the automotive manufacturing.
In most cases, these modifications haven't reduced the amount of information reported - instead they specifically increased the amount of data segmentation involved to more accurately reflect the supply chain structure of the industry.
GRI indicator EC5
Total payroll and benefits of employees: this indicator has been modified to include segmentation by country or region, including reporting the wages for your company's lowest-compensated and median-compensated full time employees.
You should also note the national minimum wage for each region and country in which your employ workers.
GRI Indicator EN10
NOx, SOx, and other significant air emissions by type (for operations and processes, not for product use): automotive manufacturers should now also include VOC emissions in their GRI reporting.
GRI Indicator EN15
Percentage of product weight sold that is reclaimable and useful at end of product life cycle and percentage that is actually reclaimed: the definition of "reclaiming" for automobiles refers to reusing and recovering materials as well as energy.
These types of reclaiming should be reported separately.
GRI Indicator PR1
Description of policies for preserving customer health and safety during use, and the extent to which this policy is applied, as well as a description of procedures and programmes to address this issue including monitoring and results of this monitoring: the automotive industry should break this indicator down into three categories of safety:
Reportable active safety features are those that avoid accidents, including braking systems or ergonomic design.
Passive safety features are those that prevent injury to vehicle occupants and others on the road in the case of accidents, including seatbelts and airbags.
Security features include door locks and theft deterrents.
All three categories should be reported separately.
GRI Indicator PR5
Number of complaints upheld by regulatory or similar official bodies to oversee and regulate product safety: the automotive forum noted that this information should be used as a quantitative measure for reporting customer health and safety for other GRI indicators, as it is difficult to account for every vehicular accident, and some reported accidents are due to driver error, not product issues.
GRI Indicator LA1
Breakdown of workforce, where possible, by region/country, status, employment type (fulltime or part-time), employment contract (definite or indefinite), conjunction with other employers (e.g. temp agencies): automotive manufacturers should also provide data on the occupational distribution of their workforce according to these segments.
GRI Indicator LA9
Average hours of training per year per employee by category of employee: Automotive companies should provide qualitative information about whether investments in training and education are for skills development or for lifelong learning.
In part 2 of this topic, we'll unpack the 10 new sustainability metrics designed specifically for the automotive industry.

Alex Chamberlain is a writer for ERA Environmental Management Solutions.