ERA's automotive software solution and Compliance Management module earned it a spot in 2021's ranking of the ten best solution providers for the automotive industry.
The awarding magazine, MyTechMag, acts as a collection of the latest developments in the technology world. They listed ERA as one of the year's hottest topics in a two-page spread, part of their December 2021 edition, where they put the spotlight on ERA's end-to-end environmental compliance solution, built for and by clients. You can read the full profile on their website.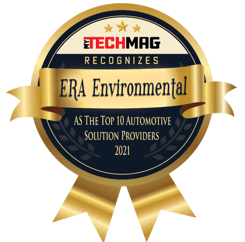 Among other achievements, MyTechMag emphasized the case study on Toyota Motor Manufacturing Kentucky (TMMK). Initially, the site had separate tracking systems for waste, Toxics Release Inventory (TRI) reporting, Tier II reporting, and other compliance forms. Implementing ERA's single audit database substantially improved their chemical tracking and saved their employees countless data entry hours, freeing up time to focus on more pressing EHS initiatives.
This award comes after spending over two decades providing assistance to Original Equipment Manufacturers (OEMs) in the fields of compliance with federal air regulations, NESHAPs, MACTs, sustainability initiatives, and hazardous waste programs. The cloud-hosted platform comes fully loaded with a strong core that is nonetheless customizable to a specific user's needs, making reporting simple, secure, and seamless, so that manufacturers can focus on keeping pace with new technologies and securing their competitive edge.
ERA continues to search for new and improved ways to bring software solutions and artificial intelligence into the data acquisition and analysis processes and thus make compliance reporting easier for the world's largest automotive OEMs.

Andres is a Science Content Writer at ERA Environmental Management Solutions.