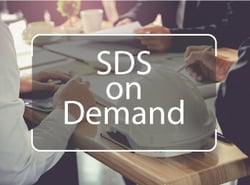 Getting an SDS has never been easier or faster.
Have a product and need an updated SDS? Look no further.
Your products need an SDS and your workforce & clients deserve accurate SDSs to keep them safe.
Whenever you create a new product or update an existing formulation, it's your responsibility to provide your workforce and clients an up to date SDS and label, even if those changes are small. ERA's SDS Authoring on Demand is the fastest, easiest, and cost-efficient way to keep those SDSs current.
SDS on Demand is a cost-effective solution for companies that need updated SDSs and labels but don't require a complex software for many possible reasons:
You only need to author a small number of SDSs or labels each year.
Your SDS needs are inconsistent month after month and you don't want to be locked into a long-term contract.
Your manufacturing strategy demands flexibility and agility.
Need to Rapidly Generate an SDS or Label? ERA has you Covered.
SDS on Demand can generate a complete SDS or Label for any type of chemical product in under 5 minutes once you provide the base chemical information. It's the perfect solution for when you need an SDS in a hurry.
SDS on Demand is designed to help you respond quickly to client information requests, keeping your SDS binders up to date, and phasing in new materials. Any time you need an SDS or label, SDS on Demand is there to help.
Flexible Pricing to Fit Your Needs
ERA's SDS on Demand gives you total flexibility in pricing to fit any need and budget.
If you only have a few SDSs to author, you can purchase a bundle of SDSs or labels and get them authored online – with no downloads or commitments.
If you regularly need a small number of SDSs or labels each month, an annual subscription package saves you money while ensuring your GHS compliance each month.
There is no need for an expensive software license purchase! You can get all the benefits of a cutting edge automated SDS generation tool without the commitment or complications of a enterprise-sized software implementation.
You can also upgrade your SDS package if your needs grow over time. It's an excellent way to trail ERA's SDS authoring tool.
Accurate, 16-Section GHS SDSs – We Do the Work for You and Take the guesswork out of SDS Authoring
ERA's automated GHS SDS Authoring Engine uses your basic chemical data and does all the heavy lifting and determinations for you, directly from the GHS Purple Book, a Master Chemical List, and built-in international chemical regulatory library.
Tell us which countries your product will be used in and any special confidential business data, and you'll get a complete GHS SDS in under 5 minutes.
And when the GHS lets you choose between different options, you can choose for yourself or let ERA automatically give you the most protective option available. We take the guess work out of SDS authoring.
Custom Blends with the ERA Blend Tool
Your SDS on Demand package includes access to the ERA Blend Tool. The Blend Tool gives you the ability to enter all the raw chemical materials in your blend them into a single chemical product, complete with the proper chemical property data unique to your specific blend.
This simple tool makes it easy to manage all your custom blends and maintain chemical inventory hazard communication compliance.
Get Started with SDS on Demand