Don't you find it frustrating that EH&S efforts are undervalued or misunderstood compared to other organizational projects? If you are an environmental specialist or EH&S manager, you already know how substantial environmental compliance and sustainability is to improving business performance.
As an environmental specialist, you may be forced to work with tighter budgets and fewer resources. It is not uncommon to find only one person carrying the entire burden of environmental compliance management on their own.
The solution to this problem is to completely overhaul the way you think about and use your environmental compliance. Once you use it to demonstrate the worth of EH&S management in a way your boss and your stakeholders understand, they will then get on board.
In this article, we will outline 5 ways you can rethink your environmental compliance strategy using methods from industry leaders that include:
Centralizing All of Your Environmental, Health, and Safety Data
Establishing Clear Key Performance Indicators (KPIs)
Minimizing Manual Calculations and Reporting
Creating a Central Library of all relevant EH&S regulations
Scheduling Regular Internal Audits
To get the full list of these environmental compliance tips, ERA has a FREE Environmental Compliance eBook that you can use to improve your compliance.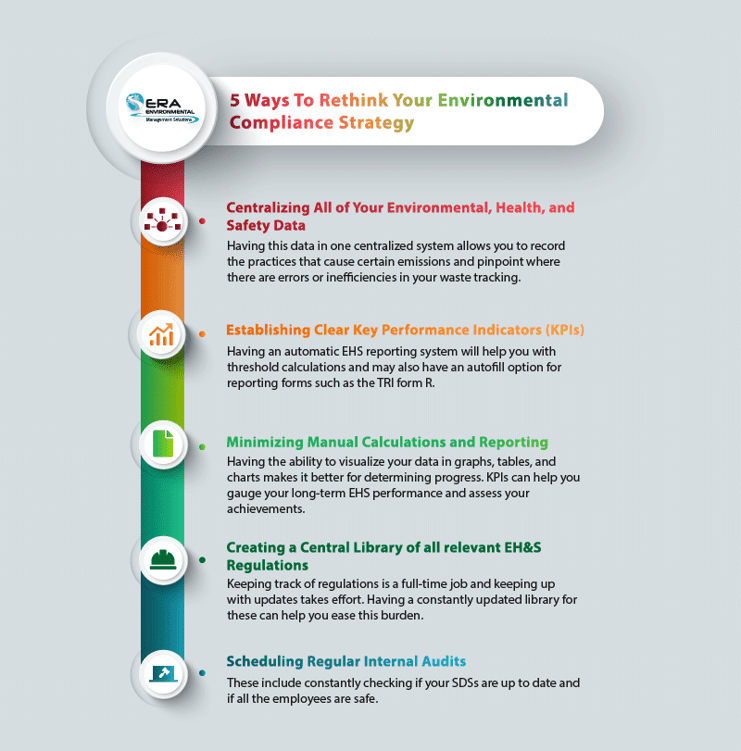 Centralize All of Your Environmental, Health, and Safety Data
An important step in figuring out a compliance strategy is data centralization. Environmental reporting data ranges from emissions data to waste tracking. Having this information in one centralized system allows you to record the practices that cause certain emissions and pinpoint where there are errors or inefficiencies in your waste tracking.
Benefits Include:
Avoiding discrepancies in data ensures that you can use it for all functions. The EPA checks if your NEI data is consistent with your TRI.
Store enough data for future reference.
Use consistent data for all environmental reports such as TRI and Tier II.
Establish Clear Key Performance Indicators (KPIs)
Measuring performance is an important step in the effective management of business operations. Having the ability to visualize your data in graphs, tables, and charts allows you to easily determine your progress. KPIs can help you gauge your long-term EHS performance and assess your achievements. Viewing the data on a centralized dashboard also makes it easier to determine the way forward for your company.
Benefits
Ability to identify, measure, and track a variety of data ranging from water usage, waste tracking, or defined sustainability metrics.
Compare metrics for anything within your business and your facility giving you a clear picture of the favourable EHS practices.
Seamless root cause analyses aided by comprehensively represented data.
Minimize Manual Calculations and Reporting
Some companies still rely on spreadsheets to complete their environmental reporting calculations. Calculating manually is challenging and is prone to many errors. Part of rethinking your environmental compliance strategy is making sure that you are completing minimal calculations by hand. Having an automatic EHS reporting system will help you with threshold calculations and may also have an autofill option for reporting forms such as the TRI form R.
Benefits
Automatic calculations give you accurate data with no discrepancies. You will need to adjust your calculations according to the values constantly, leading to inconsistent standards.
Ability to edit required metrics at the push of a button, giving you accurate numbers for your reporting.
Saving time by auto-filling environmental reports with readily available information.
Create a Central Library of All Relevant Environmental Regulations
Keeping track of regulations is a full-time job and keeping up with updates takes effort. The main challenges in this include knowing which chemical the regulations apply for in your organization or facility. You will have to check regulations frequently because some of them change up to 12 times a year.
Benefits
Having an updated regulatory list will save you money because you won't need to purchase extra regulatory lists.
Having a central library means that you will only check the updates for your specific chemicals without pouring through all the updates.
Save time by bypassing the research in the EPA database. The list of chemical regulations document is 130 pages long, and it does not even include new regulatory updates. It only lists the section and CAS numbers. To get threshold values, you would have to look in the specific documents for each chemical in your facility.
Schedule Regular Internal Audits
Routine internal audits are essential to ensure that your business operations are running smoothly and that your environmental practices comply. These include constantly checking if your SDSs are up to date and if all the employees are safe. Pollution prevention practices also need to be audited so that you know what chemicals to change if they are significant polluters.
Benefits
Routine internal audits improve operations efficiency and reduce company costs. If you know the processes that pose the most risk, you can quickly mitigate the risks before you are fined.
Improving your company image to regulatory bodies, stakeholders, and the public.
Producing a proof of audit in case of external auditing.
ERA's software covers all these compliance strategies and more. If you would like to learn more about ERA's EHS software solutions, click the link below.

This Blog was Co-Authored By: