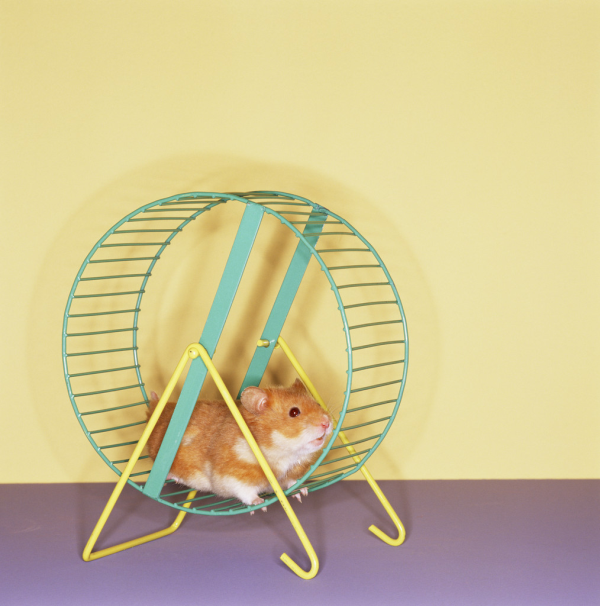 Managing your environmental impacts is a 24/7 job. Just because your facility ceases operations down for a moment doesn't mean that you've stopped impacting the environment. Long after the environmental management team has gone home, there is still work to be done... and it's certainly waiting for you when the arrive back the following work-day.
This means that those dream projects you have, the goals you'd love to hit this year, are probably going to be just out of reach because the day-to-day management of keeping your facility in check is eating up all of your team's time.
It's like being trapped in a hamster wheel: running as fast as you can and not really getting anywhere.
So, ask yourself this important question:
"How much time do you spend on these environmental management tasks?"
Managing your environmental impacts the old-fashioned way could mean that these activities could take hours, every day. All of these tasks need to get done during the course your day, but what sort of impact would it have on your work-day if you could automate the labor intensive tasks. The majority of the work-load of the tasks you do every day can be done by implementing an automated system that uses electronic data transfers.
The number one expense in any EH&S department is wasted time.
Not because your environmental team isn't doing everything to the best of their ability, but because the time consumed by EH&S tasks is not proportionate to the return on investment.
One of the biggest challenges you face in EH&S is trying to win top-level buy-in and cost validation for the projects that you'd like to be doing. To get that buy-in you'll need too find some time to get some initial results from some pilot tests you've put together.
It's hard to find the time to put these initatives together when duties like manually entering chemical component data or writing daily emission reports can take hours without a lot of payoff. These are the tasks that are the standard fare and amount to just keeping your head above water. They're there to avoid the negative consequences of poor environmetnal management. They don't produce the big attention grabbing results that you need to produce to get full backing for the project you want to complete this year, whether that's putting all you environmental tasks on auto-pilot, or getting more involved with the product development to drive sustainability into the roots of the company.
How to Escape the Trap of time-sucking Day-to-day tasks
This is why ERA Environmental is such a huge proponent of environmental data automation whenever and wherever possible. If you can get a shared vendor portal to automatically transfer chemical data over to your inventory in just minutes, it saves up the other 80% of your time to work on something with a greater ROI.
Taking emission readings and checking your control technology operation parameters often is essential to avoid noncompliance penalties and even malfunction - the more often the better. But that doesn't mean hiring someone to take readings and calculate emissions every hour. Instead, implement an automated continuous emissions monitoring system (CEMS). It will take readings for you, even up to every minute if you need it to. And it will only take a few minutes each day to review that data.
CEMS can be one of your greatest environmental management tools, letting your specialists get all the data they need while freeing up their time to actually use that data. Sometimes you need minute to minute data (like during a malfunction), but there's no possible way for a human to get that data and apply it to a solution. That's where automation kicks in.
Environmental data automation doesn't replace your EH&S staff, it simply expands their management capabilities to super-natural levels. It's all about getting you the information you need in the most efficient way. It shifts the focus into what you do with your data, and not how you get it.
Reaping the Rewards
The ultimate payoff to environmental data automation is empowering the EH&S deparment to start delivering the substantial ROI it knows it can deliver to the company. Sure, it's nice to get things done faster and easier, but the real rewards come from what you do in that extra time with all the data you've collected. Having an extra hour every day is enough time to start some corporate sustainability planning or to research environmentally responsible alternatives to the products you are using.
One of the primary reasons businesses aren't investing in money-saving sustainability projects like renewable energy is that they don't have the free time to do the research, planning, and implementation required. If that sounds familiar, the solution to your problem could be to streamline your environmental data management processes, not to expand your EH&S team.
You've heard the mantra "work smarter not harder"… well, automation is the best expression of this philosophy at work.