Time is essential in environmental management, which is why many companies are turning to environmental management software solutions that make their lives easier and ramp up their performance speed. Building an in-house system could take years to get it up and running and be difficult to maintain.
A great Environmental, Health and Safety (EHS) software solution doesn't make you wait that long. Suppose your EHS software provider of choice had created an efficient process of implementing the Environmental Software Solution that put you in the driver seat. In that case, it should be a simple matter of mapping your existing processes into the software system.
EHS software implementation time varies but during the software selection process, you should keep the following in mind:
How knowledgeable is your software provider about environmental regulations, emission calculations and reporting requirements?

Will a certified consultant carry out your

implementation, what are the options for training during implementation?

What are the steps involved in the implementation, and how is implementation verified?

Can you make changes to the software after implementation and training?
How Knowledgeable About Environmental Management Is Your Software Provider?
You can gauge how knowledgeable a software provider is by how many regulatory reports they generate in their system and the presence of a regulatory research team to help stay on top of the regulatory changes.
Software providers may have many different reports available depending on their environmental management model. For example, ERA has over 600 reports readily available that simply require data to be entered to use. A software provider with a wide range of reports is more trustworthy because of their extensive knowledge of various report formats, report calculation logic, and report validation rules. This also means they are likely to have readily available versions of your specific company reports, significantly reducing implementation time.
Overlooked regulatory changes in environmental reports such as TRI or Tier II can result in thousands of dollars spent on fines and penalties.
A knowledgeable software company should provide ample regulatory upkeep and knowledge sharing for its clients, as well as emphasize support availability during implementation to avoid inaccurate reporting.
Will A Certified Consultant Do Your Implementation, What Are the Options for Training?
Your software provider should facilitate the implementation process & ensure it is time conscious, accurate and as seamless as possible.
Software companies have various ways of setting up your project within their system. Some take time to configure it internally and only involve your team in training for each report. Other companies have decided to combine these processes to keep you in the driver's seat during the implementation process.
An example is ERA's tandem implementation methodology: both training and implementation are carried out simultaneously, which fully equips the client for software navigation. With tandem implementation, ERA can answer questions in real-time during web conferences, and the client is provided with recordings and meeting transcripts for reference after training. The training involves actual client data and process information instead of example data; this paints a clearer picture for all reports.
Each client has unique training needs; therefore, training options vary significantly. You are free to choose the training methods that suit your EHS teams' schedule and learning style. Other available training methods in ERA's system include eLearning and training courses, one-on-one client-specific web training, and large-scale core group staff training. Ensure that your chosen software provider has a wide range of options to suit your needs.
Does the Software Support Electronic Import of Data, or Will Implementation Mean Typing Everything in by Hand?
If implementation means manually entering every cell of your spreadsheet into the software, it will take forever. But if that same spreadsheet can be mapped to the software once you've just turned hours of pointless work into a few minutes.
In ERA's implementation process, data is requested from the client during the implementation kickoff meeting. In this meeting, the software provider outlines the module and the required documents for implementation. Requested documents and document formats vary by specific module. For example, in the environmental reporting and emissions monitoring modules, information on the client's facility, storage, chemical records, previous permits and all reports generated for compliance are also required for software implementation. The system has automatic uploads for organized excel sheets, which lightens the load on the people who are entering the data.
After document provision, an implementation professional is responsible for document review depending on the complexity of the provided EHS data. This process provides a Gap Analysis so that required data that is missing can be obtained by the client.
Ensure that you gather all the required documents to avoid endless data follow-ups from your chosen software company.
What Are the Steps Involved in Implementation, and How Is Implementation Verified?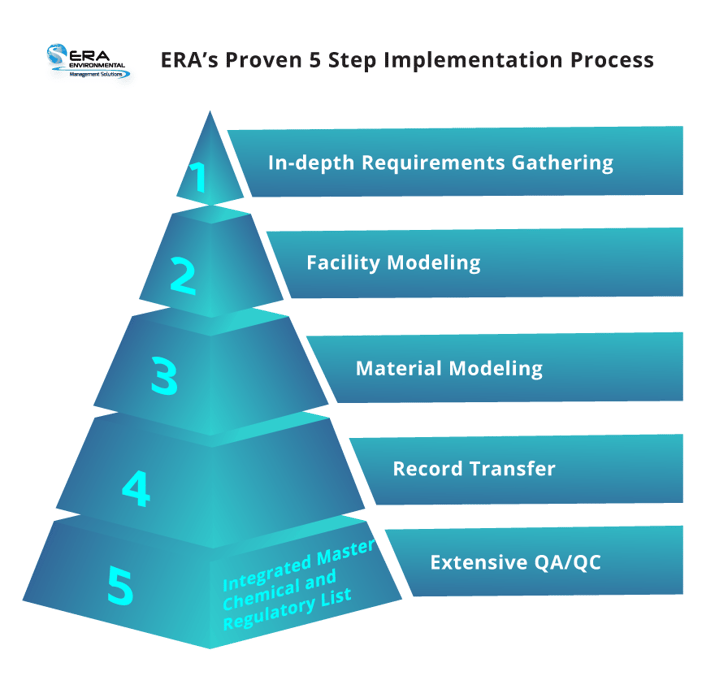 Implementation steps include:
Gathering documents

. During the data collection stage, ERA evaluates the permit and module requirements with the help of the company staff that knows the data.

Facility Modelling

. This involves the creation of a virtual facility model for all required modules, such as air, water, and waste. These range from chemical coating calculations using the mass balance approach to recording waste streams with the help of facility experts.

Material Modeling

. This involves evaluating available SDSs with automatic data import from excel sheets and evaluating quantities and chemical usage processes.

QA/QC steps

. These steps are for implementation verification, and an audit of reports is taken to ensure report accuracy.
Your software provider should provide you with precise requirements, timelines for these steps and training processes while involving the client every step of the way.
As with any system, verification includes reviewing, inspecting, and testing the program. It is essential to ask if your software provider will show you complete reports verifying the accuracy and consistency of your data. In ERA's system, comparative reports are the primary method of verification. In this step, a report is generated from ERA and compared to the same report you generated on your own . If there are evident discrepancies, the software provider performs a gap analysis to iron them out.
A Case Study on the Duration of EHS Implementation
An implementation project for one of ERA's automotive clients took only 2 weeks to implement 3 sites! In the end,135 air emissions sources were configured, 224 waste streams recorded, 24 months of usage records imported and report QA for seven reports. That is not a timeline that could've been predicted without data evaluation.
If you've reached the point where you realize how much faster you could work with EMS software, make sure that you keep implementation time as part of your criteria. Realize that, realistically, a big business with years of data could take a couple of weeks to get the system off the ground.
Can You Make Changes to the Software After Implementation and Training?
An important question that most EHS software users ask is whether they can modify their software settings at will. A good software provider should ensure that your training equips you with the tools to make effective changes with minimal technical support. ERA's tandem implementation methodology achieves this by involving you in every step of implementation.
ERA's Superior Implementation Methodology
ERA's Environmental Management Software is the leader in accurate air, water, and waste reporting and compliance management. This simple, unified platform gives you a complete insight into your environmental performance and reduces your EHS overhead by over 80%.
ERA's tandem implementation model allows you to work side by side with ERA to implement your program efficiently. You are the expert on your company's data; therefore, having you in the driver's seat during the implementation process is ideal. The process makes ERA a superior software provider that you can have up and running in record time. Schedule a Discovery Call with a project analyst below to learn more about ERA's EHS platform and implementation.

Kundai Mufara is a Science Content and Technical Writer at ERA.