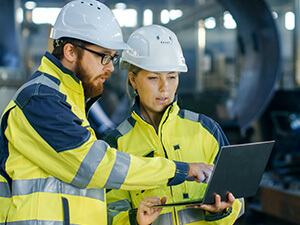 When it comes to your products, services, and processes, using a robust Quality Management Software is essential for your business' continued growth. Becoming more efficient and delivering better results requires real-time insights into your quality assurance processes and following trusted methodologies for quality improvement. ERA Quality Management Software (QMS) Suite gives you a complete platform that enforces standards and automates every aspect of your corporate improvement process.
Meet the ERA Quality Management Suite
The ERA Quality Management Software Suite gives you a robust toolset unlike any other. It provides built-in workflows, reports, and dynamic smart forms that not only document every step of your continuous improvement process but actually automates your management as well. We eliminate redundant data entry and task delegation, letting you focus on growing better more effectively.

Complaint Process
Manage, document, and track all quality control complaints that are generated internally or externally. Workflows help you decide how to handle and rank complaints in terms of risk and priority. Gain the information you need to maximize how you use your time and resources.

8 Disciplines (8D) Modeling
Standardized forms allow you to utilize the 8D model for your improvement control processes. Our QMS makes it simple to plan, form a quality team, define issues, implement containment actions, perform root cause analyses, verify permanent corrections, implement those corrective actions, prevent future issues, and recognize your team. Automate communication and task delegation between your team and keep everyone in the loop about each step of the 8D process.

Root Cause Analysis
Smart forms and reports using best practices, like 5 Whys and Ishikawa modeling, are built into the system, assisting your team in identifying the true root cause of any quality issue. Gain deeper insight into your processes and drive more impactful improvements to your organization.

Quality Improvement Investigations
Create and assign standardized investigations, create your investigation team, and get automated reporting on investigation status and results. Automatically assign CAPA tasks based on your findings and build a library of automated corrective actions specific to your operations. Cut 80% of the manual labor from your investigations process so you can focus on next steps.

Quality Audits and Monitoring
Keep watch over your processes and materials with smart audits and built-in standardization. Ensure audits are done on schedule, monitor responsible team members, and get automatic email alerts about any deviations or other findings. Have confidence your quality management checklists are meaningful and reliable no matter who performs them, protecting your quality control processes from human error.

Change Control & Management of Change (MOC)
Keep change in check with detailed documentation and automated communication for change control requests, executive approvals, and Management of Change. Inform your stakeholders, quality steering committee, staff, and executives at each MOC stage – keeping executive approvals simple and speedy.

Risk Management
Rank complaints for risk factors, severity, and urgency - and display it all with KPIs and risk matrices. Create risk portfolios and assign them to risk owners, along with standardized process forms and timelines. Get automated alerts about risk project progress to efficiently minimize the consequences of your workplace risks to quality.
Non-Conformity Material Report (NCMR)
Report non-conforming materials, products, and supplies, as well as material mishandling using smart forms identified during inspections and audits – quickly alerting your quality steering committee to required actions with our automated alert tools. ERA's QMS suite links data back to your suppliers, chemical inventory, and purchasing to close the loop around material quality control.
Product and Part Approval
Built-in workflows standardize your part approval process and automate communication between your teams. Trigger Management of Change (MOC) processes when you need to change or improve the parts used in one of your processes and enforce proper documentation procedure.
ISO 9001 Quality Management System Compliant
ERA's QMS Suite is built in accordance with ISO 9001-2015 edition quality standards, putting your organization on track to follow international-recognized best practices and standards for Quality Management.
Quality Management Software Tailored to Your Business
ERA's QMS toolset is a turnkey solution that is quickly and easily configured to your exact specifications, with precision customization of your workflows, forms, audits, and inspections. This QMS integrates seamlessly with other ERA modules to create a comprehensive enterprise EHSQ solution but can also stands alone as a complete Quality Management Solution.
Get a demonstration of this revolutionary QMS software tool today.
Quality Management FAQ
What is QMS?
A Quality Management System, or QMS, is a formalized set of procedures that track and document your quality improvement processes – from initial complaint or observation to quality auditing to change management and ending with executive approval. Using a QMS ensures that your Quality Management team is following a reliable set of standards and documenting each step properly.
Why Choose ERA's QMS?
Unlike competing QMS platforms, ERA is more than just a warehouse for your quality process documents. We provide comprehensive automation and integration with your management tools to enforce compliance with best practices like ISO 9001-2015 through our dynamic smart form system. When you use ERA quality management software you get a full library of built-in forms, automatic alerts, integrated inspections and audits, root cause analysis, and a powerful KPI dashboard. It's a complete Quality Improvement solution from A to Z.
What is QMS used for?
Quality Management software can be used to improve and track any of your processes, services, products, raw materials, and suppliers. Any materials entering or leaving your facility should be carefully monitored for quality and integrity, and any activities taking place as part of your operations can be continuously improved and refined. A QMS like ERA's lets you track issues, identify causes, and resolve quality impacts quickly and efficiently. The end result is more efficiency and conformity across your products and services.
Who should use a QMS?
A good Quality Management System software should scale to your business, meaning any size business can implement and benefit from implementing a QMS. The main reason businesses rely on a QMS is their need to keep all their quality processes in order and running smoothly. A QMS is for anyone who needs to have strong communication across their business about quality concerns and wants to streamline how they improve their operations.
Get Your Personalized QMS Demo
Get your QMS questions answered firsthand by an Operations expert. Sign up for your personalized demo to get a walkthrough of how you can standardize and streamline every aspect of your Quality Improvement process.