In virtue of her innovation-focused leadership style and the advancements she has made as the co-CEO and Director of Research and Development at ERA, Sarah Sajedi was named among the 150 Finalists of the Women of Inspiration awards 2021, in the running for the Trailblazer (STEM) Award.
These awards, presented by the Universal Womens Network, celebrate the accomplishments of extraordinary women who lead by example and inspire others in their companies and/or industries to push the boundaries of their jobs. According to the network, they are "modern-day heroes, game-changers, movers and shakers, and role models who lead... with courage, confidence, commitment, and integrity".

Sarah made it onto the "podium", in large part, due to her dedication to her cause of brining about environmental change. She cited her mother, her husband (and ERA co-CEO) Gary Vegh, and her support system at the company as the pillars upon which she has built her platform for spreading her message of environmental stewardship and steadfast regulatory compliance. Moreover, her commitment to influencing the next generation of women professionals and scientists extends to her belief in the foundational nature of education; she often encourages her employees to reengage in higher education and/or continue their studies, not to mention that she and her husband fund an annual scholarship—the ERA Environmental Bursary—for university-level Arts and Sciences students at Concordia University.
Of her nomination, Sarah said "knowing others view [her] as an inspiration inspires [her] to progress and reach [her] higher goals", and she hopes awards like these motivate other women to advance personally and professionally in their respective fields.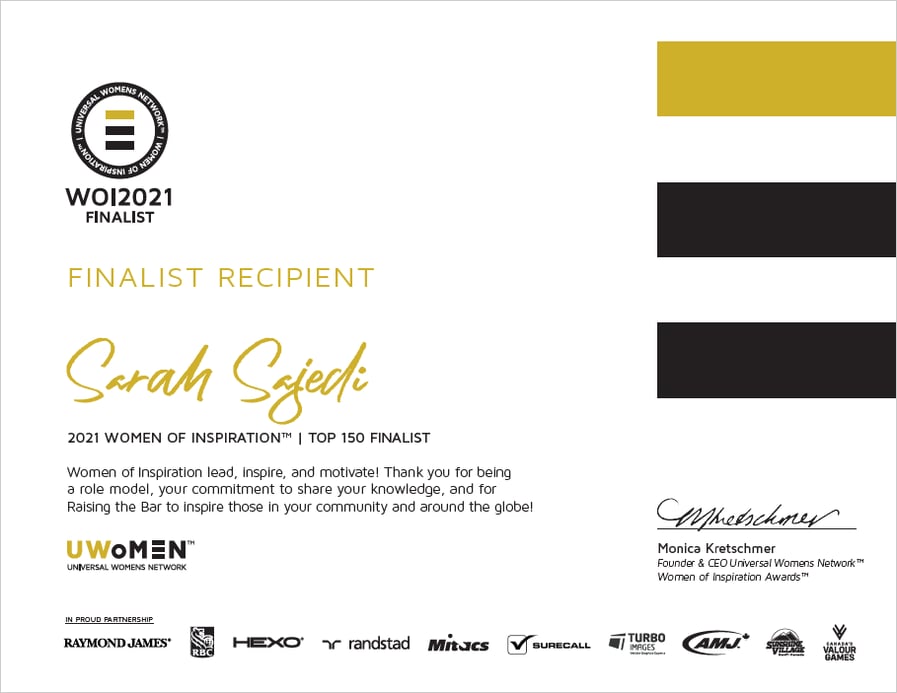 The WOI 2021 Virtual Awards took place on November 11th. Browse the list of winners.

Andres is a Science Content Writer at ERA Environmental Management Solutions.