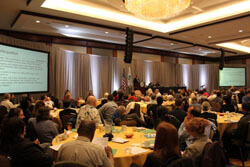 Over the course of three days in October, ERA was proud to both attend and contribute to the 2016 TRI National Training Conference held in Washington DC.
This much-anticipated meet-up acts as a forum for TRI reporting, where industry, community groups, academia, researchers, state and different federal agencies come together to discuss the issues around emissions reporting, and share the latest developments across both reporting and regulations.
We'll be recapping some of the main talking points, industry trends and concerns that emerged from the packed schedule of the conference. A vibrant level of discussion at the conference makes breaking down the discourse to a few points difficult, but some important topics consistently came up over the course of the event.
Gary Vegh, Chief Environmental Toxicologist at ERA, was present at the conference, delivering his own lecture on 'Communication: The Foundation of Increasing Data Accuracy'.
As it turned out, both data collection and the presentation of data were some of the hottest industry topics at the conference.

Data Challenges and Visualization
One of the topics that was covered by both individual and agency presenters was the challenge of grappling with data spread over numerous different locations. This was touched upon during the 'Mapping Tools to Support Environmental Justice Analysis' presentation' given on Thursday morning.
The lessons of collecting data appears to have been heeded by a vast number of organizations, who have now grasped that significant management and efficiency improvements can be achieved through data analysis.
Indeed, the maxim that 'Data is not Information' was heard throughout the conference. This refers to the ever-present need to actively parse gathered raw data into actionable information. This fact was stressed over the three days.
A significant obstacle that many organizations now need to overcome is collecting and effectively expressing this mass of information in a format that is both intelligible and attractive to all tiers of stakeholders and decision-makers.
ERA has made the decision to focus on the robust provision of Key Performance Indicators across our Executive Dashboard, as this is one of the most illustrative ways that an organization can express this data.
Producing quality KPIs is a challenge that organizations face at almost every level of the scale, and this is something that both government bodies and private business are both looking to overcome, at the same point in time.
This challenge exists on both sides of the reporting process. From regulatory bodies such as the EPA dealing with enormous amounts of submitted reports, to businesses trying to consolidate their key data across dispersed facilities; having an attractive set of easily grasped indicators is very much in demand.
The specific need is to make sure this data if flexible, can be translated into relatable figures, and can be understood by readers and decision-makers of all stripes.
A presentation by David Burlinson of the University of North Carolina and Charlotte outlined how a clear visual graphing, mapping data from emissions reports across geographic areas can give you a break-down that has a considerable impact, allowing viewers to immediately get a picture of the emissions scenario, even on a national level.
The push is most definitely on for more of this kind of illustrative resourcing.
TRI at 30: Sustainability Ever More Important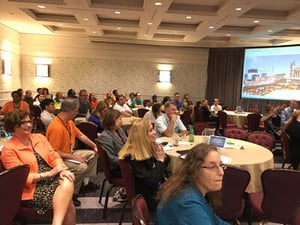 A number of presentations at this year's conference looked at the issue of Environmental Justice, or how the enforcement of environmental law intersections with the fair treatment of people from all backgrounds.
Environmental Justice is an established concept that has been recognized by the EPA and academia at large, and it's applicability to commercial emissions was the subject of several presentations at the TRI National Training Conference.
An informative presentation on 'Examples of EJ (Environmental Justice) Screening and Analysis Approach' on Thursday afternoon explored some of the techniques that can be utilized to examine how both the income level and demographic make-up of an area can be interlinked with the emissions levels present in that community.
Across all presentations at the conference there was an acknowledgement of the important role that citizens' groups now play. Nowadays, these groups are a key part of many inclusive processes.
Bearing these environmental justice concerns in mind can help inform the sustainability concepts which are being largely embraced across North American industry. A company that is looking to protect its triple bottom line will be aware that both social and environmental longevity needs to be looked after in order for long-term growth to be sustained.
Here at ERA, we look at the service we provide as being helpful in the context of sustainability by delivering clarity in terms of emissions figures. It's extremely hard to situate your organization's sustainability performance without having hard data to work with, and it's this hard data that we work to gather so that companies have actionable information.
As efforts continue in the future to highlight examples of environmental justice failings (and there will be failings), it is this hard data that will be extremely important to both businesses and citizens' groups.
Businesses will be able to look at this data and see which operations they are directed which are resulting in emissions or shortcomings, the scale of these, and where more efforts can be made.
Proponents of environmental justice will be using this data to assess the situation, and actively verify if the tenants of justice have not been respected.
Clarity and dependability in reporting in both regards is absolutely essential to the process.
Public Perception - Fueled by Data
Another re-occurring topic that came up again and again throughout the conference was how there is no hiding from gathered data.
Thursday's Lightning Talk sessions underlined this point via a presentation given by a Brown University PHD, Juyoung Lee. Lee looked at the geographical distance between the location of the corporate headquarters of a business and the actual facilities that are involved in emissions reporting.
The presentation indicated that there was a connection between the amount of distance from the corporate headquarters and the facility, and the likelihood of that facility to get involved in P2 (anti-pollution) initiatives. The further the distance, the less likely the facility would get involved.
The data presented in this session made it very clear that companies need to undertake sustainability on a cohesive basis across all their operations – or that the gathered data would highlight the areas or facilities that fall short.
These shortcomings could then undermine any sustainability efforts that are being directed across the company. A new standard will have to be upheld by companies looking to truly commit to a sustainable model.
Discussion at the conference often touched upon this topic. Particular attention should be paid to those companies that are just below the reporting threshold for emissions – any future shift in requirements could move these companies into the 'reporting group'.
While there was no clear indication of any incoming regulatory shift at the conference, those medium to small-sized enterprises that are emitting and just below the current requirement to report would do well to prepare for the prospect of environmental reporting in the near future.
A Highly Positive Forum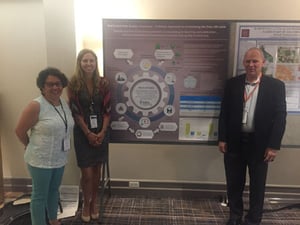 As it stands, the 2016 TRI National Training Conference represented an excellent forum in which to swap ideas, concepts and keep up to date on the latest developments. The level of discussion, idea-swapping, and friendly discourse made it a pleasure to attend the event.
ERA was delighted to take part in this year's training session. With the year now drawing to a close, we are looking to the future and the part that we can play in facilitating stability across our client base.
If you want to learn more about the sustainability benefits that innovative and robust environmental reporting can provide, please feel free to download our free eBook entitled 'The Hows and Whys of Sustainability' via the link below.