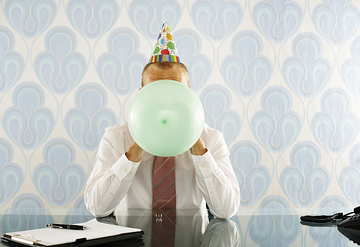 Corporate social responsibility (CSR) is a self-regulating business model that helps a company be socially accountable — to itself, its stakeholders, and the public. For most businesses, starting or maintaining a corporate social responsibility program first appears to be all about hard work and making dramatic changes, hopefully resulting in a stronger Triple Bottom Line and more sustainable business practices. As environmental specialists, we are almost always focusing on the best strategies for tracking and measuring sustainability metrics. After all, sustainability programs and smart decision making are data driven.
As a result, it often seems like there is no room for fun in sustainability. But could harnessing the power of fun be another useful tactic for achieving sustainability success?
Fun has More Market Appeal
One of the best ways to prove to your executives and stakeholders that sustainability is worth the effort is to bring in more cash flow and improve sales, and it's clear that a more "fun" approach will net you more money. A Guardian UK article examined the efficiency of sustainable messaging in consumer advertising. It's found – to little surprise – that consumers were more drawn to and more likely to buy into sustainable products and ideas that were advertised with a sense of fun and light-heartedness rather than a gloom and doom mentality.
The Guardian also found that only roughly 10% of shoppers were swayed by hard-sell environmental advertising, those pitches that were either all scientific jargon or, as the Guardian puts it, "messages that make us feel the world is about to end and it's our fault". In short, consumers want fun and ease, not lectures and hard work.
Whole Foods, a grocery chain, participated in an initiative to bring attention to the decline of bees by giving consumers access to bee-friendly products. Similarly, Cheerios has also partnered to provide consumers with awareness and ways to help the plight of bees. Consumers can actively support growing the bee population with their buying power.
This concept still applies to your business if you're in the B2B market too. If sustainability is one of your big selling points, focus on how easy using your product makes it for your customers to improve their own sustainability.
It helps if you share sustainability tracking results with potential customers in a more accessible fashion than you typically use for your internal reporting. Remember: easy, fun, and simple makes sustainable messaging more effective for external audiences.
There's an takeaway here: your marketing and public relations campaigns that you build around your internal corporate sustainability program need to focus on being approachable, easy, and engaging.
Fun Magnifies Employee Engagement and Sustainability Champions
There's a second takeaway from the Guardian article about why "fun" matters in sustainability: if fun messaging is more effective to external consumers, shouldn't it also be more powerful for talking to your business about sustainability?
Ask yourself, does your corporate sustainability program's messaging capture the attention and imagination of employees and executives? Is your messaging fun and approachable or is it all serious business, pie charts and figures? While you need to take sustainability seriously and track all that hard-core environmental data, is it the right tool for the job when it comes to communicating sustainability progress?
We wrote an article about the importance of having environmental champions and engaged employees when aiming for ISO 14001 certification, and the concept still applies to corporate sustainability programs. You'll simply get better results and accomplish your goals more efficiently if you have employees that see how making the business more sustainable makes their own lives better and easier.
For example, if you have a goal of reducing your VOC emissions this year by improving your spray booth processes, you'll see larger improvements if your training and messaging is about how applying paints the right way requires less work overall, including less flushing out of spray guns and other annoying necessities.
A millennial survey by Deloitte found that 49% of millennials stated that they would refuse to work for companies that go against their personal ethics. Additionally, FleishmanHill Fishburn found that 75% of millennial workers would accept a pay cut to work at an organization with a strong purpose. The results from the surveys make it clear that corporations embracing sustainability meet the demands of the future and satisfy millennials.
In our experience, instituting sustainability goals goes much smoother if you make it about teamwork, shared responsibility, and positive outcomes rather than a strict set of rules and regulations pushed down from upper management.
Case Study: Volkswagen Makes Sustainability Fun
"Fun" is not a word that gets thrown around most business meetings, especially in large manufacturing industries. But Volkswagen has started to harness the potential of having fun in its latest sustainability program, Think Blue.
The headline on the Think Blue website reads: "Saving energy and living more efficiently has never been so easy – or so much fun", and they list a series of Think Blue Projects under the subhead "It's fun to think blue".
They even have an entire category of sustainability projects reserved for "Fun" projects, like bike-powered VW-branded photo booths, or recycling machines that transformed plastic waste into holiday ornaments.
What stands out the most though is Volkswagen's Fun Theory Award, which it uses to recognize the thoughts, ideas, and inventions that help prove the VW Fun Theory:
"The Fun Theory is based on the idea that something as simple as fun is the easiest way to change people's behavior for the better. We apply this thinking to every environmentally friendly innovation we make. It should never have to be a compromise to help the planet. Moreover, we believe more people will act responsibly, and drive greener, if they have fun on the way." – from VW's Think Blue.
Volkswagen isn't just making it fun for the public to get more sustainable (and producing excellent brand awareness for themselves along the way); they are also making it more fun for VW employees to be part of sustainability planning and progress through the Think Blue program.
Think Blue is a big part of the award-winning VW Chattanooga manufacturing plant's strategy, and is has seen some enormous wins internally and externally. You can read our in-depth analysis of your key takeaways from Think Blue by reading our article here.
Conclusion
Sustainability has wide reaching implications across industries; however, many corporations may find sustainability out of reach. By injecting sustainability projects with fun, corporations can help consumers and employees feel empowered to act with sustainability in mind. Corporations are prompted to answer the call of sustainability as the demographic changes in the workplace and increased awareness of environmental needs make sustainability more than a project but a key part of corporate identity.

Alex Chamberlain is a writer for ERA Environmental Management Solutions.