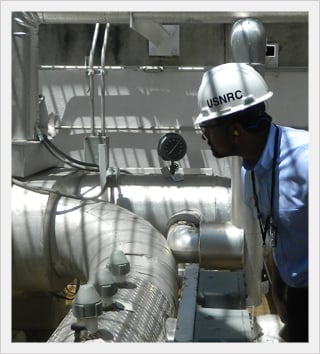 For most EH&S Managers in the Oil & Gas and Chemical industries, the thought of going through a regulatory audit is an unwelcome one - it means more work spent on paperwork and less time on improvements and actual compliance. Since audits from the EPA and other regulatory bodies are unavoidable - the secret is to maximize their benefits and minimize the work load.
That's exactly what this short article is going to help you do: reduce the hours you spend preparing for external/regulatory audits, and tell you how to get more out of internal audits.
We'll start off with those unavoidable external audits you already have on your plate:
Less Work, More Rewards - Regulatory Audits
The standard procedure for EPA or state regulatory audits typically requires digging through your last five years of compliance recordkeeping, making sure that all of your equipment is operating properly, scrambling to fix small and noticeable problems, and hosting an auditor in your office for a few days while she/he interviews and investigates.
You'll also be on the lookout for any compliance red flags that would make your auditor suspect there could be something wrong lurking below the surface.
If this process sounds familiar, there's probably opportunities for improvement:
Time spent gathering and organizing compliance data
Amount of time spent being audited/working with auditor
Time and effort spent ensuring proper operation of equipment
Each of these time and labor costs can be reduced, making audits less of a burden on your resources. The solution to all three areas is simple: a centralized environmental management system that collects, stores, and processes your EH&S data. And the more you can automate that system's functions, the better.
Here's why:
Normally, gathering all of the records you'll need for an audit will take hours of prep time, and that's assuming all your files are where they should be and accessible. In the Oil & Gas industry, one EH&S Manager could be responsible for several geographically distant sites - if records are being kept on-site at each one there could be days of waiting or travel to get all your records together.
But with a centralized EH&S data management platform, preferably a secure online platform, records from all of your sites are a few button clicks away. Any permit, compliance report, emission inventory, or certificates are easily accessible to both you and your auditors.
And when all your paperwork is organized, searchable, and easily accessible, your auditor will be able to spend a fraction of the time conducting the investigation. It's possible to get an entire record review done in as little as 30 minutes - at ERA we've seen it happen... but only when recordkeeping is done right.
A centralized database can also be used to track and demonstrate that your equipment and control devices are in good working order. By pairing an Environmental Management System (EMS) with Continuous Monitoring Systems (CMS) you can have all of the continuous operations data you're required to track on hand for any auditor.
This is especially important for any EH&S Manager in the Oil & Gas industry: the EPA is doubling down on monitoring requirements for certain equipment types like flares, tanks, and coking units. Recent changes to flare emissions monitoring require more CMS devices and more data processing than ever. (If you want to learn more about these changes, download our free 2015 flare emissions monitoring ebook here).
Making the Most of Internal Audits
It's always healthy for Petrochemical managers to give their EH&S departments a check up. An internal audit is one of the best ways to accomplish this goal.You'll identify compliance weak points and risks, take the pulse of your workforce, and be more prepared for upcoming compliance reports.
Unfortunately, finding the time to do an internal audit can be difficult. There's an attitude that doing a self-audit is redundant when there are so many government regulations already in place. However, a self audit (when done effectively) is a powerful tool for becoming an environmental leader - a company that gets recognized for its extra effort, drawing in more market share and positive publicity. Both are essential in the petrochemical industry.
That's why it is important to incorporate self-audits into your EH&S compliance tasks... but it is equally important to ensure they are short, effective, and at minimal cost. Sound too good to be true?
Here's how:
An internal EH&S audit should be about reviewing your records to identify positive and negative trends. It shouldn't be about chasing after paper; if you're finding that you're missing records then it's time to reconsider how you collect and manage EH&S data. Instead, you should have a central database of EH&S records and reports than you can quickly audit.
It should be possible to do a basic self EH&S audit primarily from your computer, if you're using an EMS.
When reviewing your records, assess:
Do you have emissions tracking done for every reportable period you are in operation?
Do you have documents or models of all your emission sources?
Are your emission calculation methodologies (industry emission factors, engineering estimates, etc.) documented?
Are you tracking utilities and usage? Do you notice any unusual peaks in energy or water usage (evidence of a malfunctioning piece of equipment which then leads to increased emissions)?
How often do you take readings and track material usage? Ideally you should track this data every day, although weekly or monthly will still meet the reporting requirements of most businesses.
Are there any gaps in recordkeeping? Was any documentation hard to find?
Doing this basic record review audit is the groundwork for a full internal EH&S audit, and you'll typically be able to pinpoint issues just by looking at your existing documentation with a Manager's eye for detail.
The next step is to look at any Notices of Violation (NOVs) your sites received over the past 5 years. Why were you penalized, and how have you addressed those issues? The biggest fines comes from regulators returning after the fact and seeing you have the same issues as last audit.
Importantly, check if you've documented any corrective actions you took; if it isn't documented regulators will not consider the job done.
Check on any anomalies or suspicions you develop during the record review. You'd be surprised at the types of issues even small blips on your radar can produce.
Finally, roll up your emissions reports, utilities usage, and any other Key Performance Indicators (KPIs) you investigated into an internal audit report. Make it brief. Having this KPI report on hand to show executives is a useful shortcut to showing your EH&S department is on task, and will keep everyone accountable. You may also find it a useful public relations tool.
Following the above steps will help you to improve performance and prevent noncompliance well before an EPA regulator pays you a visit. That alone can save you tens of thousands of dollars in penalties. When you have an Environmental Management System (EMS) that's automatically tracking and recording your EH&S data, performing an EH&S audit will take minimal time and cost.
Image used with permission from Naval Surface Warriors

Alex Chamberlain is a writer for ERA Environmental Management Solutions.