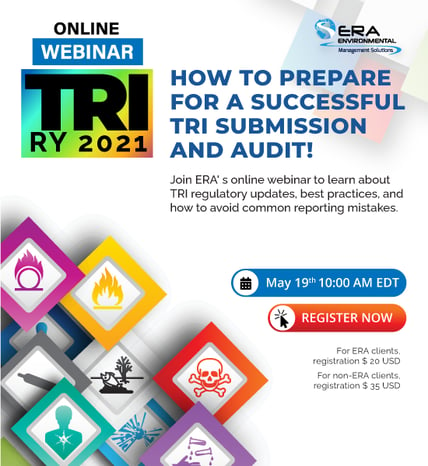 Environmental Management Solutions, a leading cloud-based environmental reporting software provider, is hosting a new TRI reporting webinar. With 27 years of environmental compliance experience, ERA's experts will give you a close look at this report, complete with best practices and tips for improved accuracy to ease your burden this year.
The agenda includes sessions on the benefits of centralized data, reporting dos and don'ts, and methods of identifying and correcting data quality issues. If you've ever wondered how to ensure a painless reporting experience, ERA will demonstrate its software's capabilities for performing calculations on your data and for seamlessly verifying it before submission to the EPA.
Not only will you receive information about TRI regulatory changes for RY 2021, but Nora Lopez, former Region 2 coordinator for the US EPA, will detail why the changes were made. You will also learn more about TRI compliance challenges and avoidable reporting mistakes she observed during her time with the EPA. Additionally, insider information will be provided on effective data collection from vendors, historical data comparisons, and taking advantage of ERA's Master Chemical and Regulatory List to save time this TRI reporting season.
Our four-hour webinar comprises detailed presentations and a live Q&A session to clear all your TRI reporting concerns.
Don't miss this exclusive event!