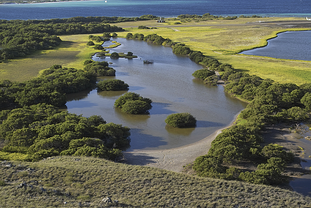 The manufacturing industry is moving at a rapid pace when it comes to continuous improvement and environmental stewardship. Topics like sustainable production are constantly getting refined and updated to reflect changes in available technology.
This can be a double-edged sword: on the one hand, it can be difficult to keep up and there's also something you can be doing better. But the positive side is that this environment of constant change creates plenty of great opportunities for businesses to become thought leaders and experiment with new ideas.
One example of this comes comes from an recent article on Environmental Leader about Biodiversity, "Biodiversity Steps Up a Gear".
Biodiversity is already considered a key performance indicator of sustainability. It's listed as an aspect of GRI Reporting for sustainability and come companies have begun to incorporate it into their overall business strategies. However, there is a lot of room left to work on defining how biodiversity and manufacturing intersect, as the article notes (with my emphasis)
"Professor Dieter Helm, Chair of the UK Government's Natural Capital Committee, said that biodiversity is where climate change was 10 years ago. Then, the Stern Review put a price on damages (US$85/tonne) and climate change action stepped up a gear.
Prof. Helm said that it feels as though the same is happening now for biodiversity. His committee is tasked with ensuring that the government has a better informed understanding of the value of natural capital, to prioritize actions to support and improve the UK's natural assets."
If biodiveristy is expected to be the next big thing is envronmentally responisble manufacturing, the time to start thinking about it is now, including beginning to implement small measures to improve your biodiversity protection performance. For example, NASCAR has already purchased and is maintaining wetlands as part of its sustainability & biodiversity strategy.
Incorporating Biodiversity into Your Current Sustainability Planning
The article also notes that biodiversity isn't a separate issue from other sustinability performance indicators. In fact, reducing your carbon footprint and investing in renewable energy sources does improve your biodiversity performance:
"Biodiversity loss is compounded by climate change, and the Stern Review warned that ecosystems will be particularly vulnerable to impacts. One study estimated that up to 40% of species face extinction with 2°C of warming, the limit set for a temperature rise under UN climate agreements to cut emissions. Natural capital and resource scarcity might be more topical than climate change in 2012, but it's not a case of 'either or'."
If you're working to make biodiversity an element of your sustainiability reporting, the GRI framework offers some starting points. Here's how the GRI measures biodiversity for reporting purposes:
Location and size of land owned/managed in or adjacent to protected areas and areas of high biodiversity.

Habitats protected or restored.

Description of significant impacts on biodiversty of your activities, products, or services.

Strategic actions and plans for managing your impact on biodiversity.

NUmber of IUCN Red List species and national conservation list species with habitats in areas affected by your activities.

Alex Chamberlain is a writer for ERA Environmental Management Solutions.