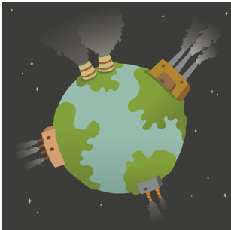 To top off the week, we're sharing a great blog article from EHSToday.com, a great source of practical and tested tips for improving your environmental performance.
The article, titled Trash the Greenwashing and Recycle These Useful Green Initiatives uses the case study of a Barcelona-based company that took some steps, big and small, to becoming better environmental leaders without resorting to greenwashing or fluffy marketing.
In fact, the examples from the case study are meant to be replicated and "recycled" in your own facility so that you can see the same results.
The best part? Most of the measures were inexpensive and easy to implement. The company spent less than $2 million to make some substantial upgrades.
"Recycling biomass
. Euromed Barcelona found different ways to recycle the post-extraction biomass, including sending much of the residue to companies that specialize in creating bio-gas – specifically, methane, which is used to generate power. And because the residue left from milk thistle has a high nutritional value, it's used to feed farm animals. "We ship the waste product to a company that dries it out and cleans it before it's added to feed for pigs, chickens, cows and the like. The biomass is given away for free".
In case you missed it, ERA just wrote an article on how bio-fuels have saved NASCAR a lot of money and helped to make it one of North America's environmental frontrunners. It just goes to show that there's a demand for greener fuels both on the production and the recieving end of the market, and it could produce some great benefits for your company to get in on it at the ground floor.
"Wood pallets become compost.
At Euromed, wooden pallets are reused until they can't be used any longer. "At that point, they're sent to recycling facilities, which use them in composting products," Veilleux said. This step easily was accomplished by working through waste management companies."
Another recycling idea that we've seen work for other companies as well. For example, the Volkswagen Pallet Project has been a very successful program for VW. It donates used apllets to various organizations that use them for projects like building houses, educational and art projects, and community gardens. Not only does this reduce the amount of waste VW produces and has to report (and pay for processing), but it also is a fantastic way of building the VW brand in local communities. That's the type of marketing you'd typically pay a marketing agency big bucks for.
"Refilling printer toners.
Empty toner cartridges are shipped to the company's supplier, where they're recharged and returned for use. If not for recycling, the toner cartridges would be deposited in landfills."
You don't need to be in the heavy manufacturing industry to get in on recycling for coroprate social repsonsibility. Like Euromed, you could start making reductions around the office, and you'll probably be surprised by how much money you'll save.
If you're looking for another idea for boosting your environmental performance, you could consider implementing one of the newest ISO green standards: ISO 50001. It's a new way of managing and reducing your process' energy consumption, which is quickly becoming one of the cornerstones of any succesful sustainability plan. In fact, it's expected that ISO 50001 will become as popular and foundational as the ISO 14001 standards.
We've got a great collection about these ISO standards and how to best implement them on our blog, and we've collected them all here for you: