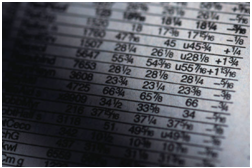 The EPA is updating its online TRI reporting tool, TRI-ME, to version 5.0 for the 2011 reporting period. TRI-ME, also known as Toxic Release Inventory – Made Easy, is the online application that must be used to complete your TRI report for July 1 each year. This article gives a brief explanation of what this means for you.
This new version will correct some errors previously found in version 4.0, but will largely focus on minor upgrades to the application's internal schema and the internal format of the data that is entered into the system.
TRI-ME allows a facility to complete its EPA TRI reporting just once online, and instantly shares the report data with the EPA and all relevant reporting authorities. This web application can save you time when it comes to reporting your hazardous air pollutants (HAPs) each year. The system also works to ensure you are in compliance with local and federal TRI regulations.
However, the TRI-ME web application is not a tool that does the complex work of calculating air emissions for you. It is strictly a reporting tool, not an environmental management solution. It does automate the submission of your report, but automating a mess just makes a bigger mess.
In order to really streamline TRI reporting obligations, many experienced environmental officers are implementing an environmental data management system to help assist with air emissions calculations. A comprehensive solution will complete your calculations, based on your annnual activities, before exporting your emission data to online reporting tools like TRI-ME.
Each year, the EPA is continuously improving its online systems and modifying its TRI-Reportable substance list to further protect air quality standards. Although these changes produce positive results, they can increase the work associated with TRI reporting for EH&S specialists who are not prepared. This is why it's important to have a system in place for managing new regulations as they occur.
For now, however, the TRI-ME web application changes are so far very minimal and based on internal upgrades, which should not have any sort of significant impact on your TRI reporting come next July 1.
But keep an eye on their TRI-MEweb site and subscribe to our blog to stay up to date with changes they implement and the guidance for 2012 reporting season.