What Is Incident Management?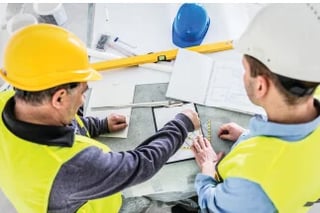 Incident management refers to a systematic process which an organization utilizes to quickly identify, analyze, address and document incident related problems – including who, what, where, when, and why. Successful implementation of an incident management system supports organizational growth. One of the keys to having a successful incident management process is to keep it simple and straightforward. Automation is the best way to make this process simple, especially when a wide and different variety of tasks needs to be done by those affiliated at various levels of your organization. So many businesses across the globe are turning to automation to assist with the numerous different aspects of their operations, and incident management is no different.
What is the Purpose of Incident Management?
The goal of any incident management process is to return the business to normal operation, repair any damage done, address adverse health effects, and follow communication protocols internally and externally. At the end of the day, a successful process should provide a safer workplace for employees, restore normal business operation and also make sure your business is in compliance with any applicable health & safety regulations.
From another perspective, the purpose of incident management is to easily and quickly accomplish these goals, in addition to maintaining a level of accuracy in incident reporting.
For example:
Make it simple to file an incident report as soon as possible.
Share incident data with the Health & Safety professionals that need to act fast.
Enable data analysis for greater insights and preventative measures.
Why Automate your Incident Management Processes?
Usually in an incident management process, several people are involved, each with distinct roles and responsibilities. Several people will need to make decisions based on the available data.
By automating those decisions, team members will have more time to focus on other important business functions and improve productivity as a whole. The process itself is also expedited, which leads to a faster resolution and an overall reduction in costs to restore normal business operations. Finally, automating the incident management workflow allows businesses to take a more proactive approach, thereby reducing the risk of future expenditure.
7 Steps to Automate the Incident Management Process
After addressing the benefits of process automation, the important question here is how to automate incident management, and what are the main steps that needs to be taken. We have identified 7 steps that help EHS managers and leaders in the process of automation: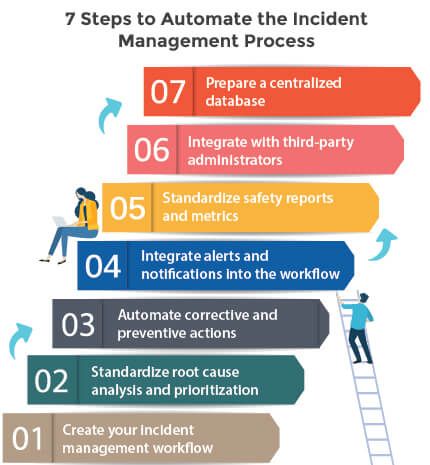 1. Create your incident management workflow
2. Standardize root cause analysis and prioritization
3. Automate corrective and preventive actions
4. Integrate alerts and notifications into the workflow
5. Standardize safety reports and metrics
6. Integrate with third-party administrators
7. Prepare a centralized database
Create an Incident Management Workflow - AKA An Incident Life Cycle
The first step is to create an incident management workflow. All the data types, forms, actions and responsibilities involved in your incident investigation process should to be captured in a workflow.
In some organizations this is known as an incident life cycle. What is the incident life cycle? The incident life cycle describes what happens organizationally when an incident occurs. For most businesses the life cycle looks something like: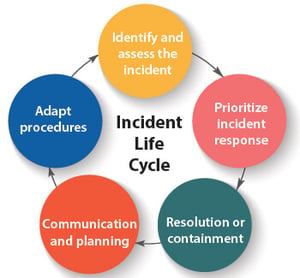 1. Identify and assess the incident
2. Prioritize incident response
3. Resolution or containment
4. Communication and planning
5. Adapt procedures
Every organization should develop their own unique incident management workflow. Yes, you can build off of a standard incident life cycle template, but yours should include all the different steps that go into your internal incident management processes. For example, at which stages is information about an incident communicated? You may wish to include several communication steps in your life cycle depending on who and when you communicate incident data. Perhaps only certain levels of incident risks get communicated company-wide whereas a less severe incident might be communicated at a much smaller scale.
The key point when designing your unique incident management workflow is to obtain ideas and feedback from everyone who is involved in the process. The designed workflow should be simple, user friendly and make the incident management process easier for team members. Ask everyone involved in incident management to list all of the steps they take, and all the data they need to make decisions. Your workflow should put all of this data into perspective and in order – who collects the data, when is it collected, and how is it collected? You're likely to find people doing things in different ways or disagreeing on what data is best. That's why mapping out a workflow on paper is the first step to problem solving before you invest resources into automating any of the steps.
Standardize Root Cause Analysis (RCA) and Prioritization
The second step is to standardize your process for prioritizing incident responses and completing a root cause analysis (RCA). Both of these steps are an integral part of responding to an incident - your business needs to know the severity of the incident and the root cause in order to properly resolve the immediate risks presented as well as prevent the incident from occurring again.
Health & Safety professionals have different methodologies for conducting root cause analyses and prioritizing tasks, from the "5 Whys" method to using an Ishikawa or fishbone diagram, and other in-house processes. In terms of prioritization, many businesses use the Priority Matrix.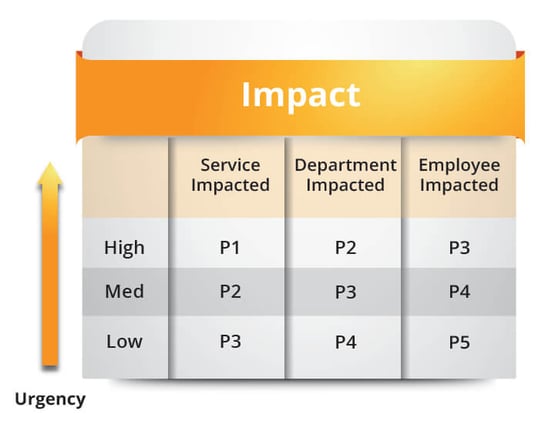 The Incident Priority Matrix uses a P1 - P5 numerical scale to measure the priority of an incident and its response. What is a P1 incident? A P1 would be considered the top priority based on requiring an immediate response (high urgency) and having a wide-scale or particularly severe impact. An example of this type of P1 incident could be one causing a full facility shutdown - EHS professionals would need to respond immediately and the impact affects the business' ability to operate or provide service on a wide scale. As the urgency and/or impact decreases the priority number gets scaled down anywhere from a P1 to P5 incident.
Your business will have its own criteria for what defines a P1 incident versus a P2 incident - the point is that your entire organization agrees on the methodology. Everyone should be collecting risk data, assessing that data, and reporting that data using the same forms and following the same standards.
Automate Corrective and Preventive Actions (CAPA)
Another important step is automation of corrective and preventive actions, so they can be prioritized and easily monitored. Users should be able to evaluate the progress of created CAPAs and escalate them if necessary. CAPA is the core of every incident management system and must be managed effectively to make the whole system works as expected.
You can automate CAPA management using a few different methods, depending on the complexity of your workflow. For example, ERA provides a software tool that automates your CAPA management.
Integrate Alerts and Notifications
Even the most well-designed incident management processes won't work without effective communication between everyone involved in the process. One of the key steps in automating incident management is to have a seamless communication channel among all those affiliated, particularity in the notification and escalation process. By integrating alerts and notifications into the incident investigation process, team members will have access to multiple communication channels which allow them to actively take ownership of a task and work toward resolution.
Standard Safety Metrics and Safety Reports
EHS professionals all know the benefits of standard safety reporting. Without standard reporting measuring the success of an incident investigation process is very difficult. Goals and monitoring tools should be set in a way which encourages continuous H&S performance improvement.
Standard metrics help for better understanding of risks and opportunities in the business and identify sectors and work activities of highest hazard to pin point areas that need more attention.
Make sure everyone is taking the same steps when they:
Collect safety data or do an inspection or audit.
Fill out a safety report form.
Calculate or roll up data about on-site incidents or events.
This might seem simple and straightforward, but when you initially map out your workflow in the first step you're likely to find many different approaches are being used across your organization. Finding just one methodology that is your perfect fit can be a challenge.
Integrate with Any Third-Party Administrators
The purpose of integration with third parties is to improve data sharing and management from multiple systems. This would help to create a common user interface and simplifying access to a cluster of different applications. An example of third party's integration is HR Automation and Integration with insurance companies to handle worker compensation claims. Integration would allow you to automatically submit an insurance claim form to your insurance provider once an incident report is created – reducing the amount of manual work needed.
Prepare a Centralized Safety Database
To make all previous six steps work seamlessly you need a centralized database. One of the most important steps in automating incident management process is to have a centralized incident reporting system which is accessible to constantly log incidents and route them to trained personnel for the initial assessment. This alone could help ensuring a quick and more coordinated response to critical incidents.
When using a centralized database any update or change in the incident investigation process or forms can be applied immediately and received by end users. Another benefit of a centralized system is that the learning curve of users are greatly reduced and they all learn a single system. Finally, when you have centralized system you have central dashboard to allow on-demand access to real time reports, events, and statistical information.
Completing your Incident Management System
Without automation the incident management process can be complex and time consuming. We've listed out the 7 elements of incident management which should be automated in this article, any of which can be streamlined with the right incident response tools, saving you significant time.
What are incident management tools? There's a wide range of tools and resources available to EHS managers, some of which have already been listed out in the sections above. For example, commonly-used incident management tools include risk matrices, priority matrices, root cause analysis mapping like Ishikawa diagrams and "5 Whys". Of course, businesses operate in the age of technology in which there's a software solution for everything - incident management is no different. There's a range of incident management software available and the key is to select something that emphasizes automation and customization.
Automation is what will actually save you time. If your software doesn't have an automation layer, then you're just doing the same amount of work but in an application rather than on paper or in a spreadsheet. Customization is essential because - as demonstrated throughout this article - there's no one-size-fits-all solution to incident software or procedures. It all needs to match what you're actually doing in your organization.
After years of working with health & safety professionals in different industrial sectors, ERA has developed a helpful methodology for automating your entire Incident Management System, from the very first steps to more advanced automation. We outline this methodology in a free webinar Incident Management and Automation for Your Workplace, available for on-demand download now.
Meet the Expert

Dr. Ehsan Maghsoudi has been an Environmental, health and safety enthusiast for over 10 years. He has written extensively in peer-reviewed journals about environmental pollutants and toxic compounds.
This Blog Was Co-Authored By: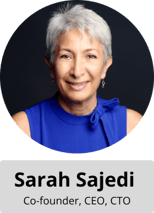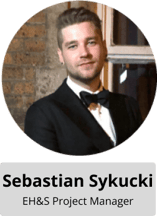 Ehsan Maghsoudi Ph.D. has been an Environmental, health and safety enthusiast for over 10 years.